iOS 15 Update: Why Isn't the Screen Share Setting on FaceTime Working?
Apple's iOS 15 update is now ready for consumers to install, bringing with it a suite of new features for iPhone devices.
Yet many are wondering where the long-awaited "screen share" option is in the FaceTime app.
Here's what we know...
iOS 15 Launch Brings New Features to iPhone
At last week's California Streaming event, Apple announced that the iOS 15 update would be made freely available for iPhone users on Monday, September 20.
Among other things, the improved operating system introduces a "Shared with You" section - that allows you to keep track of all the photos, videos, music and assorted content that you have received over messages - and a "Focus" app that helps you reduce distractions by filtering what kind of notifications you get while at work.
Some of the biggest changes for iOS 15 though are related to the FaceTime video calling app. A spatial audio setting has been introduced, which makes the voices of other callers sound like they are actually coming from the direction in which they are positioned on the screen. Meanwhile, there is a new microphone mode that eliminates background noise and a portrait mode that automatically puts you in focus and blurs out everything else.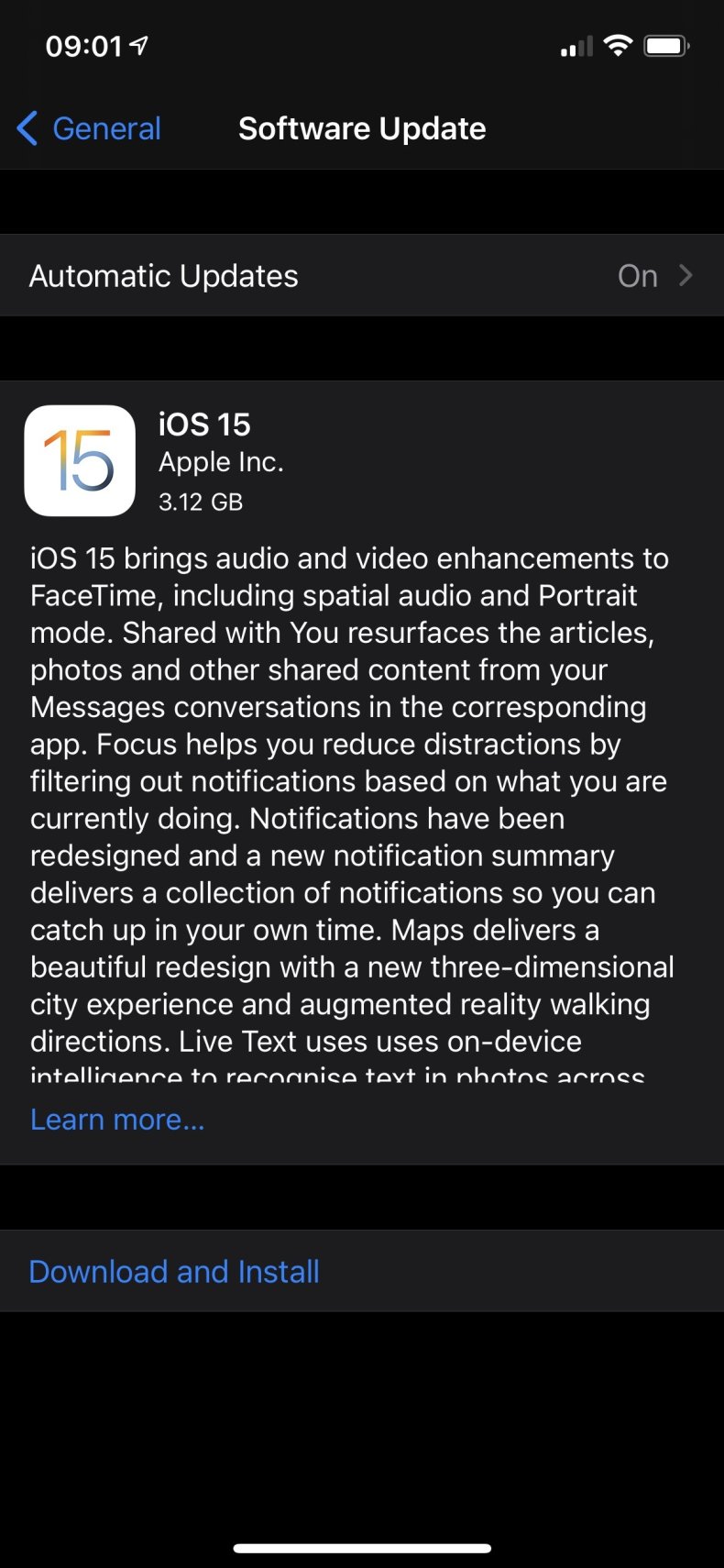 iOS 15 Update: Where Is the FaceTime Screen Share Setting?
However, one expected FaceTime function that in iOS 15 at launch is the ability to share your screen.
If this feature were available as part of the software update, there would be a button in the top right-hand corner during videocalls that you could tap. The icon would resemble a person stood in front of a rectangular screen. After tapping on this button, you would then be prompted to confirm that you want to share your screen with the other callers in the meeting.
At the time of writing, the relevant button does not appear in the iOS 15 version of FaceTime. Yet many iPhone owners were under the impression that the feature would be included at launch and have taken to social media to express their confusion.
Apple has subsequently reached out to these individual users to clear things up.
The official Apple Support Twitter account has confirmed that there is not a problem with anyone's device and that the screen share feature is simply not yet available with iOS 15. Instead, it will be released later on in the fall.
Newsweek has contacted Apple for more information on why FaceTime screen sharing is not included as part of the launch of iOS 15. We have also asked if they can provide a more specific timeframe for when it will be instantiated.
In related Apple news, Newsweek has compiled articles that break down everything you need to know about both the Apple Watch Series 7 and the upcoming iPhone 13.