'Arcane' Release Date & Cast: Everything We Know About Netflix's 'League of Legends' Series
The world of League of Legends will soon be expanding to Netflix, with the animated prequel series Arcane landing this month.
An extremely popular Multiplayer Online Battle Arena (MOBA), League of Legends is often cited as being one of the (if not the) biggest esports on the planet. Which is particularly impressive when you consider that it has been hanging around now for well over a decade.
Given its enduring appeal, it is hardly surprising to see that the global phenomenon has branched out into other areas. Not only are there spin-offs games that adapt the franchise for other genres – like Teamfight Tactics (a strategy offshoot) Legends of Runeterra (a virtual card game), and Wild Rift (a mobile title) -but the series has also made the transition to comic-books, short stories and even music videos.
Arcane represents the next step in League of Legends cross-media conquest, as it will see the series debut on Netflix.
When Is the Arcane Release Date?
The animated show was announced back in 2019, during the League of Legends 10th anniversary celebration, and was meant to launch the following year. However, owing to the impact of the Coronavirus pandemic, its production schedule was disrupted and it was ultimately pushed back to 2021.
In terms of its new release schedule, Arcane will be divided into three weekly acts (each of which are comprised of 3 episodes). The first of these will arrive on Netflix on Saturday, November 6 at 7 p.m. ET, just after the League of Legends 2021 World Championship finals.
The second act will then land on November 13 and the final act will follow shortly thereafter on November 20.
While the show is technically only available on Netflix, content creators on Twitch will also be permitted to co-stream Arcane. This means that they can broadcast themselves reacting to it without worrying about being hit with a DCMA takedown. In other words, if you do not have a Netflix account you can still watch Arcane for free on Twitch, so long as you do not mind a running commentary.
Who Is in the Cast of Arcane?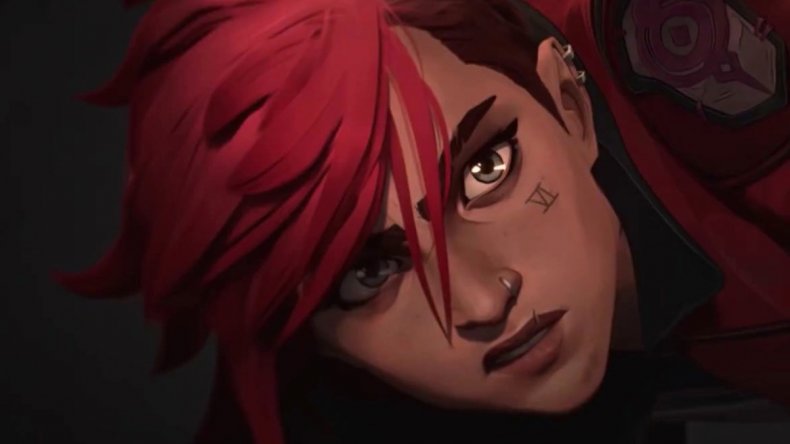 The vast majority of the (confirmed) characters in Arcane are playable "champions" in League of Legends itself. Namely, there is Vi, Jinx, Caitlyn, Viktor, and Jayce.
The rest are all original creations for the show, but fans are speculating that they could be established favorites listed under pseudonyms.
The voice cast for Arcane is as follows:
Hailee Steinfeld – Vi
Ella Purnell – Jinx
Kevin Alejandro – Jayce
Katie Leung – Caitlyn
Jason Spisak – Silco
Toks Olagundoye – Mel
JB Blanc – Vander
Harry Llyod – Viktor
Mia Sinclair Jenness – Powder
Hailee Steinfeld is obviously a major star, with a successful music career and credits in films like Bumblebee, True Grit and the underrated teen movie The Edge of Seventeen. She is also going to be leading the upcoming Hawkeye show on Disney Plus, where she will play expert archer Kate Bishop. Steinfeld is no stranger to voice acting either, having already portrayed Gwen Stacey in the Oscar-winning Spider-Man: Into the Spider-Verse.
As for the rest of the cast, you will likely recognize Ella Purnell from this year's Army of the Dead (where she played Dave Bautista's daughter), as well as from Miss Peregrine's Home for Peculiar Children.
Meanwhile, Katie Leung is best known for her role as Cho Chang in the Harry Potter franchise, Toks Olagundoye was a regular on the last season of ABC's Castle, and Kevin Alejandro is a prolific TV performer with credits in Arrow, Lucifer, and True Blood.
The cast is then rounded out with a lot of veteran voice actors. One interesting thing about JB Blanc in particular is that, in addition to starring in countless video games, he is also the narrative director of the upcoming Call of Duty: Vanguard.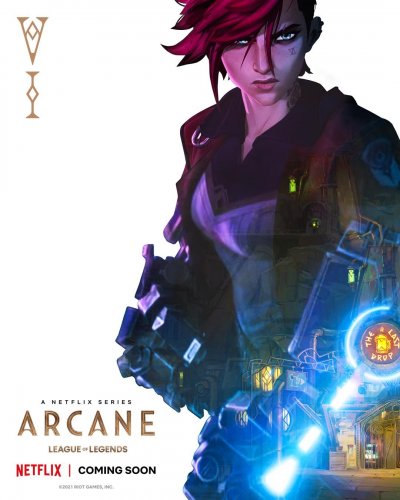 What Is Arcane About?
Arcane will be integrated into the League of Legends canon, acting as a prequel for the game.
It will chronicle the bubbling tensions between the utopian city of Piltover and the impoverished underground community of Zaun. The latter eventually stages an uprising following years of being oppressed, and from there a violent conflict will break out. This drama will be mirrored on a more intimate scale, as the show will also depict the emerging rift between Vi and Jinx (two characters with an implied history in League of Legends).
If you are worried about Arcane messing up the lore, rest assured that the show has been produced with input and oversight from Riot Games (who developed League of Legends). Meanwhile, the animation itself has been provided by Fortiche Productions, who have previously worked on cinematics and the aforementioned music videos for the MOBA.