'The Edge of Seventeen' Is the Best Teen Movie Since Whatever the Last Great Teen Movie Was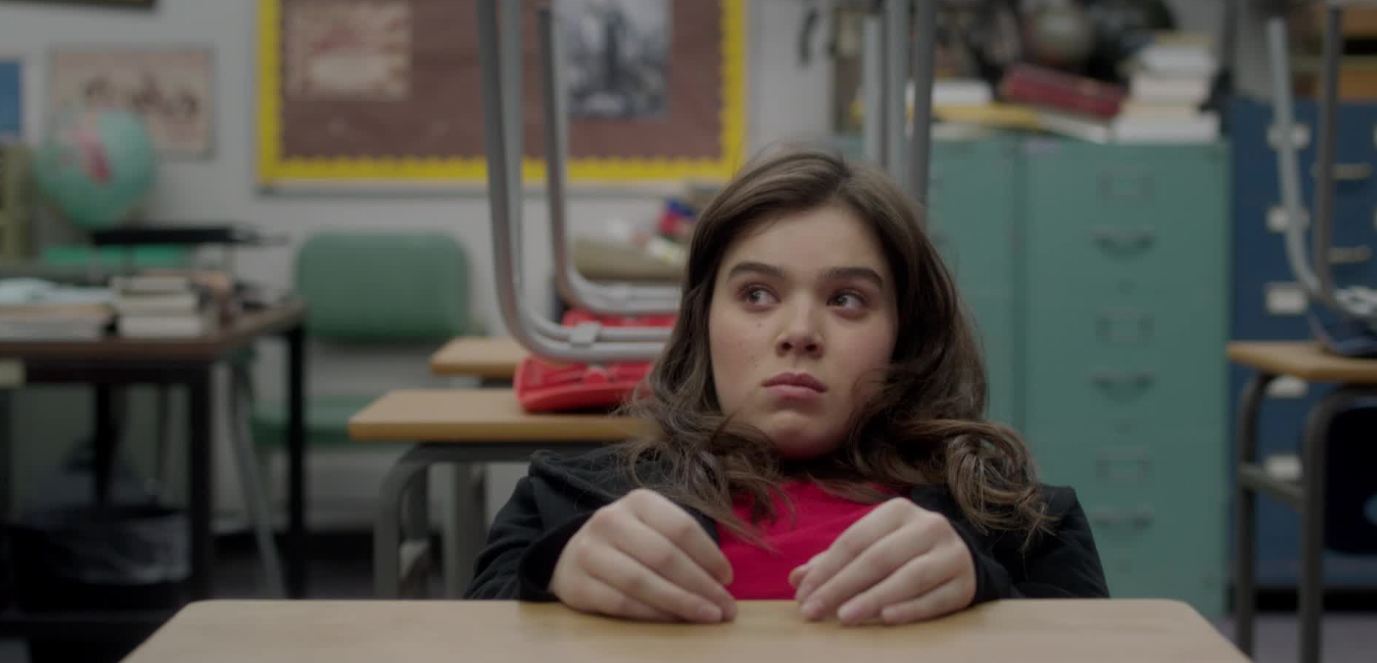 Even if we hated high school, it still occupies a disproportionately large space in our psyche. It's why people still have nightmares about math tests well into their 20s and 30s, and why the high school cafeteria is often evoked as a metonym for petty or vindictive behavior.
That weird, messy puzzle of trauma and affection where our high school memories reside is what powers The Edge of Seventeen, a rather excellent new film from writer/director Kelly Fremon Craig. It's a teen movie that picks apart several decades' worth of teen movie clichés (a romantic moment atop a ferris wheel, sibling envy, et. al), upends them, and rearranges them just slightly—enough to still be recognizable. The result is a deceptively funny depiction of teen anxiety and depression.
Related: 'Mistress America' review: Noah Baumbach's wry, charming sister comedy
It opens with a suicide threat. Nadine, the anxiety-ridden 17-year-old heroine (Hailee Steinfeld), is spilling her guts to Mr. Bruner, her ornery but kind-hearted teacher (Woody Harrelson). "I'm probably gonna jump off an overpass in front of a semi," she warns, "or a U-haul—just not a bus. I'm not gonna be a dick and make people watch." The threat is a bluff, but the alienation is real. Nadine is bullied. Like the younger sister in Ferris Bueller, she resents her cocky stud of an older brother (Blake Jenner). Her father has been dead a few years, from what looks to have been a heart attack, and her mom is distracted and date-crazed. Her only romantic prospect is a lanky dork in her history class named Erwin.
Then, the unthinkable: Her best (and only) friend, Krista (Haley Lu Richardson), has relations with, and ends up dating, her pretty-boy brother. It's an unendurable betrayal that confirms what angsty high schoolers already suspect: she really is alone in the world. Nadine's friend count dwindles down to zero. Throughout the bulk of the movie, Nadine vascillates between Erwin and a more slippery, self-serving love interest, and eventually comes to grips with her dysfunctional family. The plot ebbs and flows, with amusement park excursions and a disastrous rendez-vous with said crush, perhaps on its way to a maybe-too-sweet conclusion. But Edge of Seventeen doesn't quite go for that predictable plot arc of a John Hughes film; it doesn't sail toward a climactic kiss. It's messier, closer to the rhythms and uncertainties of real life.
Nadine is played with the right mix of pathos and comic charm by Steinfeld (Ender's Game, Pitch Perfect 2), who came to prominence as the young actress in True Grit. (Studios: Keep casting Steinfeld as your disaffected teenager, at least for a little while, until she makes the inevitable transition to adult roles.) She's sad, but more importantly, she's sardonic and funny. She cries and pouts and sputters and snarks and stews over an unattainable crush, but what the film captures most vividly is that distinctly adolescent sensation of feeling embarrassed by your own stumbling, confused existence. It accomplishes this with lots of affection, much of it dispensed begrudgingly by Harrelson, who conveys impatience with his words and the exact opposite with his behavior.
From the Stevie Nicks-inspired title, viewers might assume Edge of Seventeen is set in a retro 1970s or early 1980s universe. (There have been a number of youth-centered films set in that era recently, from 2015's Diary of a Teenage Girl to 2016's Everybody Wants Some!!, also starring Blake Jenner.) It isn't. Far from it: Edge of Seventeen is a distinctly 2016 depiction of teenagehood, from the alt-pop-heavy soundtrack to the incessant texting and Facebooking written into the script. CNN deemed it a coming-of-age movie "for the selfie generation," which, sure—I suspect it is the first major film to incorporate the phrase "raging dumpster fire" into its narration. And one of the funniest gags involves a filthy Facebook message to a crush, composed during a moment of desperation and dispatched with an accidental sleight of hand. (Sample line: "We can do it in the Pet Land stockroom.") But these emotions are pretty timeless.
Unlike lots of teen movies, there aren't any outright villains. Not in the Mean Girls sense, at least. There's no Regina George. There are parents who just don't understand, and there are hurtful men and messy friendships and dopey brothers. But these are people, not caricatures. The villain in Edge of Seventeen is the same abstract one that all disaffected teens come to terms with eventually: a cold, often cruel world that doesn't much care whether you get run over by a Semi or a U-haul.
Read more from Newsweek.com:
- Premiere: Stevie Nicks reflects on 'hard advice' from friend Tom Petty
- In 'Southside With You,' Barack Obama is a young, smooth-talking bachelor
- 'Mistress America' review: Noah Baumbach's wry, charming sister comedy