Ari Lennox Accuses Amsterdam Airport Security of Racial Discrimination During Arrest
Musician Ari Lennox accused airport security in Amsterdam of racial discrimination as she was arrested Monday, while Dutch officials said she disturbed public order.
Lennox, tweeting throughout the incident, said it occurred after she reacted to another woman allegedly racially profiling her at Amsterdam Airport Schiphol.
"They're arresting me," she wrote in one tweet.
Another tweet read: "F*** Amsterdam security. They hate black people."
"I just want to go home. I'll never leave my house again," another tweet read.
Dutch military police, who are in charge of the airport's security, said they arrested Lennox due to her "aggressive" behavior toward an airline official and public intoxication, Reuters reported.
"Our unit found a woman full of emotions, that wouldn't calm down," police spokesman Robert van Kapel told Reuters. "That's why she had to be taken into custody."
Van Kapel told Reuters that police were investigating claims of possible threats Lennox made during the incident. It was unknown how long Lennox would remain in custody. She had not tweeted for the several hours following the arrest.
The arrest came just hours after Lennox performed at the Soul Train Awards in New York City Sunday night.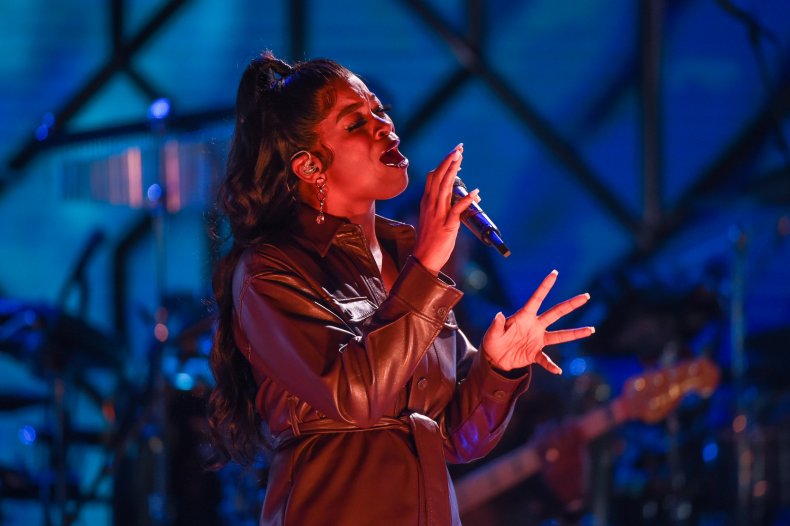 Lennox, whose real name is Courtney Shanade Salter, is best known for her 2019 hit "Shea Butter Baby," which has been streamed more than 113 million times on Spotify alone. She was signed to J. Cole's Dreamville Records in 2015.
Twitter users reacted to the news of the arrest and allegations of racism, with many offering support for Lennox.
"Ari Lennox getting racially profiled and arrested in Amsterdam is the exact reason I don't want to travel... it's a damn shame black propel have to Google 'is _______ racist?' Before even thinking about leaving the country.. makes me sick," wrote @alesiavsworld.
"I'm honestly scared for you right now! This is so scary!" @pinkmatter108_ tweeted.
Others, however, wrote that people should follow rules while in airports.
"When you're in a airport just follow the rules and stay quiet. Airport employees are very rude, and you're in a different country," @aslam12317 tweeted.
Lennox is not the first musician to say they experienced racial discrimination while flying. In 2018, rapper YG accused American Airlines of racism after he was kicked off of a flight. He said he was removed from the flight because airline operators believed he was drunk.
"Y'all pilot from that flight kicked me off, he was discriminating. I was sober bro, y'all need to talk to him and ask him why he don't like colored people?" he wrote in a tweet.
Newsweek reached out to Dreamville Records and Amsterdam Airport Schiphol for comment Monday afternoon.