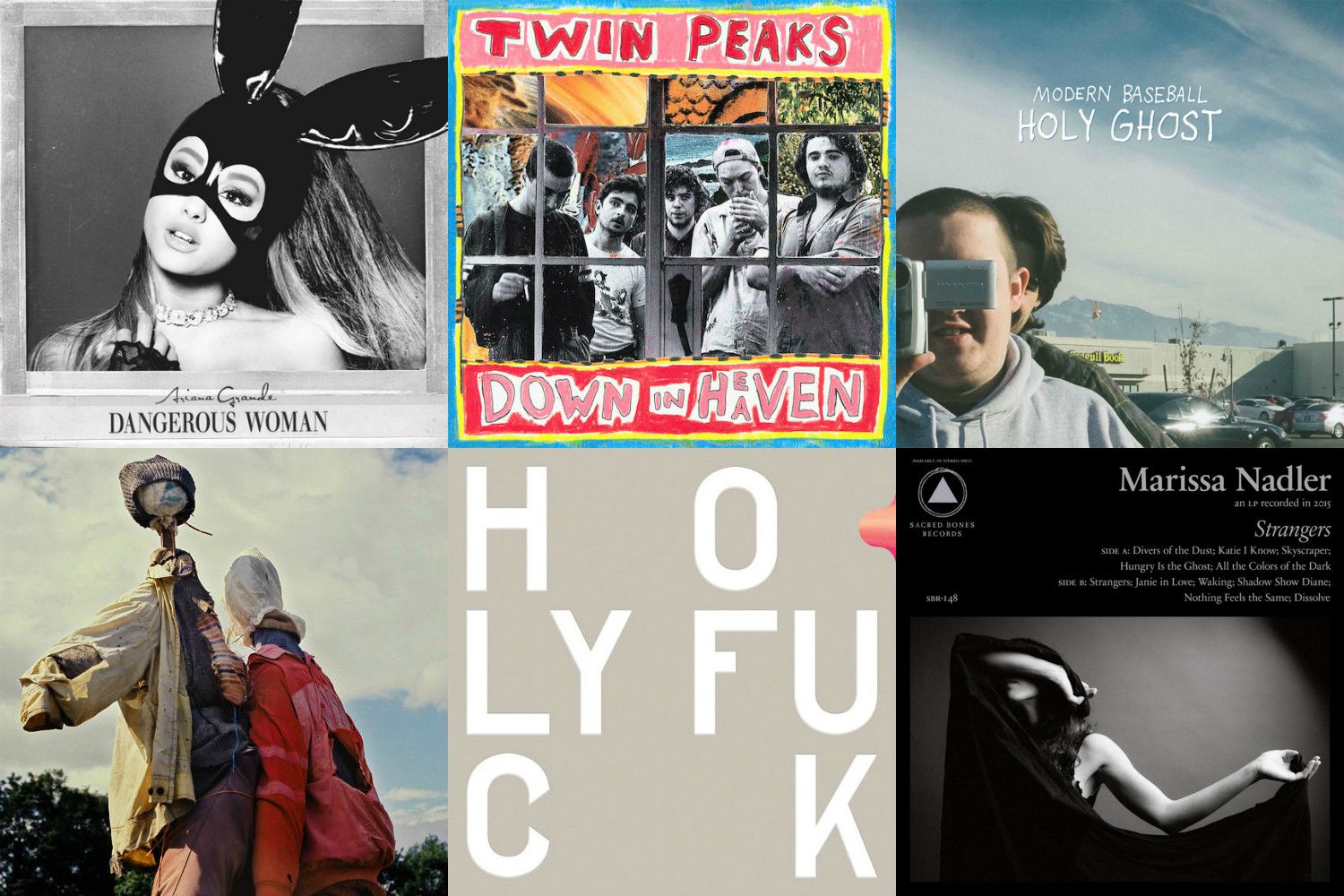 While April brought us standout albums in every genre, from hip-hop to Japanese idol metal, May brings albums from an equally wide range of age groups. Bob Dylan and the Monkees, upstarts from the 1960s, will share shelf space with Ariana Grande, who at 22 still looks like she's a high school cheerleader, and Chicago rockers Twin Peaks, who in their early 20s resemble the punks smoking weed under the bleachers. Here's what we're looking forward to hearing the most.
Twin Peaks, Down In Heaven
Release Date: May 13
Label: Grand Jury
Not to be confused with the short-lived David Lynch show—or maybe that's kind of the point?—Chicago's Twin Peaks, as we noted in the introduction, are a young band. In fact, its members were barely born when the ABC program went off the air in 1991. But on their third full-length release Down in Heaven, the band's sound reaches a level of maturity that wasn't present on 2013's Sunken or 2014's Wild Onion. Yes, they're still brash and reckless and, more than anything, fun, but with a few extra years on them, they've molded that reckless spirit into a multifaceted collection of songs that brings to mind the Rolling Stones at their twangiest. It's only May, but Down in Heaven will undoubtedly go down as one of the most impressive releases of 2016.
Modern Baseball, Holy Ghost
Release Date: May 13
Label: Run For Cover
Modern Baseball: A quick explainer:
Who dis?
This is Modern Baseball, a rock band from Philadelphia.
I don't like baseball.
Ha, neither do we. These guys play rock, not baseball.
Wait, you mean American Football?
No! But we get them confused, too. American Football is an old indie-rock band with a sportsy name. Modern Baseball is a new indie-rock band with a sportsy name.
What do they sound like?
Loud and heartfelt and melodic, with some tender moments. Kind of emo. Holy Ghost is their third album.
What? I thought emo was dead?
It's back, man! It's alive!
Why do talented indie rockers have such silly band names?
I don't know. Ask Car Seat Headrest.
Who?
Forget it.
Eagulls, Ullages
Release Date: May 13
Label: Partisan Records
On 2014's self-titled debut, Leeds post-punkers Eagulls went for new wave brooding and hookiness, but didn't hold back on screeching and scuzz either, making for a loud and riotous listening experience. Though they largely became gossiped-about at the time for a letter they posted following SXSW where they said some not-so-nice things about their indie peers, if new single "Skipping" is any indication, they've matured considerably in the time since. The new track is cleaner and sharper—you can, for instance, actually make out what frontman George Mitchell is saying this time around—and shows Eagulls tailoring their influences to where they're at now rather than letting their influences wear them.
Colleen Green, Colleen Green [EP]
Release Date: May 13
Label: Infinity Cat
With last year's I Want to Grow Up, Colleen Green reminded us she's one of the cleverest one-woman rock acts making music today. The album, full of deceptively simple lo-fi jams about technological paranoia and dying alone, was a departure from 2013's Sock It to Me, which felt grittier and more homemade (much like most of her prior releases). What we've heard of her upcoming self-titled EP (like single "Green My Eyes," which she dropped on April 20) harks back to that early output—just as sunny and personal and surprisingly earwormy.
Bob Dylan, Fallen Angels
Release Date: May 20
Label: Columbia
At 74, Bob Dylan has 55 years' worth of music under his belt. He could retire comfortably (and proudly), like, yesterday. Instead, he still puts out an album every two or three years, some of which are wistful, bluesy originals (Modern Times, Tempest) and some of which are oddball genre exercises (Christmas in the Heart, Shadows in the Night) that risk being overshadowed by whatever bizarre collection of animal sounds Neil Young has going the same year. Fallen Angels seems to fall into the latter category—it's a collection of old-timey cover tunes sung in Dylan's gravelly croak, and like last year's Shadows in the Night, Sinatra's ghost looms large. If you had 37 albums to your name, you'd do whatever you wanted, too.
Car Seat Headrest, Teens of Denial
Release Date: May 20
Label: Matador
Car Seat Headrest began when prolific 23-year-old Will Toledo recorded a dozen(!) albums and put them all on Bandcamp during his college years. Then he graduated, moved to Seattle and scored a record deal with Matador. Teens of Denial is his first studio album for the label, and it's full of fuzzy, endearing indie-rock songs about trying mushrooms and scrolling the Wikipedia page for "clinical depression." Relatable!
Ariana Grande, Dangerous Woman
Release Date: May 20
Label: Republic
If you avoid the radio and the clurb, you could be forgiven for missing Ariana Grande. Starting in 2014, the former Disney star seemed to materialize, as though her PR team was staging a full-fledged attack on our collective consciousness. It's easy to rebel against being force-fed pop music that feels engineered by focus groups and that contains lyrics like, "Now that I've become who I really are." The problem with that though—and it's as much your fault as it is Grande's team's—is that it means you missed out on one of the most interesting and elastic voices pop music has heard in decades. With Dangerous Woman, you'll start paying attention. The title track slinks around an aching beat, putting Grande's voice right at the forefront, all vibrato and sky-high peals. The tracks she's released so far go for deep-house rather than the bass drops of two years ago, indicating that Grande finally realized she's best when she's going for Aaliyah and Mariah rather than Jessie J and Selena Gomez.
Marissa Nadler, Strangers
Release Date: May 20
Label: Sacred Bones
Singer-songwriter Marissa Nadler released one of the most stunning albums of 2014 with July, and now she's back with Strangers, which promises to be just as hauntingly gorgeous. Like the album's cover, the songs of Nadler's seventh album play out in black and white, shrouded in a devastating, reverberating sense of longing. The darkly enchanting world of her music revolves around her ethereal voice, which always sounds like its lilts are just shy of reaching some measure of reconciliation before tragically, beautifully, falling just short.
Adult Jazz, Earrings Off!
Release Date: May 20
Label: Tri Angle
Adult Jazz is neither: It's way too playful to be for serious grown-ups and too strange to be jazz, and its 2014 LP Gist Is worked amazingly well as a cohesive statement and then could get wildly disorienting when consumed piece by piece. It was beautiful in surprising moments, in ways psychedelic and swirling. There's evidence to suggest they can do it again. Latest single "Eggshell" has no melody or rhythmic structure to speak of and its vocal layers are ghostly, but it's also deeply emotional in an impressionistic way, which says promising things about Earrings Off!
The Monkees, Good Times!
Release Date: May 27
Label: Rhino
The first single from the Monkees' first new album in nearly two decades made some members of the Newsweek newsroom hit "play" over and over. "She Makes Me Laugh," penned by Weezer frontman Rivers Cuomo, popped up online just about a month before Good Times! is set to drop. The Monkees' three surviving band members—Micky Dolenz, Michael Nesmith, and Peter Tork—have come together to celebrate the band's 50th anniversary, and Good Times! boasts songs by each of them, plus Ben Gibbard of Death Cab for Cutie, Andy Partridge of XTC and Noel Gallagher and Paul Weller. It also includes unreleased songs written for the band in its heyday, including "Love to Love" by Neil Diamond—featuring previously recorded vocal track by the late band member Davy Jones—as well as "I Wasn't Born to Follow" by Carole King and Gerry Goffin, "Whatever's Right" by Tommy Boyce and Bobby Hart, and the title track by Harry Nilsson. Adam Schlesinger of Fountains of Wayne and Ivy produced the album and contributed two tracks, one co-written with Dolenz, who sets off with Tork on a 50th anniversary tour starting May 18.
Holy Fuck, Congrats
Release Date: May 27
Label: Innovative Leisure
In the indie music scene, six years is enough time to form a band, enjoy a successful career, decide you've had enough and move to Upstate New York. But after releasing three albums from 2005 to 2010, six years is the amount of time it's taken Toronto electronic rockers Holy Fuck to release their fourth. Despite the sizable layoff since 2010's Latin, their latest, Congrats, was recorded in only three days. "When you're sitting still in a van and staring out the windows, you start to dream about all the other things you want to do," keyboardist Brian Borcherdt said in a press release. "This album is exactly what we couldn't do then."