Arizona Blocks Federal Gun Control Measures Ahead of Joe Biden Address
Arizona Governor Doug Ducey signed a bill on Tuesday that aims to stop federal gun reform measures restricting Second Amendment rights in the state.
The Republican has pre-empted President Joe Biden's plan to tackle gun violence with a raft of executive orders this week by signing Arizona House Bill 2111.
Under the state legislation, known as the Second Amendment Firearm Freedom Act, federal gun laws deemed to impede the right to bear arms would be "unenforceable" and "null" in Arizona. In addition, public officials will be barred from using funds or personnel to enforce U.S. government measures on gun reform.
Arizona Rep. Leo Biasiucci told Fox10 that the bill would protect gun owners in the state from federal laws that "infringe on our Second Amendment."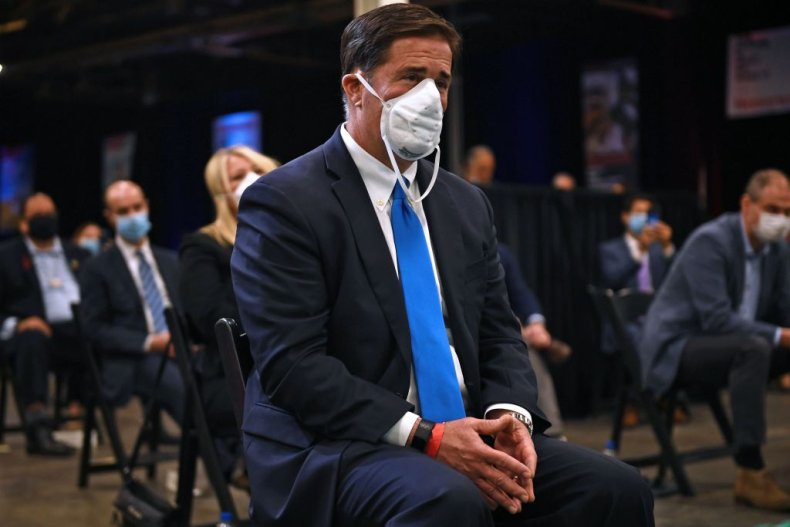 "Proud to announce that Arizona citizens now have an extra layer of protection regarding the 2nd amendment," the Republican state representative tweeted on Wednesday.
Speaking to KTAR News earlier this week, Gov. Ducey said: "There's a lot of discussion out of Washington, D. C., about congressional action around the Second Amendment, and this law was simply to protect the rights that we already enjoy in Arizona."
Newsweek has contacted the governor's office for comment.
On Thursday, President Biden is set to unveil three executive actions aimed at curbing gun violence following a wave of deadly shootings across the country this year. The proposals include a rule to restrict the purchase of "ghost guns."
Ghost guns are kits with almost all the components for a firearm and instructions on how to complete the weapon. They typically lack serial numbers, so can be difficult to trace to their owner when found at crime scenes.
The White House added that the Department of Justice planned to publish model "red flag" legislation for state authorities within the next two months. Red flag legislation would allow family members and law enforcement officials to bar "people in crisis" from accessing guns temporarily.
The Department of Justice is also compiling a report on firearms trafficking, which will be published annually. The New York Times reported that the department has not produced such a document on a yearly basis since 2000.
In addition, the Biden administration intends to publish a rule making it clear when a "stabilizing brace" for a pistol turns it into a short-barrelled rifle under the National Firearms Act.
The White House also proposes to redirect existing funding to federal programs for community violence intervention.