Arizona Election Audit Final Report Delayed as 3 'Cyber Ninjas' Members Contract COVID-19
The final report of the election audit in Maricopa County, Arizona has been delayed after three members of the "Cyber Ninjas" audit team contracted COVID-19.
Cyber Ninjas CEO Doug Logan and two people on his five-person audit team have fallen "quite sick," Republican Arizona Senate President Karen Fann said, according to AZ Central.
Fann said that the Senate was still expecting to receive a partial report from the team on Monday. The Senate will then begin reviewing the report on Wednesday. The full review will likely take weeks before an edited version is sent to the Senate Judiciary Committee. After that, the report will be publicly released.
News of the delayed report caused supporters of former President Donald Trump to accuse Fann of working with President Joe Biden to withhold the final report, KNXV reporter Garrett Archer tweeted on Monday.
Archer's tweet included screenshots of Trump supporters on the group messaging app Telegram claiming that the Cyber Ninjas had been infected "on purpose" so that Biden could shut down the audit facility. The people making these claims provided no proof.
On Monday, Fann's attorney told the Arizona Supreme Court that "legislative immunity" should shield the Cyber Ninjas from fulfilling a legal demand by a group called American Oversight to receive all of the group's correspondence involving the audit, the Arizona Daily Star reported. An appellate court rejected Fann's reasoning last Thursday.
The audit, which began on April 22, was expected to last 60 days. It has since been 123 days. Cyber Ninjas has been criticized for having never conducted such an audit, and their CEO has also been slammed for spreading conspiracy theories about election fraud.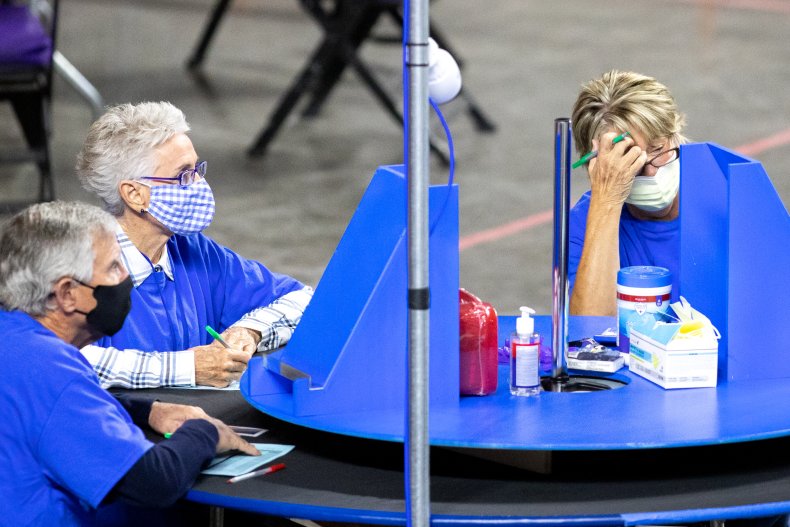 Before being hired to conduct the audit, Logan repeatedly shared pro-Trump election fraud conspiracy theories on a now-deleted Twitter account. One of Logan's alleged retweets said, "With all due respect, if you can't see the blatant cheating, malfeasance and outright voter fraud, then you are ignorant or lying."
Logan also appeared in the 2021 conspiracy theory film The Deep Rig. In it, he said, "If we don't fix our election integrity now, we may no longer have a democracy." He also claimed that the Central Intelligence Agency (CIA) was involved with a "disinformation" campaign directed at the 2020 presidential election. He provided no anecdotes or evidence to back up his claims.
The Maricopa County's election results have been audited numerous times by experienced companies with no report of problems, Arizona radio station KJZZ reported.
The Cyber Ninjas' audit lacks "consistent and transparent procedures," quality checks and other methods to ensure an accurate count, said Jennifer Morrell, a former election official and national election auditing expert who observed Arizona's audit in person for a week.
Republican State Senator Paul Boyer, who voted in favor of the audit, has since called the audit "ridiculous." He added, "It makes us look like idiots...It's embarrassing to be a state senator at this point."
In mid-May, the Republican-led Election Board of Supervisors in Maricopa County issued a 17-page letter to Fann criticizing her and the audit.
"You have rented out the once good name of the Arizona State Senate to grifters and con-artists, who are fundraising hard-earned money from our fellow citizens," the letter said. "Our state has become a laughingstock. Worse, this 'audit' is encouraging our citizens to distrust elections, which weakens our democratic republic."
Fann admitted in a February email that she doesn't believe the audit will uncover proof of widespread voter fraud. "I cannot begin to explain how much I really hate this whole thing," she wrote.
Fann and other Arizona Senate officials have said that the purpose of the recount is to reassure voters of the election's integrity rather than to overturn state or county results.
However, Republican Representatives Marjorie Taylor Greene of Georgia and Matt Gaetz of Florida have both touted the Arizona audit as the first of many to come that will prove Trump's baseless claims of fraud.
Newsweek contacted Fann's office for comment but did not hear back in time for publication.