Arizona GOP Chair Calls for Trump to 'Cross the Rubicon' in Tweet Shared by Michael Flynn
Kelli Ward, the chair of Arizona's Republican Party, urged President Donald Trump to "cross the Rubicon" in a Saturday tweet, referencing the historical act by Julius Caesar which led to the Roman civil war and Caesar becoming a dictator. Retired General Michael Flynn, who was recently pardoned by Trump, shared Ward's tweet Sunday.
Trump and his supporters have baselessly claimed that President-elect Joe Biden won the 2020 election due to widespread voter fraud. There is no evidence to support these allegations, and state and federal judges have consistently dismissed or rejected dozens of lawsuits filed by the president and his supporters. Even judges appointed by Trump have pointed out that his attorneys have not provided evidence to back their claims. But many Republicans are still hoping the president will successfully overturn the election results.
"Mr. President @realDonaldTrump - we are with you in #Arizona. We are working every avenue to stop this coup & to stop our Republic from crumbing. Patriots are united. Those who are against us are exposing themselves. #Liberty & #freedom are on the line. #CrossTheRubicon @GenFlynn," Ward tweeted.
Flynn later retweeted Ward, writing: ".@kelliwardaz has a great feel for the people of Arizona and America. She continues to #FightForTrump With courage and conviction."
Trump pardoned Flynn, who briefly served as his national security adviser at the outset of 2017, in late November. The retired general had twice pleaded guilty to charges that he had lied to the FBI regarding conversations he'd had with a top Russian diplomat. But in January, Flynn moved to withdraw his guilty plea, and the Justice Department announced in May that it would drop all the charges against Flynn. This decision led to significant criticism, as many saw the move as resulting from presidential pressure. Trump then pardoned Flynn on November 26.
Since his pardon, Flynn has continued to vocally back the president and repeat false claims that the election was "rigged." Flynn has urged Trump to send in the military to "rerun an election" in swing states that went for Biden.
"People out there talk about martial law like it's something that we've never done. Martial law has been instituted 64 times," Flynn told Newsmax last week.
Ward's use of "cross the Rubicon" raises questions. The historical context of the phrase relates to Caesar's undemocratic ascension to become Rome's dictator and the start of a civil war. Newsweek reached out to Ward to ask what she intended to suggest with the hashtag, but she did not immediately respond.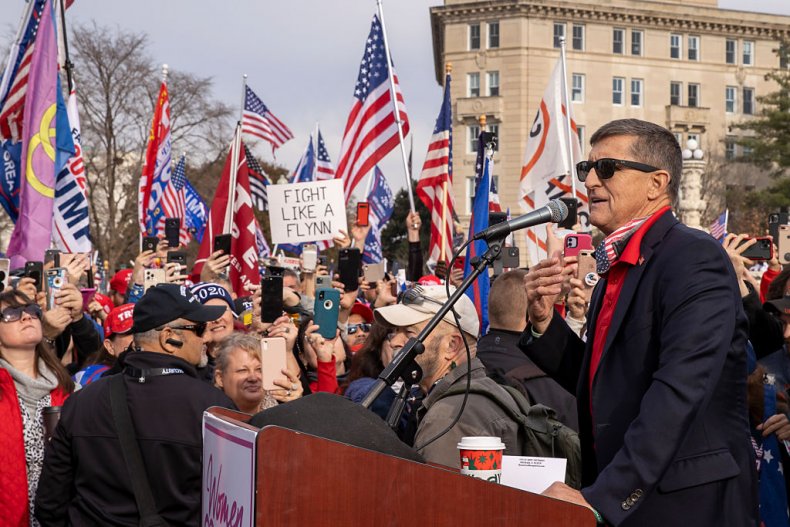 Although Trump still has not accepted the results of the election, leading Republican lawmakers—including Senate Majority Leader Mitch McConnell—have now recognized Biden's victory following the Electoral College vote last Monday. Some GOP lawmakers have suggested they will attempt one more long-shot effort to overturn the results when Congress formally counts the electoral votes on January 6.
Although some Republican lawmakers may object to the tallies from battleground states, this effort is largely expected to fail. McConnell and other GOP Senate leaders have urged their colleagues not to sign on to any such efforts by House Republicans.