Arizona GOP State Senator Critical of Election Audit Fires Back After Receiving Threat
Arizona GOP state Sen. Ugenti-Rita, who has been critical of the Maricopa County audit of the 2020 election results, posted on Twitter Friday that she and her family have received threats.
Ugenti-Rita, who chairs the Arizona Senate Government Committee, withdrew her support from the audit, criticizing "the lack of competence" that "has deprived the voters of Arizona a comprehensive accounting of the 2020 election" in July. She is running for Arizona secretary of state.
Ugenti-Rita posted a screenshot to Twitter of an e-mail she received demanding she "give the American people the Audit report" or she will "feel the consequences." The person who wrote the threat said they "know" where she and her family lives.
Ugenti-Rita wrote on Twitter that the threat has been sent to law enforcement.
"My family's safety is my #1 priority & I will NOT tolerate anyone going after me or my family. Due to misinformation & the unmet expectations of the public surrounding the audit, threats like this will unfortunately continue," she tweeted.
Former President Donald Trump and his allies fueled baseless claims about widespread election fraud, prompting Arizona Republicans to push for the audit in Maricopa County. GOP officials in that county have disputed those allegations.
Arizona Senate President Karen Fann, a Republican, on Friday said in a statement that threats are "unacceptable."
"Differences of opinion should not lead to a breakdown in civility," she wrote. "I will always follow through on my commitment to ensure the safety of our Members and their families."
Other Arizona elected officials have also received threats since the audit began, The Arizona Republic reported. Fann received a letter with a suspicious substance inside, which led to an investigation by the Department of Public Safety (DPS). Secretary of State Katie Hobbs, a Democrat, received death threats related to the election and was assigned DPS protection.
In July, Ugenti-Rita was booed off the stage of a "Protect Our Elections" rally featuring former President Donald Trump held in Phoenix after refusing to support an election bill, calling it "'show' legislation that does nothing to strengthen election integrity."
Later that day, a video showed a man confronting Ugenti-Rita, repeatedly questioning why she "killed" the bill. In the video, he asks if she tried to have him arrested for harassing her. Security officials eventually removed him from the rally for harassment.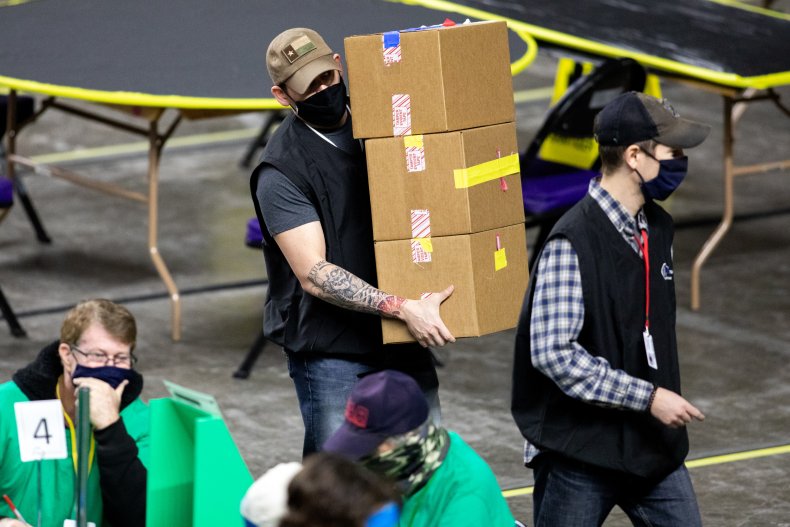 The release of the widely-condemned audit has been delayed, but The Arizona Mirror reported Thursday that a full draft of the report is expected to be sent to the State Senate next week.
Amy B. Chan, a Republican who served as the state's election director from 2009 to 2013, said in an August 26 article the report would be rife with misinformation.
"Whether they call it looking for anomalies, or quality checking, or uncovering a conspiracy so vast it somehow tossed the election to Biden, the bad-faith review of Maricopa County's 2020 election was not a search for truth," Chan wrote.
Bart Graves, a spokesperson for the Arizona DPS, said in a statement to Newsweek Saturday morning, that they are investigating but not commenting on any other details
Newsweek reached out to Ugenti-Rita's campaign office Saturday morning for comment, but had not heard back by publication. This story will be updated with any response.
Updated 12:57 PM ET, with a statement by the Arizona DPS.