Arizona's Former GOP Election Director Says 'Nobody Should Trust' Cyber Ninjas' Audit
A Republican who previously served as Arizona's State Election Director wrote a scathing opinion article slamming Florida-based Cyber Ninjas' audit of Maricopa County, asserting that "nobody should trust" the final report.
Arizona's state Senate Republicans, led by President Karen Fann, hired Cyber Ninjas to conduct the widely criticized audit in the spring due to former President Donald Trump's groundless claims that the 2020 election was "rigged" in favor of President Joe Biden. Cyber Ninjas' was set to release its report on the months-long audit of Maricopa County's ballots—which had previously been reviewed in a non-partisan process—on Monday. However, the report has been delayed because the company's CEO and two others tested positive for COVID-19.
Amy B. Chan, who served as state election director in Arizona from 2009 to 2013, published an article in The Arizona Republic on Thursday warning that the anticipated report would be rife with misinformation. The Republican pointed out that some people have used lies about the 2020 election to fundraise substantial amounts of money.
"Whether they call it looking for anomalies, or quality checking, or uncovering a conspiracy so vast it somehow tossed the election to Biden, the bad-faith review of Maricopa County's 2020 election was not a search for truth," Chan wrote.
She said the Cyber Ninjas report would ask people "not to believe your lying eyes."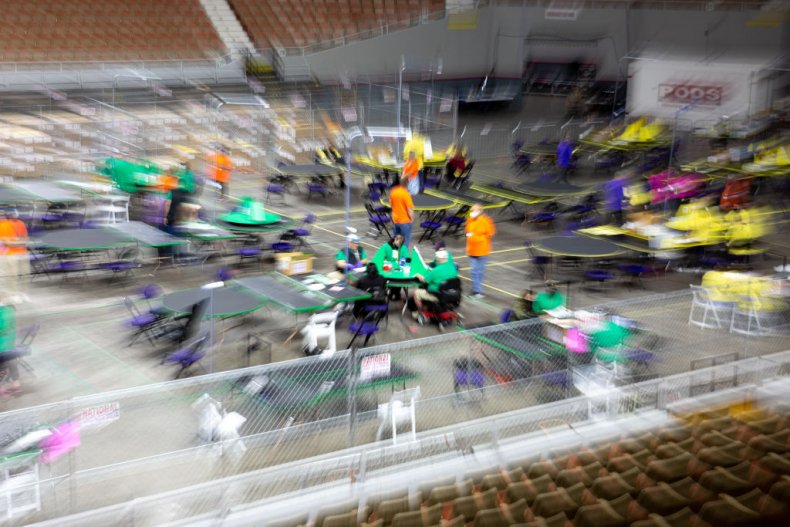 Chan asserted that the 2020 election results have been certified for months and that the election was conducted in a non-partisan way by election professionals across the state. Top Maricopa County Republicans—including officials who campaigned for Trump—have repeatedly attacked the Cyber Ninjas audit, and defended their county's election process.
"Some have hoped that the Arizona state Senate leadership's ballot review would change that outcome, or at least cast doubt. And, quite frankly, some have simply taken advantage of that hope and cashed in, raising large sums of money for their own campaigns and entities," Chan wrote.
The Republican wrote that the review of Maricopa County's ballots has been "biased and unprofessional from the beginning." She added that the location where the audit took place "seemed more like a life-sized game of Mouse Trap than any kind of professional endeavor."
Chan explained that local election officials, who do not have a partisan agenda, follow established procedures across Arizona.
"This is the system voters should instill their confidence in. Not the so-called audit in Maricopa County that has risked our election integrity in the name of spreading mistrust in our democratic norms and raising money," she concluded. "Nobody should trust the disinformation dressed up as the so-called audit's final report."
Many other Arizona Republicans have publicly mocked and attacked the Cyber Ninjas audit.
Jack Sellers, a Republican who chairs Maricopa County's board of supervisors, described the audit earlier this month as an "adventure in never-never land." The local GOP official said that "if you haven't figured out that the election in Maricopa County was free, fair, and accurate yet, I'm not sure you ever will."
Stephen Richer, a Republican who serves as Maricopa's county recorder, released a 38-page letter to fellow Republicans criticizing the audit and outlining its many flaws this month. Richer also explained how he and his family had campaigned for Trump prior to the election, and how he initially held off criticism of the former president's claims of widespread fraud to see how the court challenges moved forward.
"More than any moral code, philosophical agenda, interest group, or even team red vs. team blue, many politicians will simply do whatever it takes to stay in office," Richer wrote in the letter.
"Right now, a lot of Republican politicians have their fingers in the wind and think that conforming to Stop the Steal, or at least staying quiet about it, is necessary for reelection in their ruby red districts or a statewide Republican primary. So that's what they'll do. Multiple elected or hoping-to-be-elected Republicans have told me this explicitly," he added. "It's disgusting."
Fann has repeatedly defended the audit of Arizona's most populous county, arguing it is necessary to ensure the southwestern state's voters that the election was free and fair. On Sunday, Fann dismissed Republican criticism of Cyber Ninjas' report, telling Newsweek that she found it "interesting" that people were commenting on the company's findings before they were released.
Newsweek reached out to Fann for comment on Chan's criticism, but did not immediately receive a response.
Trump and his allies—such as retired General Michael Flynn and MyPillow CEO Mike Lindell—continue to baselessly claim that the 2020 election was "rigged" or "stolen" in favor of Biden. This extraordinary allegation has already been thoroughly litigated and wholly discredited.
Dozens of election challenge lawsuits filed by Trump and his allies failed in state and federal courts. Even judges appointed by Trump and fellow Republicans have rejected the often bizarre claims. Election audits and recounts in key battleground states—including in places where the elections were overseen by pro-Trump Republicans—have reaffirmed Biden's victory.
Former U.S. Attorney General William Barr, who was widely seen as one of Trump's most loyal Cabinet members, said in December that there was "no evidence" to back the claims of widespread fraud. Additionally, the Cybersecurity and Infrastructure Security Agency at the Department of Homeland Security described the 2020 election as the "most secure in American history." The agency, which was led by a Trump appointee at the time, asserted that there was "no evidence that any voting system deleted or lost votes, changed votes, or was in any way compromised."