Senator Kyrsten Sinema's Stimulus Stance Draws Praise From Former GOP Governor Jan Brewer
Although they had political differences in the past, the Republican former governor of Arizona, Jan Brewer, has praised Senator Kyrsten Sinema for her "moderate" stances on key Democratic policies such as the COVID-19 relief package.
For the first time in nearly seven decades, Democrats in the Grand Canyon State won both upper house seats in Washington DC and with a 50-50 split U.S. Senate, centrist Democratic lawmakers like Sinema have significant political clout.
Sinema opposes a raise to the federal minimum wage to $15 as part of the Biden administration's plan to kickstart the economy after the coronavirus pandemic.
She is also among half a dozen other Democrats and seven Republicans seeking to stop "upper-income taxpayers" getting stimulus checks.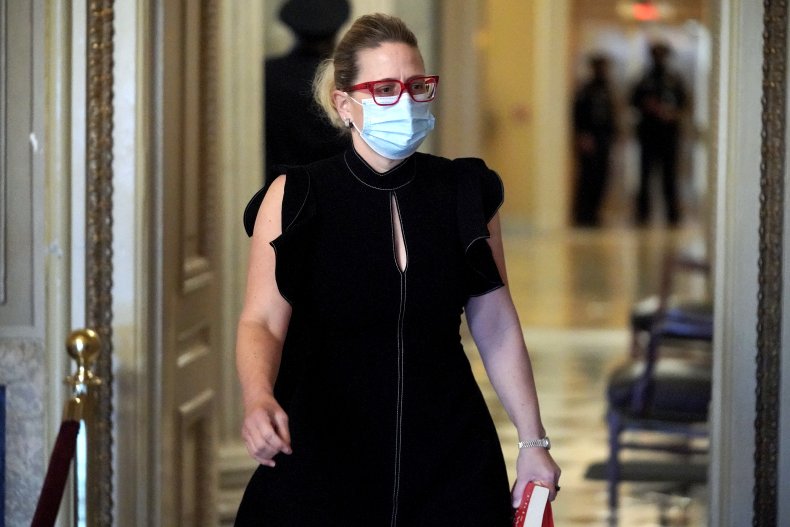 "This is really hard for me to say but she has been moderate and she has stood up for Arizona," Brewer toldThe Gaydos & Chad Show on Ktar. "She is powerful because of the numbers they are dealing with there."
Brewer, who was Arizona governor between 2009 and 2015, told the program that she did not get along with Sinema when they worked together in the past. Sinema was once a member of the Arizona House of Representatives and later the state senate.
"This is not the person we knew when she was in the Arizona legislature," Brewer said, "It is absolutely refreshing that she is looking at things and making what I believe are reasonable decisions."
Democratic senator Joe Manchin (D-WV) has joined Sinema in rejecting the inclusion of a $15 federal minimum wage in the coronavirus stimulus package, saying that he would be in favor of a more moderate increase, such as $11.
Sinema has said she could not back any provisions not directly related to providing immediate COVID-19 relief and that it was not appropriate to pass the minimum wage hike via the reconciliation process, which only requires a simple majority.
For the raise to pass, it would still need every Democratic senator to back it and so could be scuppered by her or Manchin's opposition.
Sinema has also said she opposes any move to eliminate the filibuster requiring a minimum of 60 Senate members to agree on legislation. Democrats fear that if it stays in place, Republicans' slim minority may be used to stop their ambitious legislative agenda.
Brewer told KTAR: "It is not easy sometimes to walk down the middle of the road—you know, you get hit from both sides.
"I'll give her credit, she said she was going to be a moderate," Brewer said, "I didn't believe her." Newsweek has contacted Sinema's office for comment.
The graphic below provided by Statista shows the minimum wage state by state.