Arizona's Kyrsten Sinema, Opponent of $15 Minimum Wage, Target of Progressive Ad Campaign
A progressive activist group has targeted Senator Kyrsten Sinema (D-AZ) in a new advertising campaign that questions whether the lawmaker will "stand in the way" of an increase in the federal minimum wage and other relief measures.
A copy of an advert placed in Arizona Daily Star sets out the economic struggles facing locals amid the pandemic, and then poses the question: "Will Senator Sinema fight for us? Or will she stand in the way?"
The progressive group then advocates for "survival checks," expanded unemployment insurance and a $15 federal minimum wage to be included in the next COVID-19 relief package. Sinema has previously opposed the proposed minimum wage hike on the record.
"Senator Sinema has voiced her opposition to key pieces of the [American Rescue Plan], including raising the minimum wage," MoveOn tweeted on Monday. "But make no mistake: Every day of delay, and every policy watered down or taken out of the bill, means more unnecessary, preventable suffering."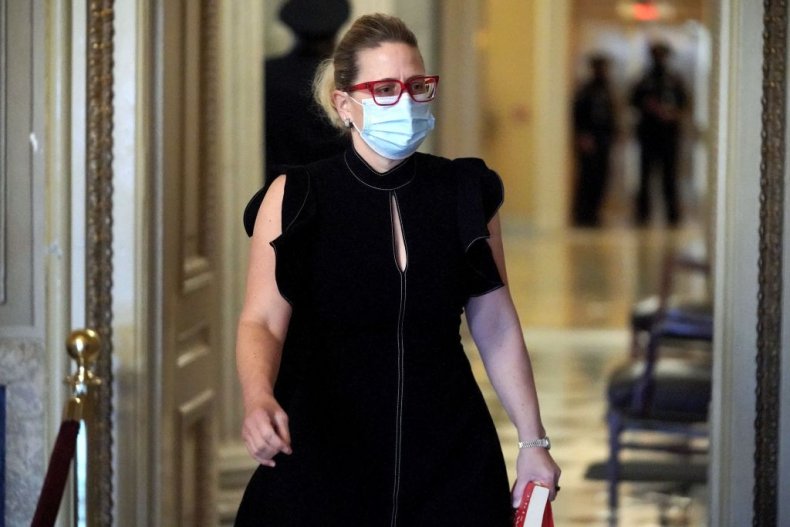 Newsweek has contacted Sinema's office for comment on the attack advert.
Speaking to Politico earlier this month, the Democratic lawmaker signaled that she would be voting against the $15 minimum wage proposal included in President Joe Biden's $1.9 trillion relief bill.
"What's important is whether or not it's directly related to short-term COVID relief. And if it's not, then I am not going to support it in this legislation," Sinema told the outlet. "The minimum wage provision is not appropriate for the reconciliation process. It is not a budget item. And it shouldn't be in there."
Her opposition to the minimum wage hike—a gradual rise taking place over the next four years—means the measure is unlikely to pass the evenly-split Senate unless at least two Republicans break with their party to support the proposal.
Senator Joe Manchin (D-WV) has similarly said he will oppose the $15 minimum wage proposal on parliamentary grounds. "My only vote is to protect the Byrd Rule: hell or high water," Sen. Manchin told CNN last week. "Everybody knows that. I'm fighting to defend the Byrd Rule. The president knows that."
The Byrd Rule dictates that policy proposals included in a budget reconciliation bill must directly impact the budget. There is still an ongoing debate as to whether increasing the federal minimum wage will have a direct or indirect effect on the budget.
A Congressional Budget Office report released this month estimated that the proposed wage hike would increase the federal deficit—increasing its odds of being deemed eligible for the budget reconciliation bill.