Maricopa County Election Chief Says Fraud Claims Are False, Tells GOP to 'Dial Back the Rhetoric'
The election chief in an Arizona county that went to a Democrat presidential contender for the first time in seven decades has assured voters there was no evidence of fraud and said the historic result would stand.
President-elect Joe Biden became the first Democrat to win Maricopa County since Harry Truman in 1948, a result that helped him flip the Grand Canyon State and take its 11 electoral college votes.
However, three Republican congressmen had called for the recount of all 2 million ballots in the county, claiming the County Board of Supervisors and Recorder's Office had broken state law by not conducting a precinct-level hand count of the ballots to check accuracy.
Last week, the state's Republican attorney general, Mark Brnovich, said the county had followed the law. But Reps. Andy Biggs, David Schweikert and Paul Gosar contacted the board asking for an audit of all ballots because of "issues raised about the integrity of some of our election systems within the state." They did not specify how they believed the votes had been compromised, 12 News reported.
Their comments follow President Donald Trump's refusal to concede to Biden.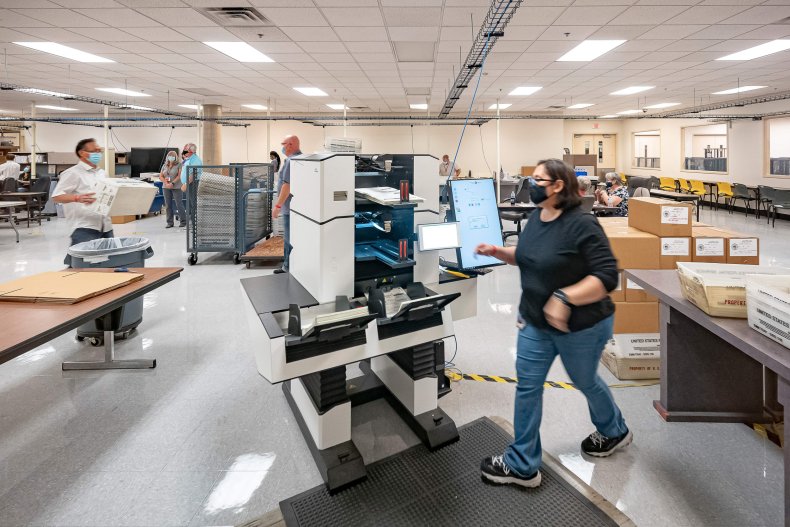 On Monday, the county board's spokesman Fields Moseley said the "evidence overwhelmingly shows the election was accurate" and the results would be certified by the end of the week, 12 News reported.
A day later, board chairman Clint Hickman issued a statement reassuring voters that "there is no evidence of fraud or misconduct or malfunction."
He addressed claims that Dominion Voting Systems, a software company used in Arizona and other states, had deleted and switched votes intended for Trump.
Hickman said the equipment had been vetted by a bipartisan committee, been tested extensively and a hand count audit of 2 percent of the ballots had shown it to be accurate.
While there are triggers to require another hand count, "none of those thresholds have been met," he said.
"It is time to dial back the rhetoric, rumors and false claims," said Hickman. "No matter how you voted, this election was administered with integrity, transparency and in accordance with state laws."
Newsweek has contacted the Trump campaign for comment.
On Election Day, some Republican voters in the state claimed they had been instructed to use Sharpies to fill in their ballots, which then were not read by voting machines. This was rejected by top election officials and Arizona Secretary of State Katie Hobbs.
The Trump campaign dropped its lawsuit in Arizona seeking a hand review of ballots because the margin of victory would be too difficult to overcome.
The latest move by the Maricopa County board clears another hurdle in confirming the state's election result. Arizona's counties have to finalize results by November 23 and the state must certify the result on November 30.
The graphic below by Statista shows the amount of money spent by the two main political parties in recent elections.