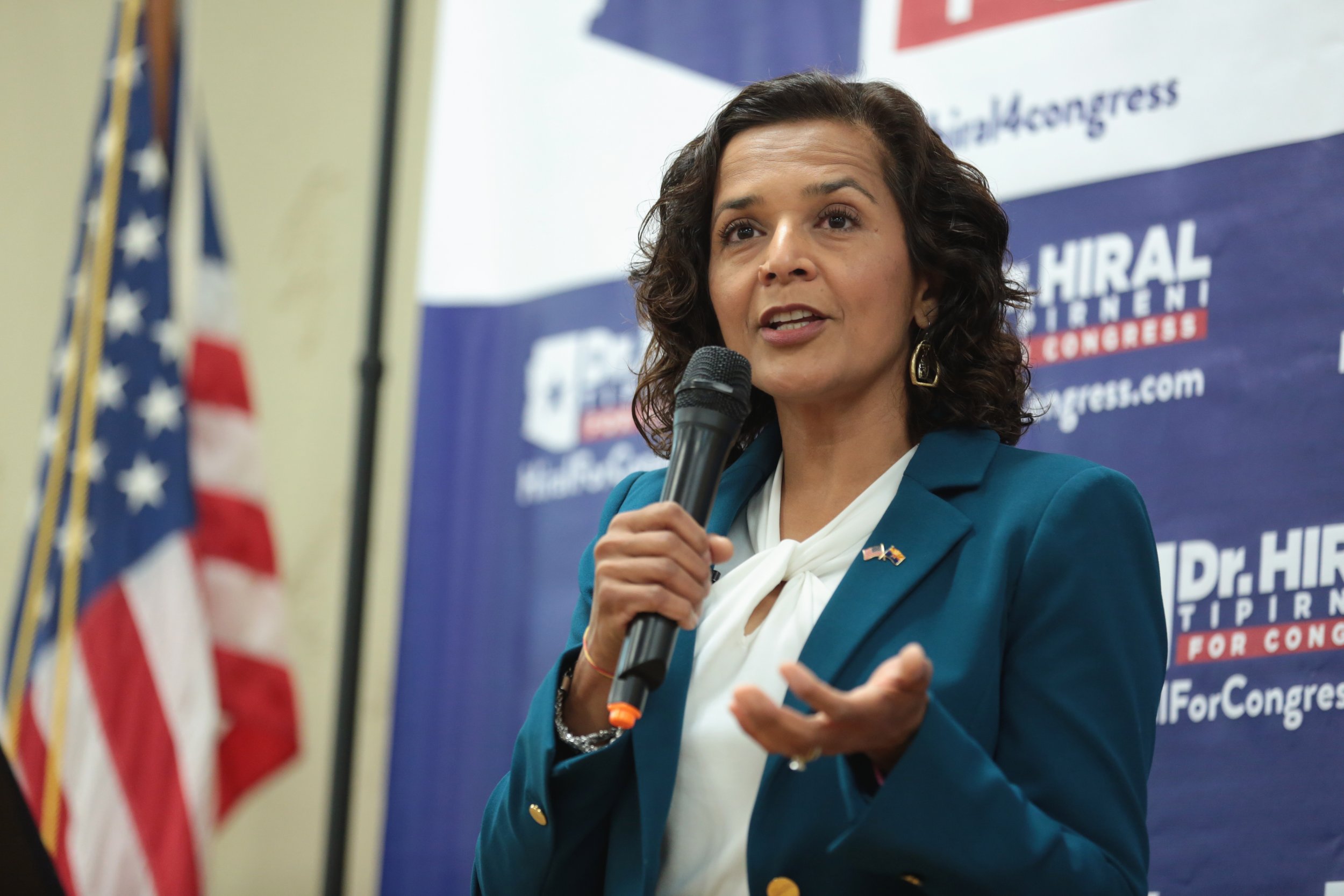 When Dr. Hiral Tipirneni was 3 years old and new to the United States, her parents would leave her home alone for 30 minutes on workdays. After moving from India, the family opened a 7-Eleven in Buena Park, California, but did not have enough money to hire employees or a baby sitter, according to Tipirneni. So during the length of time it took one parent to walk to work and relieve the other, and for the other to walk home, Tipirneni would stay on the phone with the parent at the store.
"It was heartbreaking for them," Tipirneni said in a phone interview ahead of Tuesday's special election in Arizona, in which she is running for Congress. "I remember when my mom told me that story, she was in tears. Because who wants to leave their kid home alone?"
But the family had no choice. "There was no return-ticket home to India," she said. "They didn't know what their future held, but they were going to work hard and do whatever it took to make this life work for their children."
Related: Who is Kelli Ward, the candidate running to succeed Jeff Flake?
Tipirneni, an emergency room physician, is running to fill Arizona's 8th District seat that Representative Trent Franks left vacant in December after news broke that he had approached two staff members about becoming surrogates for him and his wife. The race on Tuesday is the latest special election to garner national attention, as political analysts and the public look for indicators of how the November midterm elections might go. Despite warnings by some conservatives about a potential "blue wave" of support for Democrats, Republicans have won the majority of the special races since the 2016 general election, and the Republican National Committee is out-fundraising its Democratic counterpart.
Given that Tipirneni is a Democrat running in a district that encompasses part of Maricopa County, home to Phoenix, a county President Donald Trump carried in 2016 and where, as of April 11, registered Republicans outnumbered registered Democrats almost 2-to-1, her run has seemed like a long shot. (The county is also 84 percent white.) But a recent poll put her and Debbie Lesko, a Republican state senator, within a percentage point of each other, meaning the race has been even more closely watched nationally, with the Republican establishment seemingly scrambling to send surrogates and cash.
Tipirneni insisted that she could win in the red district, at least partly because she's a self-identified moderate who can possibly attract independents and Republicans. "My platform has been something that has resonated with people all along the political spectrum," she told Newsweek. "I have spoken with countless Republicans who are clearly moderate Republicans who are frustrated by the current administration, the current House and Senate."
But she's also relying on her own party. "The Democrats have come alive in this district. They were sort of a sleeping giant in a sense that nobody had really run in quite a while a strong campaign for a Democrat in this district and there just wasn't any feeling of a real choice on the ballot," she said. "Now, people are coming out of the woodwork and engaging with our campaign and incredibly excited."
After living in California, Tipirneni grew up near Cleveland. She later moved to Arizona and became a physician, working at hospitals in the Phoenix area. While the mother of three has not previously held political office, she said her medical experience has prepared her for Congress.
"It's all about problem solving. I've spent my entire life basically in these situations where people come to me in times of crisis with really serious issues or problems or emergencies," she said, "and it's been my job to...look at the facts, be able to analyze the data, work with others on a team that may not agree with me and really be able to diagnose the issue and then implement a real-life solution."
As with others running this year, her candidacy is a reaction to the 2016 election. She said she felt upset about Trump's win and what she believed it meant for issues she cared about, such as access to health care. The day after his victory, she was speaking on FaceTime with one of her daughters about how they should stay politically involved, she recalled. In particular, they discussed how more women should run for office. That's when her daughter said, "Well, Mom, if not you, then who?"
"It was sort of like, 'Put your money where your mouth is,'" Tipirneni said. A day or two later, she applied to Emerge America, a national program that since 2005 has trained more than 3,000 women on how to run for office as Democrats.
Tipirneni's training started in January 2017. "She was the only doctor in the class," said Dr. Sharmin Dharas, executive director of Emerge America's Arizona program, who, like Tipirneni, is a physician as well as a first-generation American. Tipirneni "has motivated the entire Emerge network" with her success so far, Dharas added.
By March 2017, Tipirneni had her sights set on the Franks seat. She announced her candidacy that July, and after Franks resigned in December, she decided to run in the special election instead.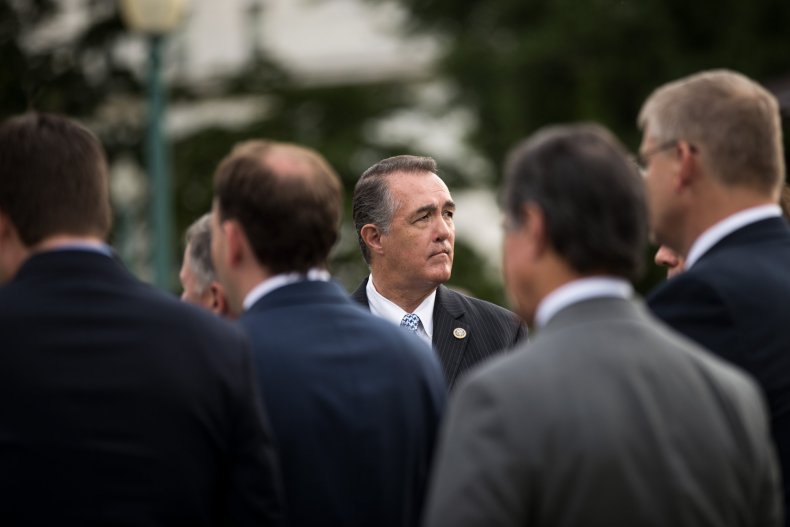 Tipirneni's moderate platform includes investing in public schools, reducing student debt, simplifying the federal tax code, expanding workforce training and making child care affordable. She also wants to reduce wait times at the Department of Veterans Affairs and expand Medicare so that access is less costly. For certain topics, she seems to lean more to the left. She calls for "secure borders" with an immigration system that is "clear" and "affordable" and supports the Second Amendment but also gun safety reform.
Meanwhile, the website for Lesko, her opponent, touts the Republican candidate's National Rifle Association membership and says the U.S. must defend itself from "insane madmen like Kim Jung Un" [sic]. She also says she wants to be "working with President Trump" to build his border wall, and she describes herself as "pro-life and pro-family." She calls the Second Amendment a "precious civil right."
Arizona's Republican Party directed requests for comment to the Lesko campaign. A spokesman for Lesko said she was not available for an interview.
Not everyone is so sure Tipirneni has a shot. "It's just a very, very solid Republican district," said Constantin Querard, an Arizona-based Republican political operative. "I really don't think there's any concern.... The action was all in the primary, and I think folks understood that whoever won that primary [as a Republican] was going to be the next congressperson."
He noted that, as of early April, Tipirneni had raised around $670,000, a fraction of the millions that Democrat Conor Lamb had when he ran in a special election in Pennsylvania last month, which he narrowly won. (The amount for Tipirneni is still more than the $540,000 or so that Lesko had as of early April.) He also dismissed the April 16 poll that showed the candidates in a tight race as "an outlier" and noted that at least one-third of voters cast their ballots early, when she was lower down in the polls.
But Republicans do seem nervous. In the past month, high-profile surrogates such as House Majority Leader Kevin McCarthy have flown in to support Lesko, and the Republican National Committee has infused her campaign with last-minute cash.
"We have a great candidate in Dr. Hiral Tipirneni," said Drew Anderson, senior communications adviser to Arizona's Democratic Party. "She is running a race that is fitting the district."
The candidate who wins on Tuesday doesn't get to relax for long. The seat will be up for grabs again during the midterms in November, so Tipirneni or Lesko will have just about a month to register to run in the August primary for that race. If the person who wins on Tuesday loses in the primary or in November, she will hold the seat only until January.
"The special election, obviously, it's its own beast," said the Arizona Democratic Party's Anderson. "But we're confident the hard work we are doing in this special election will only pay dividends down the road."
If Tipirneni does win in the special election, she'll be in the minority in Congress, regardless of party. This year, just 19.8 percent of members of Congress are women. As of 2015, just 1 percent were immigrants, and in 2017, 19 percent were people of color.
"When you get that opportunity to come to America, you want to invest back and give back to the country that has given you so much," said Emerge America in Arizona's Dharas. "And when you see something going awry and not working the way that you've been always dreaming of when you were little, you want to do something about it."