Arsenal vs Crystal Palace: What We Learned from Emirates Stadium as Olivier Giroud Scores Stunner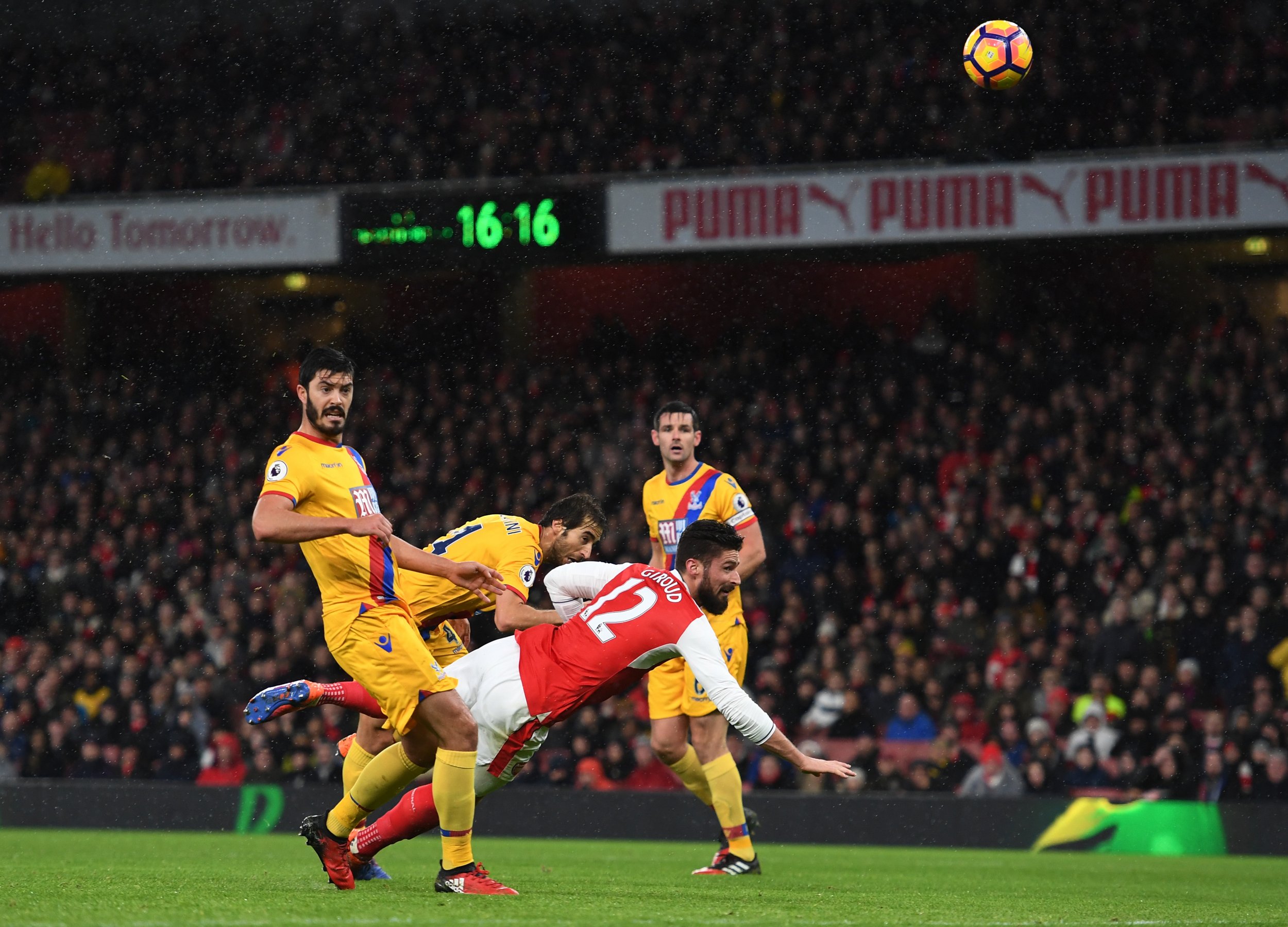 Arsenal, under pressure to keep pace with its English Premier League title rivals, had plenty in store on New Year's Day as it saw off a poor Crystal Palace side at Emirates Stadium.
It did not touch the heights of Tottenham's 4-1 victory over Watford earlier in the day. But goals from Olivier Giroud and Alex Iwobi still condemned Palace to a first defeat under new manager Sam Allardyce.
Here's what we learned as the Premier League rolled into 2017.
Giroud is capable of the beautiful and the beastly
Giroud has become the odd man out in Arsenal's attack this season, since Alexis Sanchez's move to center forward—suggesting a surfeit of riches for Wenger.
It was Giroud who provided the finish to Arsenal's toil against West Bromwich Albion on Boxing Day, though his contribution to this game will go down as more memorable.
When Sanchez cut in from the left-hand touchline and crossed on nine minutes, nothing screamed a certain goal. But Giroud contorted his body, a circus act sending a backheel volley past Wayne Hennessey, who had hardly moved from his line.
It was a goal that created an element of mystery in a first half governed by humdrum rationalism. Option B he may be, but Giroud is as capable of moments of wonder as any member of Arsenal's squad.
Iwobi reduces Ozil's aura
Wenger revealed before the game that he had not seen Mesut Ozil for three days, as the German recovered from flu. Arsenal fans— or anyone fond of schadenfreude and unsure themselves about whether Ozil performs to the best of his talents—insert joke here.
Ozil's literal absence forced Wenger into a change of formation, with Sanchez and summer signing Lucas Perez lining up either side of Giroud.
On this occasion, absence did not make the heart grow fonder. It is usually against lower-grade opposition that Ozil shines brightest but Alex Iwobi, the young Nigerian midfielder, stepped up in his position with a clever second-half header over Hennessey and several Palace defenders on the line.
Sanchez, meanwhile, looked no less dangerous as an inside forward. Wenger said in the week before this game that no progress had been made on contract talks with Ozil and Sanchez, both of whom have begun to move towards the end of their current deals. But if Iwobi continues to impress, it may not be long before Arsenal feels Sanchez is the player it must bust its piggy bank to keep.
Running to stand still in crazily competitive Premier League
After 19 games, it's clear this Premier League season is placing unusually high pressure on the psyche of players.
At the bottom of the table, there is the same kind of fear that hovers every year: the low, persistent belly rumble of impending relegation, and the enormous loss of revenue that could bring to a team.
At the top, English football's big beasts have reacted to Leicester City's extraordinary title win by setting a startling pace, such that Manchester United is going at almost two points per game and still somehow finds itself at sixth place, peering in through the window at the party. In past seasons, Wenger and Arsenal could at least console themselves with a guarantee of Champions League football in the event that a title challenge fizzled.
Winning now is not just about catching up with Chelsea and Liverpool, but holding off two of Manchester City, Tottenham Hotspur and United to secure a place in the top four. Spurs had hammered Watford prior to kick off at Emirates Stadium, leaving Arsenal temporarily in fifth place. If its assured first-half display did not suggest a team under pressure after two defeats in three games, then mental fatigue may start to show later in the season. Arsenal has a run of games it should win coming up. That, in itself, may invite trouble.
Allardyce should resort to stereotype to lift ailing Palace
It is too easy to fall into an easy generalization of Arsene Wenger and Sam Allardyce as high-end French cheese and plain English chalk. Allardyce has long been an innovator in English football, bringing a continental flair to Bolton Wanderers in the early 2000s along with a focus on sports science. Not a million miles from Wenger's first steps when he arrived at Highbury in the autumn of 1996.
But while Premier League strugglers continue to appoint Allardyce in the hope, often fulfilled, of rescue from relegation then the caricature will persist because it is, at least in part, true. Even after that desperate spell in charge of England, the 62-year-old is the first person chairmen call during their midwinter struggles.
Read more: Arsene Wenger reveals fear of Arsenal mental "block"
Allardyce has outdone Wenger before, but the last of his successes came almost seven years ago, a 2-1 victory for Blackburn Rovers in May 2010. Wenger wrote in his programme notes that it was "difficult to predict" what changes Allardyce would make to Palace, which had conceded 33 goals in 18 games. Pragmatism looked the order of the day at Emirates Stadium. What Allardyce possesses is a fine attack, with a 30 million striker in Christian Benteke supported by one of the league's in-form wingers, Wilfried Zaha, and a crafty midfielder in Yohan Cabaye once courted by Arsenal.
What he is glaringly short of: the kind of defense that can keep a team's head above water. Arsenal was able to attack down Palace's flanks almost at will early in the game, Olivier Giroud somehow missing a low cross on seven minutes from the center of the goal. If Allardyce can resort to caricature and work on that defense, Palace may yet survive.