Arson Attacks on Enlistment Offices Spike After Putin Starts Mobilization
Attacks on military enlistment centers in Russia have spiked following Russian President Vladimir Putin's announcement of a new partial mobilization of citizens to fight in Ukraine, according to new reports.
Reports of alleged arsons against enlistment centers and local government buildings have accelerated in the last week, seemingly in reaction to Putin's Wednesday announcement of Russia's first partial mobilization since World War II. There were at least 20 reported cases of arson against military commissariats in Russia within the first six months of Ukraine's invasion, but the rate of these attacks "has now sharply increased," the Kyiv Post reported Monday.
The first reported incidents following the partial mobilization came on Wednesday, when recruitment offices in St. Petersburg and Nizhny Novgorod in Western Russia were allegedly set on fire. According to the newspaper, the offices in the latter city had Molotov cocktails thrown through its windows to set the blaze.
More attempted arsons were reported the following day in the country's Orenburg and Zabaikal regions, though details on these incidents are slim. On the same day, a local administration building in Tolyatti, a city located roughly 1,000 kilometers east of Moscow, was partially burned down, The Moscow Times reported.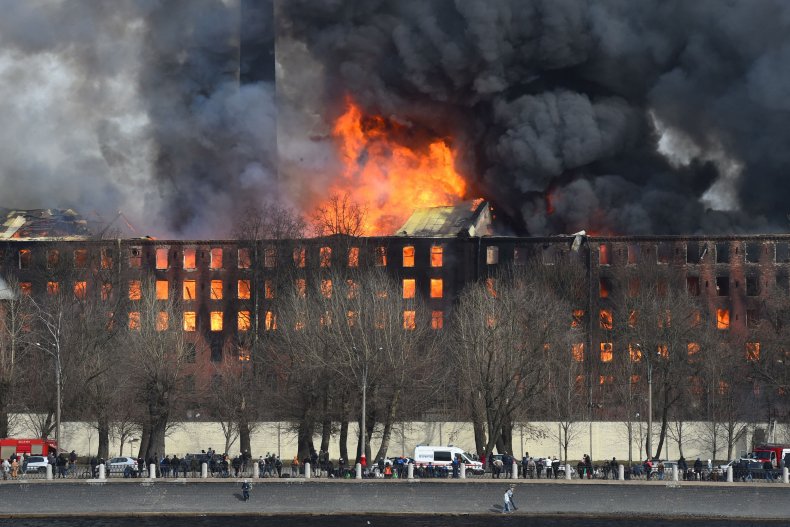 On Friday, an "incendiary object" was reportedly lobbed into a local administrative building in Volgograd, a region of Russia not far from the border with Ukraine. Recruitment offices in the Amur and Khabarovsk regions were attacked with Molotov cocktails on the same day, and a post office in the Altai region was completely burned down in an alleged arson, the Kyiv Post also reported.
On Saturday, an elderly man was reportedly arrested for attempting to set fire to a recruitment center in the town of Kansk, while several car tires were lit on fire outside the United Russia offices in Bashkortostan. The following day, yet more recruitment offices caught fire, this time in the cities of Leningrad, Mordovia, and Kaliningrad, while a government building near Volgograd was burned to the ground, and a social welfare building in a rural settlement in the Leningrad region had "combustible bottles" thrown through its windows, according to the Kyiv Post.
As of Monday, it is unknown who is responsible for most of these attacks, be they individuals or organized groups.
This flurry of attacks seemingly reflects a hastening discontent with the Russian government among its citizens in the wake of Wednesday's partial mobilization announcement. Among the citizens being conscripted to fight in Ukraine are those currently serving in reserves and those with "certain military specialties and relevant experience." Putin justified the decision as a means "to protect the sovereignty, security and territorial integrity of Russia."
Newsweek reached out to Russian officials for comment.