Top Putin Ally Keeping Forces Away From Russia's Mobilization
Belarusian President Alexander Lukashenko, a top ally of Russian President Vladimir Putin, is not planning to mobilize his forces despite a partial mobilization in Russia.
Lukashenko told reporters on Friday that Belarus' opponents were speculating that the country could announce a similar draft, but this is false, according to Belarusian state-owned news agency BelTA. It was not immediately clear who the Belarusian president was referring to in saying that opponents had been spreading mobilization rumors. Newsweek reached out to Belarus' Foreign Ministry for clarification.
Putin announced a partial draft on Wednesday that will mobilize Russian citizens in the reserves and those who have served in the army with "certain military specialties and relevant experience." The Russian president said that the order, which will call up to 300,000 soldiers to join the ongoing war in Ukraine, was necessary to "protect the sovereignty, security and territorial integrity of Russia."
The mobilization was met with strong opposition by many Russians. An anti-mobilization petition had received hundreds of thousands of signatures as of Thursday morning, while protests that broke out against Moscow resulted in more than 1,300 detainments, according to the independent human rights project, OVD-Info.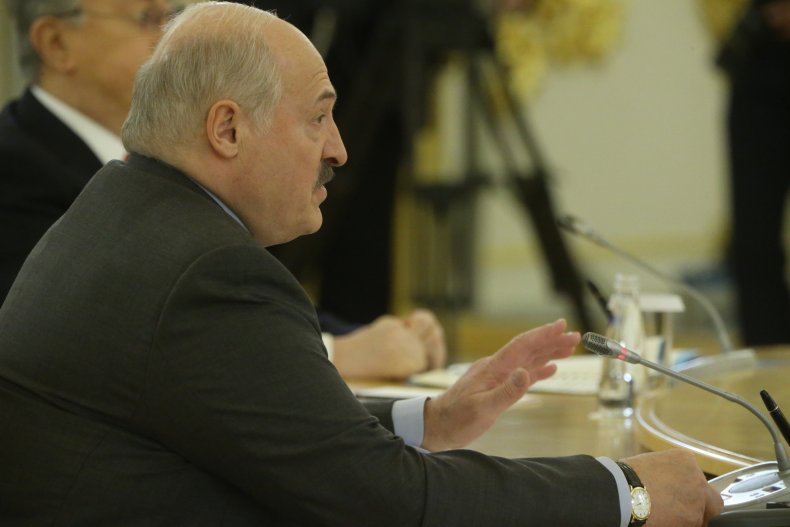 A top Slovakian official predicted Thursday that the draft will result in Putin being ousted from office due to the "complicated political situation" it has caused.
"It is about time we realized one thing – as he starts calling up the sons of Russian mothers, he will quite clearly get entangled in a very complicated political situation, and I assume, therefore, that Putin, as the President of the Russian Federation, will end up being overthrown," Defense Minister Jaroslav Nad said in a statement released through the ministry's website.
Lukashenko's regime is one of the few to stand by Putin since he invaded Ukraine on February 24. Lukashenko has not sent his own forces into the Eastern European country, but has played a role in the war by allowing Moscow to place troops within and launch airstrikes from its territory.
Meanwhile, Putin told a bilateral forum in the Belarusian city of Grodno in July that the "unprecedented" sanctions imposed on Russia and Belarus in response to the invasion were pushing the two countries toward "unification."
While Belarus will not be mobilizing its troops with Russia, the country will respond to any potential threats against it, Lukashenko said. He added that Belarus has been regularly conducting military exercises to ensure that people are prepared to defend the country with the necessary military skills.
The Belarusian president also said that his country will not join any war, according to BelTA.
"We will fight only when we have to defend our home, our land," Lukashenko said.
When Belarus' Defense Ministry launched routine training exercises earlier this month, the United Kingdom's Defense Ministry said in an intelligence update that they likely would not precede Lukashenko sending troops into Ukraine.
"Although Russia's use of Belarusian territory was instrumental in Russia's failed advance on Kyiv early in the invasion, Belarusian forces have limited offensive capabilities and there is a remote chance that they have deployed forces into Ukraine," the ministry said in its update. "It is highly unlikely that these exercises are an indication of preparations for direct Belarusian involvement in the Ukraine war."
Newsweek reached out to Russia's Foreign Ministry for comment.