Putin Drafting 'Sons of Russian Mothers' Will Be His End: Slovakia
A top official from Slovakia has predicted that Russian President Vladimir Putin's partial mobilization that will call up to 300,000 soldiers to join the war in Ukraine will result in him being ousted from office.
Defense Minister Jaroslav Nad said Putin's draft "reveals the wretchedness with which he acts."
"It is about time we realized one thing – as he starts calling up the sons of Russian mothers, he will quite clearly get entangled in a very complicated political situation, and I assume, therefore, that Putin, as the President of the Russian Federation, will end up being overthrown," Nad said in a statement released through the ministry's website.
Putin's partial draft will mobilize Russian citizens in the reserves and those who have served in the army with "certain military specialties and relevant experience." While the Russian president said that the mobilization was necessary to "protect the sovereignty, security and territorial integrity of Russia," many civilians in the country have made their opposition to the order evident.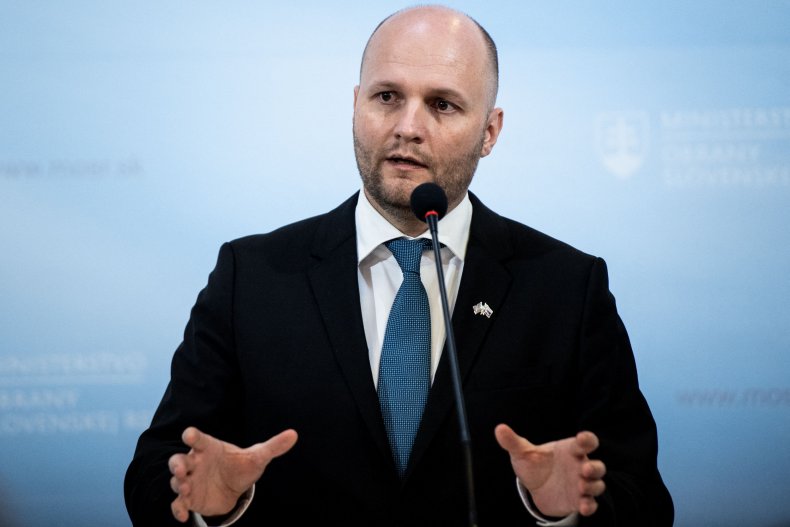 A petition on Change.org titled "No to mobilization" had received more than 327,000 signatures as of Thursday morning.
"In the current situation of uncertainty, we are not ready to expose the men of our country— brothers, sons, husbands, fathers and grandfathers—to moral, or physical danger," the petition stated.
Protests against the partial draft have also broken out across Russia. According to the independent human rights project OVD-Info, there have been more than 1,300 detentions at protests in Russia against the mobilization. There were at least 538 detainees in Moscow, and at least 479 in St. Petersburg.
"The police acted harshly, and journalists were detained in several cities," the project said.
Meanwhile, departing flights from Russia began to soar in price and sell out following Putin's mobilization announcement, while Google searches for "how to break an arm at home" in Russia also saw an uptick.
In his statement, Nad pledged to continue supporting Ukraine "diplomatically, economically, politically and militarily to a maximum extent possible" as it continues to fight back against Russian aggression, and predicted that the war-torn country will ultimately prevail against Putin's army.
"On the other hand, Putin's actions confirm that he is losing both his temper and options," he added. "I am convinced that ordinary Russians themselves will soon become increasingly aware of that and will take steps and prevent him from hurting Russia and its people."
Newsweek reached out to the Kremlin for comment.