Four weeks after the death of George Floyd at the hands of Minneapolis police, protests around the country—and world—are continuing to demand justice for Floyd and the countless other Black lives cut short by police brutality and systemic racism.
In addition to numerous protests, marches and memorials, art has also become another way to stand in solidarity with Black Lives Matter. The Instagram account @artistsforgeorge documents the work of one artist, who has asked to remain anonymous, who as of June 22 has created 21 portraits of George Floyd that are given out to protesters in New York City.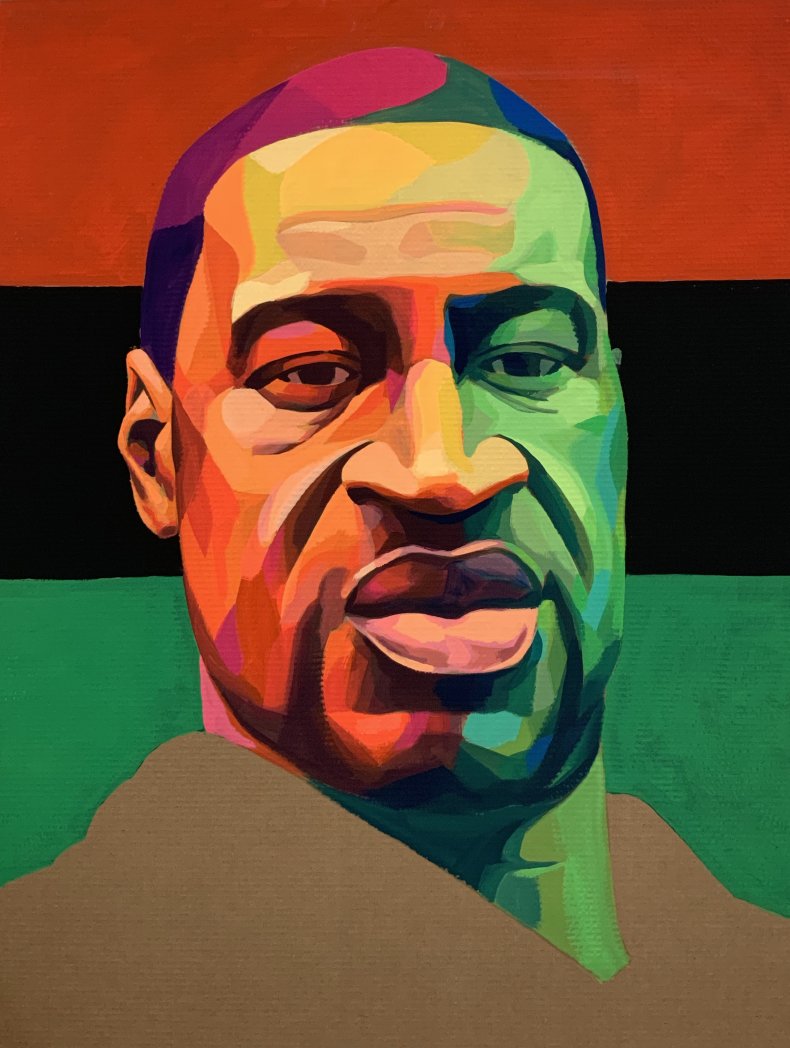 "The project was simply a response to, 'what the hell can I do to contribute?' For the first five days of protests I felt sort of paralyzed, not knowing how to proceed," the artist tells Newsweek. "I am an immigrant and didn't want to risk getting deported by getting into a situation with the NYPD at a protest. So with that not an option, I decided I'd just channel my daily activity in the studio towards honoring George Floyd."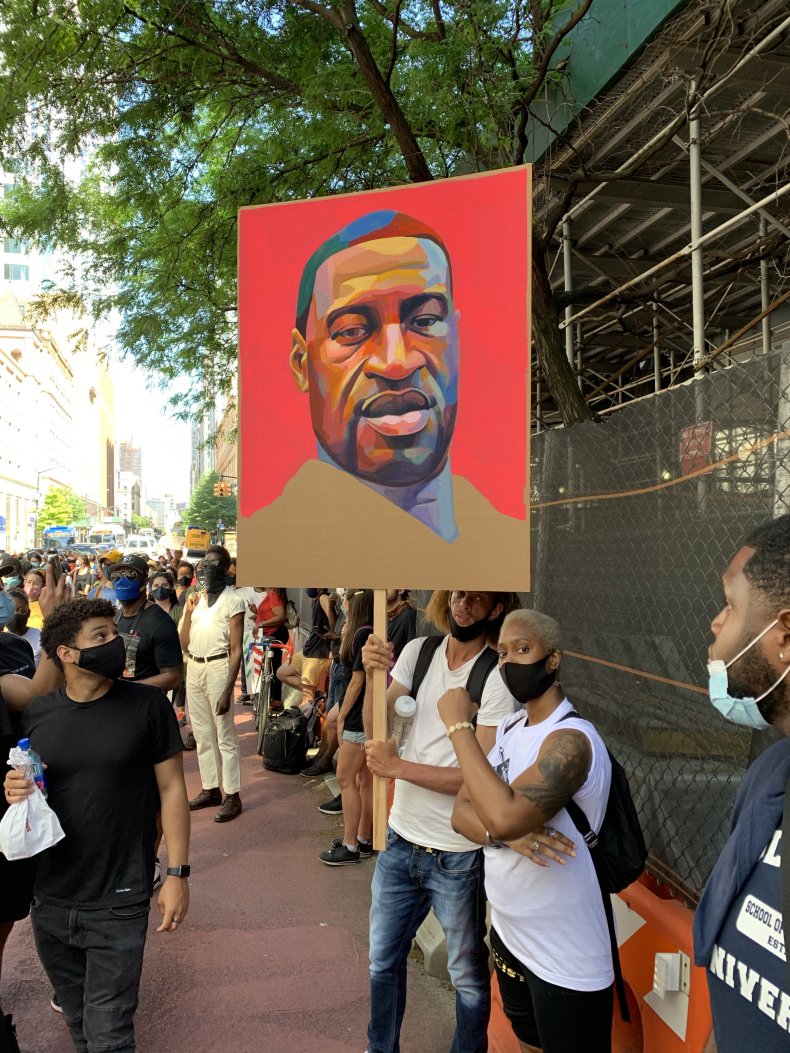 Each day, the artist creates a new image, and along with reprints of the previous day's portrait with help from Shoestring Press in New York's Brooklyn borough, posters are created and distributed.
"My preference is always to hand it to a young African American man... this is the group that is overwhelmingly targeted by police and ultimately who we're fighting to protect," the artist says. "So it seems right to let them carry George into battle, so to speak."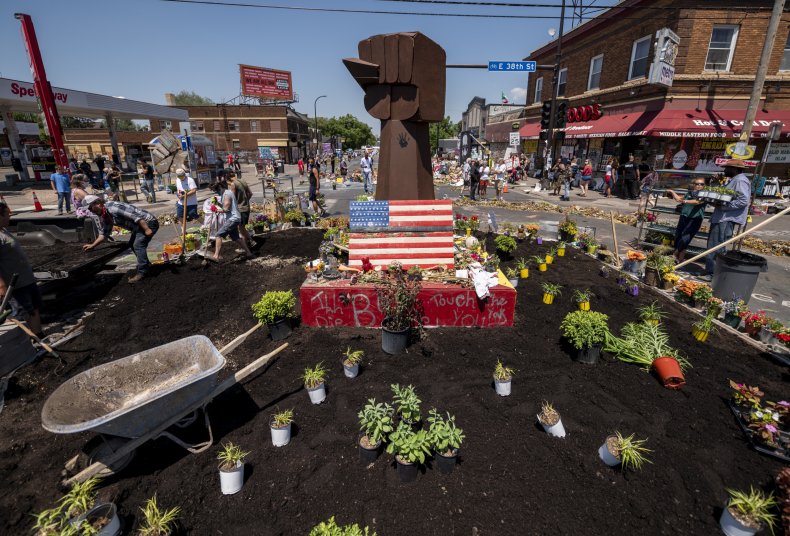 In Minneapolis, at the intersection of 38th Street and Chicago Avenue, where George Floyd was killed, a memorial site has been created with the help of Spark-Y—a nonprofit youth empowerment group.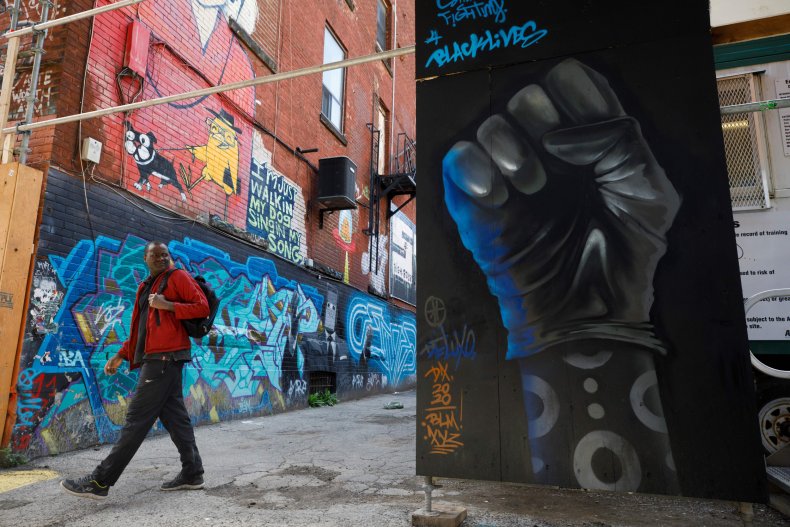 Just as people around the world have shown solidarity with the Black Lives Matter movement in the United States through protest, artists outside of the U.S. are also showing their support through art.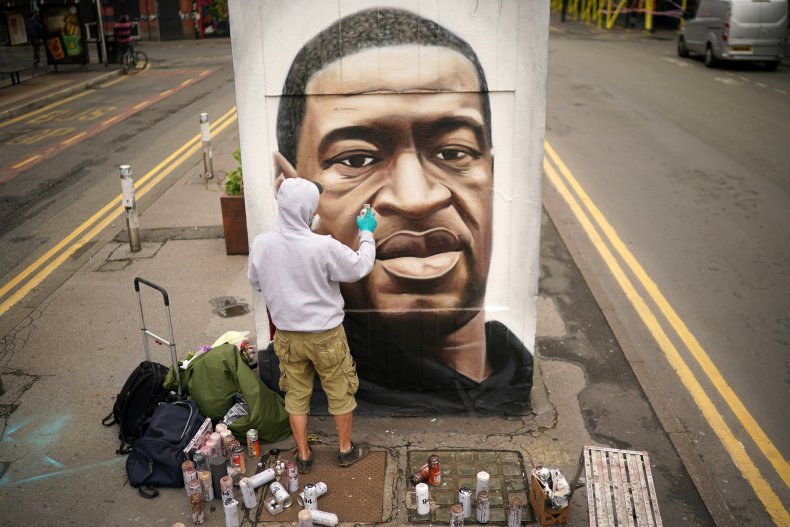 Akse, a graffiti artist based in Manchester, England, whose work can be seen all around the city, painted a mural of George Floyd that is now a memorial surrounded by flowers laid by mourners showing their respect.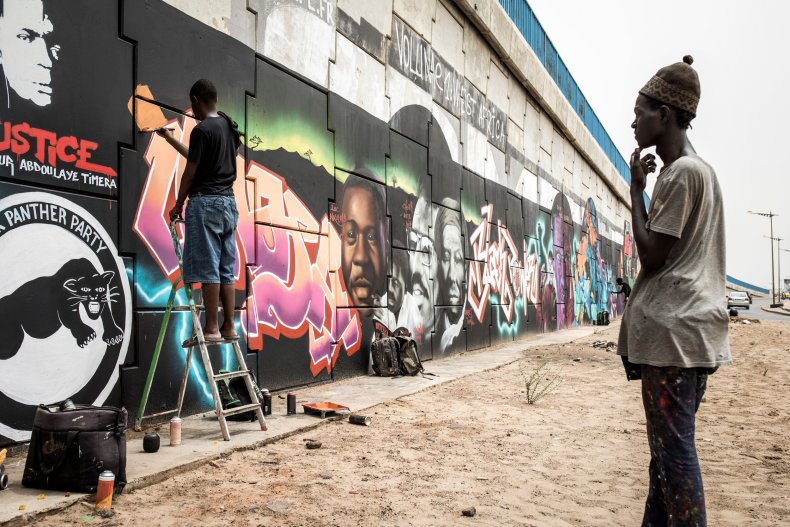 In Dakar, the Radikal Bomb Shot collective—which is a group of Senegalese artists—painted a mural showing American and African anti-racism activists in support of the Black Lives Matter movement.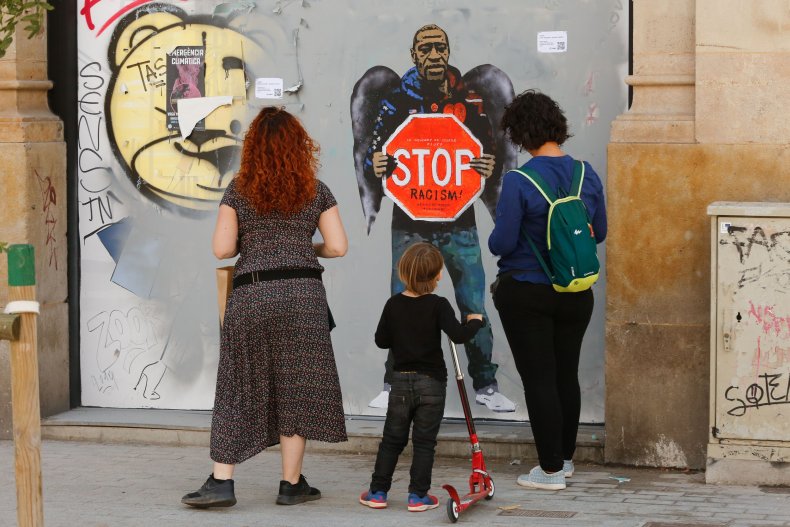 In Barcelona, Spain, Italian artist Salvatore Benintende, which is also known as "TVBOY" created an image of George Floyd with angel wings holding up a stop sign that reads: "Stop Racism!"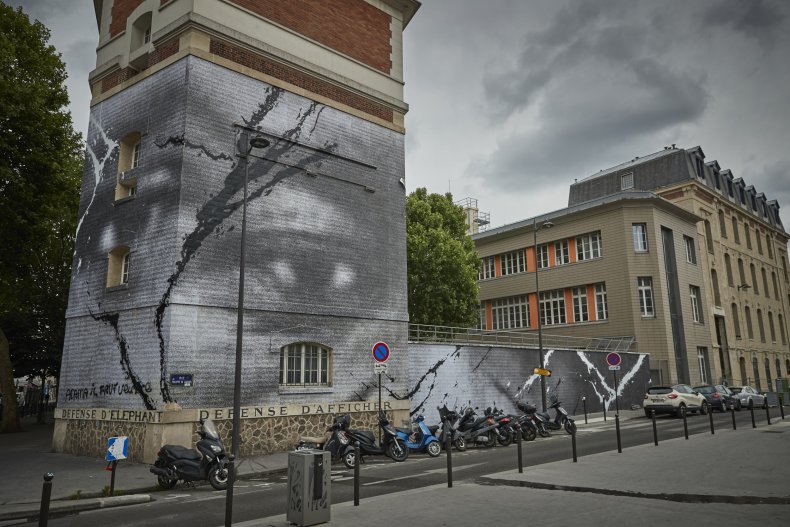 JR, a photographer and street artist who creates many larger-than-life art installments, recently created a mural in Paris, France that features the eyes of both George Floyd and Adama Traoré—a Malian Frenchman who died in police custody in 2016. Floyd's death has caused a resurgence in outrage about Traoré's case.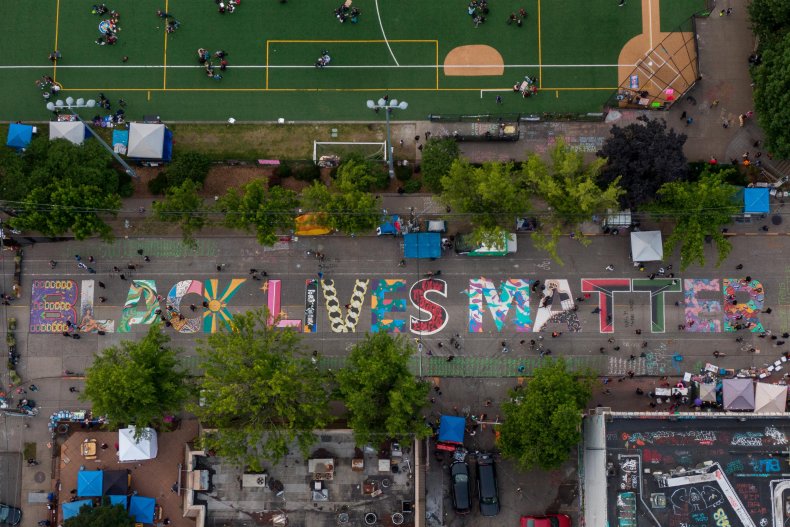 After the first Black Lives Matter mural was painted on 16th Street in Washington, D.C., other similar murals have popped up in cities around the United States, from Seattle to New York City.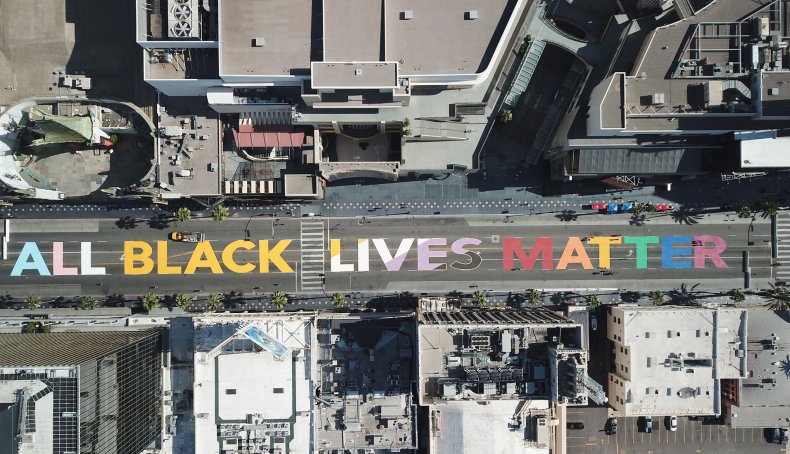 After some protests that were accompanied by looting, many businesses decided to board up their storefronts. For some artists, professional and volunteer alike, this would become the perfect canvas.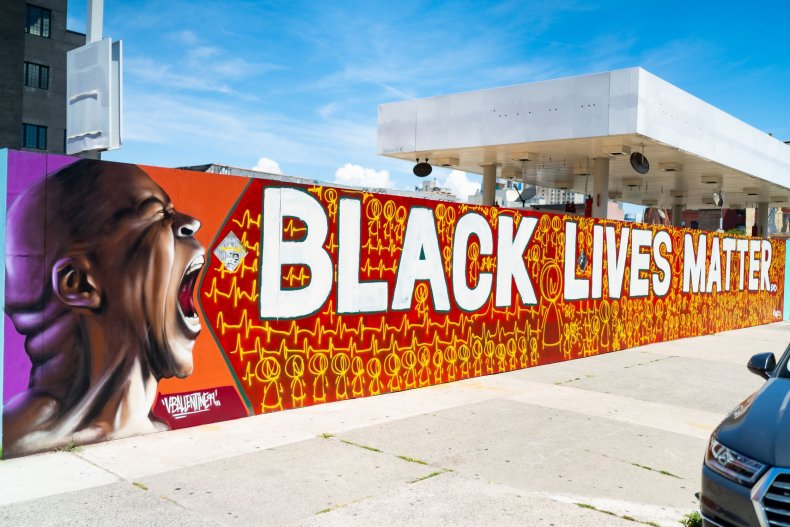 In Brooklyn, street artists @vballentine99, @konozco and @subwaydoodle collaborated on this piece that stretches across a boarded-up gas station. Art like this by professional street artists has popped up around New York City in all five boroughs.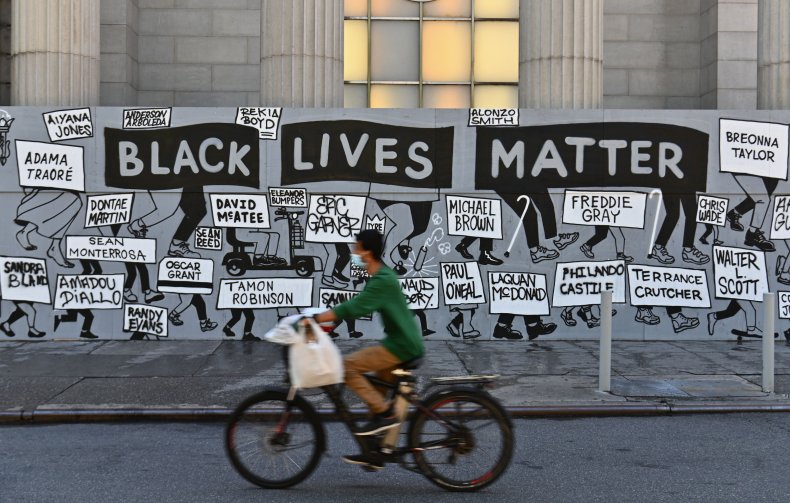 #Cre8change, an initiative that sprung from the the Denver Smith Foundation, has a "an artistic and philanthropic mission of bringing about social change through community arts, activations, and education," Marjani Abugo, communications manager for the Denver Smith Foundation's #cre8change initiative, told Newsweek.
The Denver Smith Foundation was established in 2019 to honor Denver Smith, a Black man who was killed by a sheriff in 1972 on the campus of Southern University in Baton Rouge, Louisiana, "in an unexplainable act of law enforcement aggression as a bystander during a student peaceful protest," the foundation's website reads.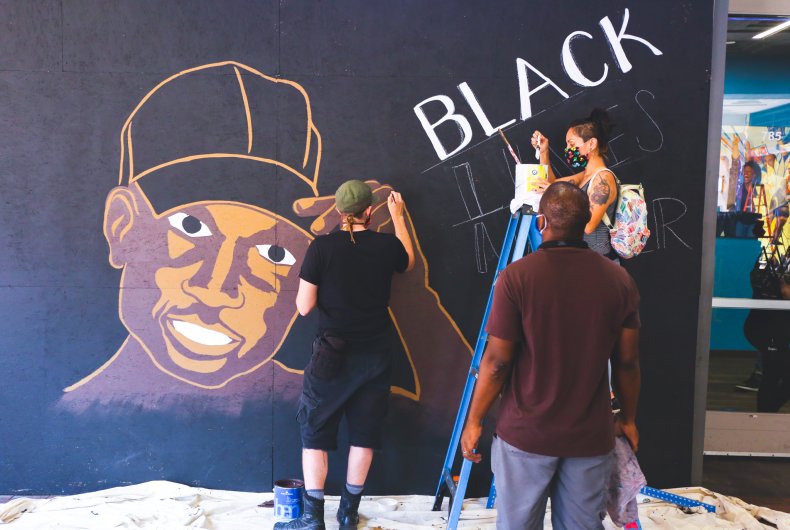 Since #Cre8change was launched two weeks ago, Abugo along with her colleagues and over 85 volunteers, have completed 10 murals on boarded up storefronts around the Washington, D.C., metro area.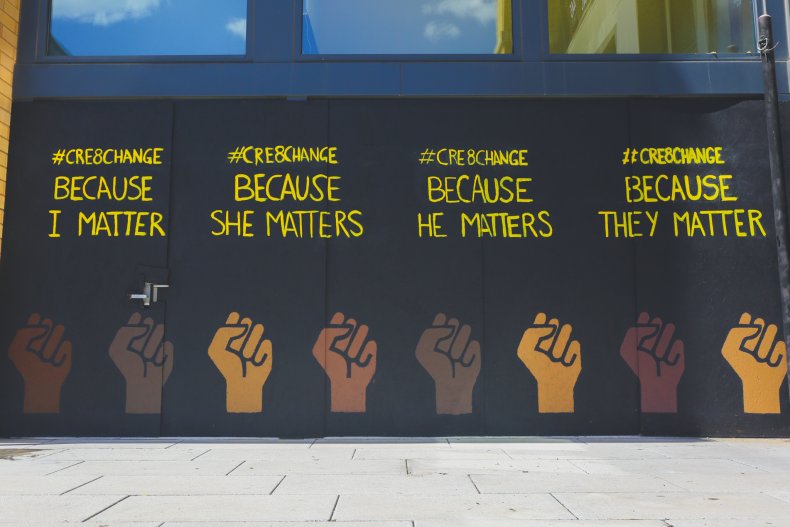 "The #Cre8change initiative plans to continue its effort of beautifying the city and spreading messages of hope to neighborhoods across the district," Abugo said. "The initiative hopes to donate the painted plywood boards to museums that support Black arts or auction them following their removal and use the proceeds to contribute back to the foundation's core mission of awarding scholarships to students from vulnerable communities."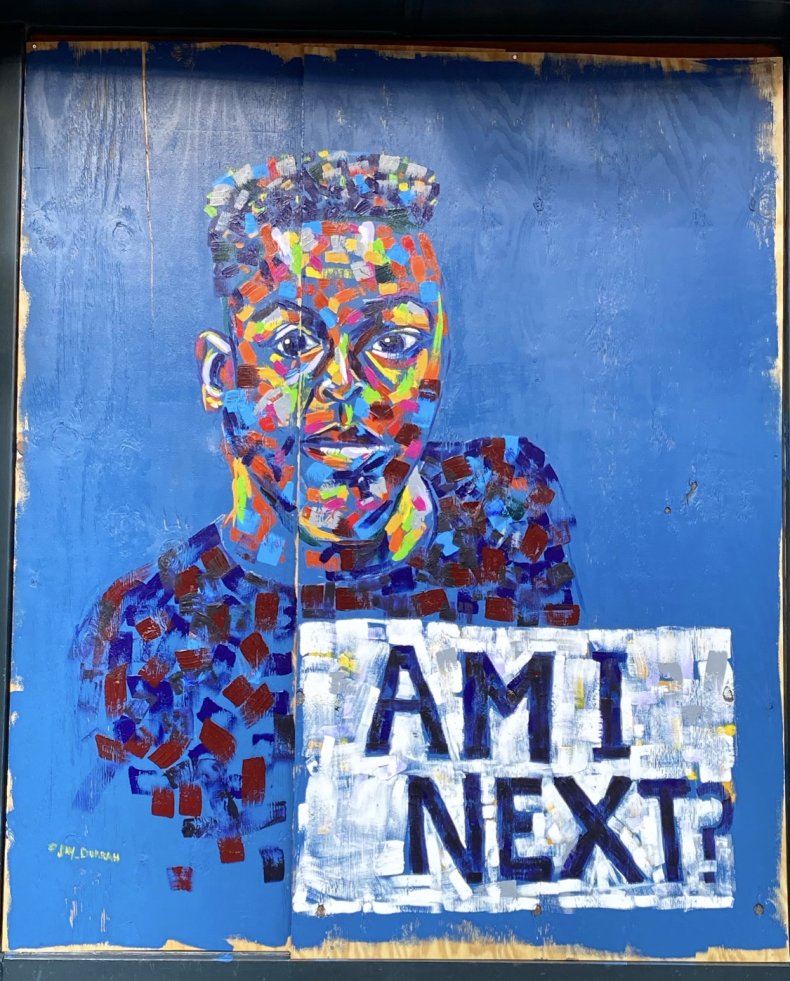 Dorian Jay Durrah is a self proclaimed "modern day impressionist painter," according to this Instagram. He painted one of his portraits on the boarded up exterior of Gallery Place in D.C.
Tenbeete Solomon aka Trap Bob, is a visual artist, illustrator and animator who works out of Washington, D.C. In light of the recent protests, she has started creating murals around the city outside of businesses who have commissioned her for her work.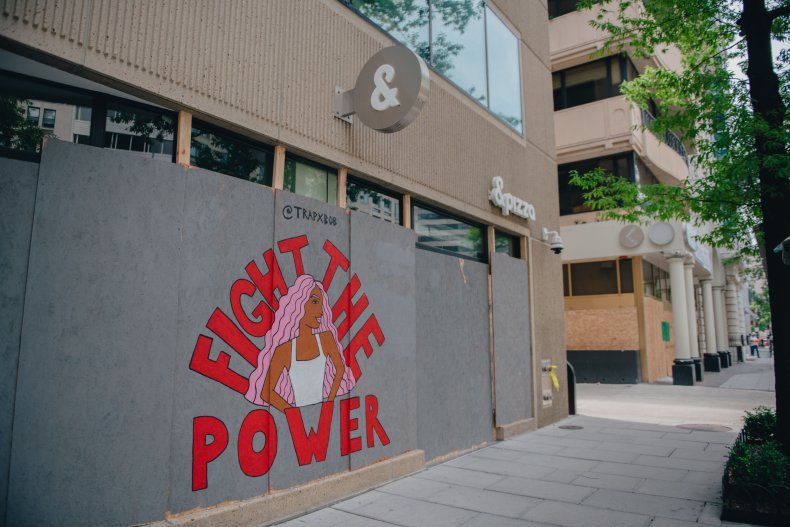 "These designs were made to motivate and bring joy to those protesting and fighting back, and also as a message to the world and the future that we are not backing down," she told Newsweek. "Art is truly history, and I aim to make sure my voice is heard throughout time."
Her art is featured outside of the National Museum of Women in the Arts as well as &Pizza restaurant in D.C.
"Because my art often comes with a message, and reflects the times, I have the platform to spread that message and bring love and light to my community," she said.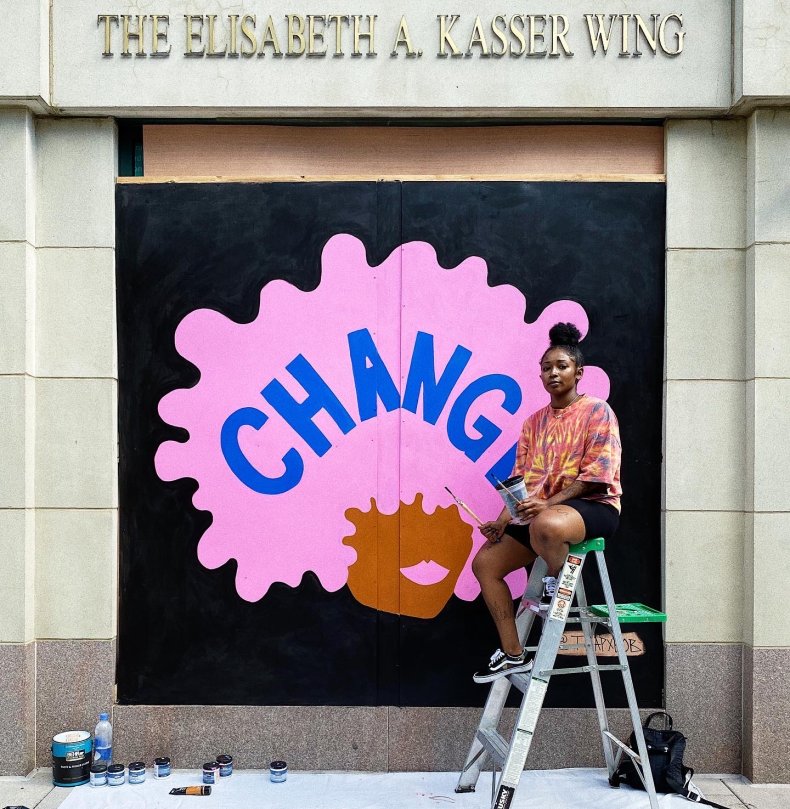 Trap Bob has plans of completing a couple more murals throughout the city, and she hopes these will continue to bring awareness.
"I will never stop fighting and using my voice, I truly believe art will save the world," she said.