ASAP Rocky Leaves Jail as Rihanna Awaits Their Baby's Birth in Barbados
ASAP Rocky has been released from jail after the rapper was arrested in connection with a shooting in November.
The performer, real name Rakim Mayers, was detained on Wednesday at Los Angeles International Airport after returning from a vacation in Barbados with his pregnant girlfriend, Rihanna, according to NBC News.
The Los Angeles Police Department told the news outlet that the arrest stems from a 2021 shooting that Mayers was allegedly involved in when he was living in Los Angeles.
According to law enforcement, Mayers is a suspect in a shooting near Vista Del Mar and Selma Avenue in the city on November 6 of that year.
The 33-year-old is expecting his first child with pop star Rihanna. Neither has addressed the arrest publicly yet.
The attorney representing the "Goldie" hitmaker, Alan Jackson, confirmed the arrest to NBC, while the L.A. County Sheriff's Department booking report confirmed he was booked into jail and bail was set at $550,000.
Following his arrest, Mayers was released less than three hours later after his bond was posted. A court date has been set for August 17.
The LAPD was assisted by Immigration and Customs Enforcement's Homeland Security Investigations team in making the arrest.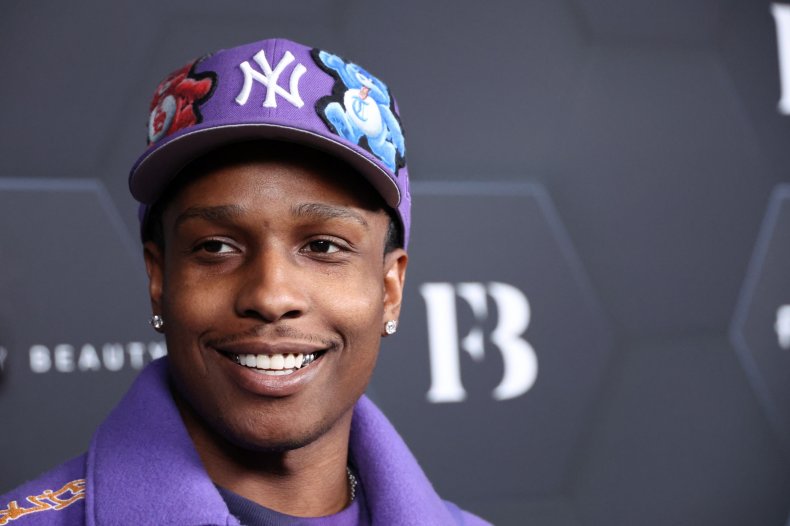 Photos obtained by TMZ show the rapper leaving LAPD headquarters surrounded by officers.
The LAPD shared a statement about the shooting on Twitter, in a post that reads: "Early this morning, LAPD officers arrested Mayers for assault with a deadly weapon (firearm) at the Los Angeles International Airport. The case will be presented to the Los Angeles County District Attorney's Office for filing consideration."
The victim reportedly told police that Mayers approached him with a handgun on the street as he walked with two others. He alleges that the rapper shot at him three to four times. One of the bullets reportedly grazed the victim's left hand, according to police reports.
Newsweek has contacted Mayers' attorney for comment.
The arrest comes just as the performer is set to become a dad for the first time. In January, Rihanna announced that she was expecting her first child.
Multiple news outlets report that the pop star is remaining in her home in Barbados to give birth there.
Mayers was previously arrested in Sweden in 2019 for his involvement in a street fight in which a man was allegedly injured with a bottle.
The rapper was convicted of assault at the time and given a suspended prison sentence and had to pay more than $1,000 in damages. He also spent a month in jail.
Then-President Donald Trump, who had reached out to Sweden's prime minister at the time, Stefan Lofven, following the rapper's arrest, celebrated Rocky's freedom from jail and return back to America.
In a tweet dated August 2, 2019, Trump wrote: "A$AP Rocky released from prison and on his way home to the United States from Sweden. It was a Rocky Week, get home ASAP A$AP!"