The Athletes Missing the Tokyo Olympics: From Coco Gauff to Sha'carri Richardson
Over 11,300 athletes will compete at the 2020 Olympic Games in Tokyo, but there will be a notable list of absentees either due to the coronavirus pandemic or other personal circumstances.
On Sunday, U.S. tennis star Coco Gauff announced she would not be traveling to Japan after testing positive to COVID-19, joining Serena Williams among the Americans set to watch the Olympics on TV.
Unlike Gauff, however, Williams, a four-time Olympic gold medalist, pulled out of the Games for personal reasons.
"There's a lot of reasons that I made my Olympic decision," the 39-year-old American told reporters during a press conference before the beginning of Wimbledon in June.
"I don't really want to [...] I don't feel like going into them today. Maybe another day. Sorry. [...]
"In the past it's [the Olympic Games] been a wonderful place for me, but I really haven't thought about it, so I'm going to keep not thinking about it."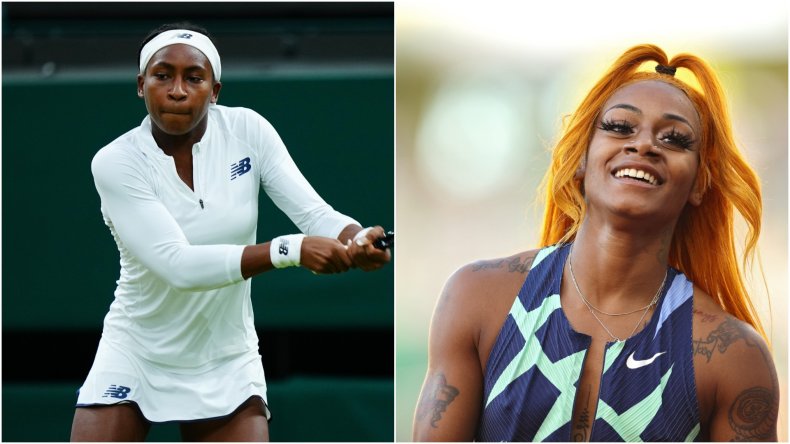 Gauff and Williams aren't the only tennis stars who will be absent in Tokyo. Roger Federer withdrew from the Olympics on July 13, citing setbacks with an ongoing knee injury.
The 20-time Grand Slam winner missed the entirety of last season after undergoing two knee surgeries and was eliminated in the quarterfinals at Wimbledon earlier this month.
"During the grass court season, I unfortunately experienced a setback with my knee, and have accepted that I must withdraw from the Tokyo Olympic Games," he wrote on Twitter.
Earlier in June, fellow 20-time Grand Slam winner Rafael Nadal had announced he would not be competing in Tokyo after "listening to his body".
In a lengthy statement posted on Twitter on June 17, the Spaniard wrote: "The Olympic Games always meant a lot and they were always a priority as a sports person, I found the spirit that every sports person in the world wants to live.
"I personally had the chance to live 3 of them and had the honor to be the flag bearer for my country."
In basketball, LeBron James and Stephen Curry both opted out of the Olympics, while James Harden was ruled out of the Games because of a hamstring injury in June.
Last week, Cleveland Cavaliers forward Kevin Love—who was part of the Team USA team that won gold at the 2012 Olympics in London—and Washington Wizards All-Star guard Bradley Beal withdrew from the team with a calf injury and because of COVID-19 health and safety protocols respectively.
In swimming, 12-time Olympic medalist Ryan Lochte will not add to his tally in Tokyo after failing to earn a spot on Team USA at the U.S. trials in June, with fellow swimmer and five-time Olympic gold medallist Nathan Adrian suffering the same fate.
Diver David Boudia, a four-time Olympic medalist, also failed to qualify for the Olympics, as did beach volleyball star and three-time Olympic champion Kerry Walsh Jennings.
U.S. sprinter Sha'Carri Richardson will also miss the Games after being suspended for a month in June by the U.S. Anti-Doping Agency for testing positive for cannabis.
Team USA's track and field representation will also be without reigning 800m world champion Donavan Brazier, who finished last in the 800m final at the U.S. Olympic track and field trials.
Meanwhile, South Africa's Caster Semenya won't be able to defend the gold medal she won in the 800m in Rio de Janeiro five years ago.
A rule change implemented by World Athletics in 2018 means the two-time Olympic champion is not allowed to compete in events between 400m and 1,500m unless she takes drugs to reduce the level of testosterone in her body.
Semenya took her appeal over the rule change to the European Court of Human Rights but the case wasn't resolved in time for the Olympics.