Attorney Accused of Murdering Small Children, Cannibalism: 'Outlandish'
Two public officials in Utah are engaged in a strong war of words and accusations following the announcement of a "ritualistic child sexual abuse and sex trafficking" investigation.
Utah County Sheriff Mike Smith and Utah County Attorney David Leavitt, both of whom were elected to their respective positions in 2018 and are up for re-election this year, held their own press conferences yesterday in Provo to refute each other's statements about said investigation.
Smith, who is running unopposed, has endorsed Leavitt's opponent Jeff Gray.
On Tuesday the Utah County Sheriff's Office announced that Special Victims Unit Detectives and investigators from multiple county and federal agencies are investigating the "ritualistic" abuse that reportedly occurred between 1990 and 2010 in Utah County, Juab County and Sanpete County.
"Portions of these allegations were confirmed," the sheriff's office said, encouraging victims and individuals with knowledge of such crimes to step forward to receive assistance and aid investigators.
According to Utah's Public Health Indicator Based Information System (IBIS), sexual violence in the state is described as "a serious public health problem" and suggests that one in six women and one in 25 men experience rape or attempted rape during their lifetimes, and that about one in three women experience some form of sexual violence.
Rape is the only violent crime in Utah that is higher than the national average, the IBIS said.
Leavitt is allegedly named as part of the sheriff's office investigation, according to a 35-minute press conference he held Wednesday saying how he found out he and his wife, Chelom, were accused of heinous acts.
He said he found out about his alleged involvement in this specific investigation due to a 151-page document obtained from a "tragically mentally ill woman." He called the allegations a "pack of lies."
"For the first time in the reportedly 15 or 20 years since the report was given, I learned that my wife and I were part of those allegations, alleging that we were guilty of cannibalizing young children and murdering young children. [T]here is no organized ring of abuse," Leavitt said Wednesday. "It was debunked more than 10 years ago. The allegations that are there are so outlandish and so crazy that they're just not true."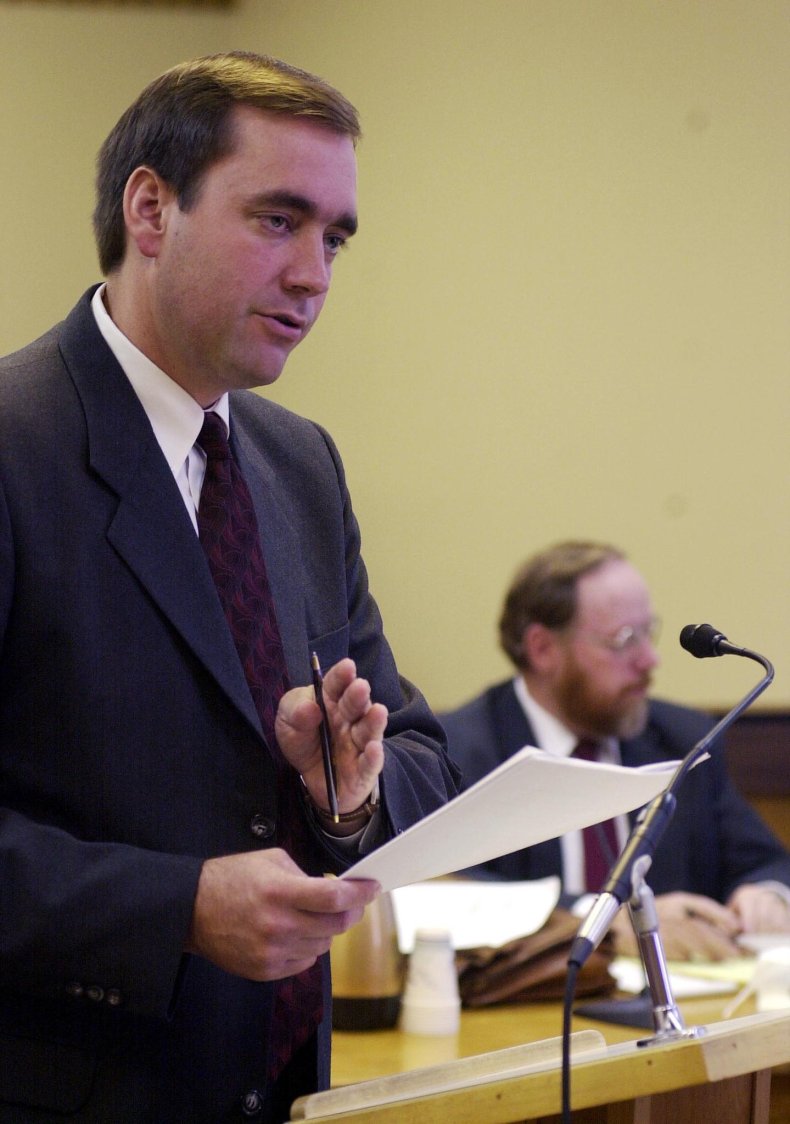 ABC 4 reported that the only link to Leavitt's alleged involvement with the aforementioned sex abuse ring is related to a man being prosecuted by Leavitt's office for a 2008 rape case.
That individual, Nicholas Rossi, reportedly faked his death in the United States and is currently living in Scotland under an alias. The individual, through his attorney, has denied he is who prosecutors allege he is, according to multiple outlets.
It was reported that Rossi claimed in an online post that Leavitt and his wife were guilty of murdering and cannibalizing young children, also claiming that Utah County Sheriff's Office Public Information Officer Sergeant Spencer Cannon confirmed such accusations.
Leavitt told Newsweek that "as the evidence begins to build, what we know is that the sheriff's PIO [Cannon] has been coordinating with Nicholas Rossi—a convicted sex offender who is a rape defendant in a Utah County case. It serves each of their interests."
"Why does any member of the Utah County Sheriff's Office have anything to do with a man I'm prosecuting for rape, if not to collaborate to discredit me?" Leavitt said.
It has prompted Leavitt to challenge Smith and his office to investigate and confirm or deny whether documents from over a decade ago "were or were not used in a Utah County attorney's race."
"That this all occurs one week before ballots drop in an election in which I'm participating causes me tremendous concern over the credibility and the actions and the connections between a convicted sex offender and the Utah County Sheriff's Office," Leavitt said Wednesday. "I am calling upon Sheriff Mike Smith to open his office to an outside investigation."
Smith should step down from his position if his office is being used "for illicit political purposes," Leavitt added.
A press conference was held by Smith on Wednesday afternoon, nearly two hours after Leavitt held his own, to discuss the county investigation and respond to Leavitt's statements.
"I will tell you right now, I think that this is probably the best way we could use public funds is to investigate child sexual abuse," Smith said, according to FOX 13. "I take exception to any victim who comes forward and is characterized as tragically mentally ill, how dare you?"
When asked if he would consider resigning, Smith said that's not an option. As reported by multiple outlets, Smith said "Leavitt is using his authority and his pulpit to bully, distract, and mischaracterize the facts of an ongoing investigation."
Leavitt maintains this is "100 percent political" and "an absolute gross abuse of official power."
Newsweek reached out to Smith for comment.
Updated 06/02/2022, 2:04 p.m. ET: This story has been updated with comments from Utah County Attorney David Leavitt and additional information.