Aubrey Huff Thinks Donald Trump Will Be President Again in 4 Months
Former MLB player Aubrey Huff has said he thinks that Donald Trump will be president again in four months.
Huff has long been a vocal Trump supporter and has repeatedly pushed baseless claims the election, and Joe Biden's victory, was rigged.
On Monday, Huff suggested that Trump will be president again in just four months in response to a tweet from conservative comedian Tim Young that asked Twitter users when they thought vice president-elect Kamala Harris would become president.
The original tweet sought to mock Biden's age, suggesting that he won't be fit to carry out presidential duties.
"Trump is president in 4 months," Huff replied, but gave no reason as to how he thought this could be possible.
Previously on Monday, Huff further suggested that Biden was mentally unfit for office.
He tweeted: "At least with Trump we knew who was making the decisions. With @JoeBiden we have no clue where he's getting his marching orders from. I mean s*** he doesn't even know where he the majority of the time."
However, as many Twitter users pointed out, Huff's political predictions have been quite far wide of the mark lately.
In the lead-up to the November presidential election, the former athlete wrongly claimed Trump would win in California and flip the traditionally blue state red.
He also wrongly guessed that Trump would carry all but three states and win 487 electoral votes, which would have been the fourth-highest tally in the history of U.S. elections.
On the night of the election in November, Huff defended Trump's premature claim he had won the race before all the votes were counted and that a "major fraud" was being committed.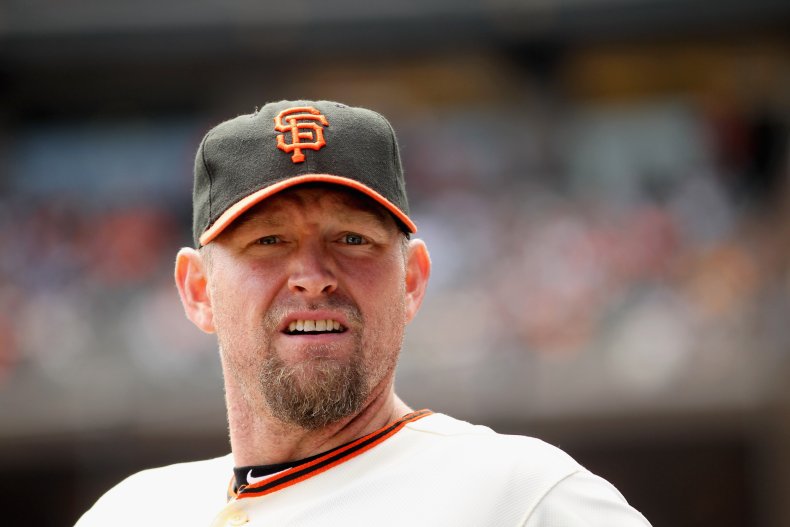 Trump is set to leave the White House on January 20, just a few hours before President-elect Biden takes the oath of office.
Huff has been retired from baseball since 2014, but frequently gains attention for his inflammatory remarks on Twitter. For example, he recently called Kenosha shooter Kyle Rittenhouse "a national treasure."
Following the violence at the U.S. Capitol on January 6, the former San Francisco Giants star compared the mob to a sleeping lion.
"These are not just Trump supporters," the two-time World Series winner tweeted. "These are p****d off Americans who are sick of Republicans, & Democrats taking away our precious freedoms! We shouldn't be surprised. When you [sic] a sleeping Lion don't be surprised when he attacks."