The world of American sports reacted with a mixture of disbelief, dismay and anger as a mob of Donald Trump supporters stormed the U.S. Capitol in Washington, D.C. on Wednesday.
Thousands of rioters, many of whom wore Trump paraphernalia and carried Confederate flags, forced their way into the heart of American democracy, vandalizing offices and clashing with the police.
Protesters temporarily halted the tallying of Electoral College votes to ratify Joe Biden as the winner of last November's presidential election.
Several NBA head coaches including Steve Kerr, Stephen Silas and Doc Rivers condemned the siege, while Seattle Seahawks quarterback Russell Wilson spoke of the need to "come together as a nation".
Former MLB star Aubrey Huff, however, had a rather different take on the unprecedented incidents that unfolded in the nation's capital.
"These are not just Trump supporters," the two-time World Series winner tweeted.
"These are p****d off Americans who are sick of Republicans, & Democrats taking away our precious freedoms!
"We shouldn't be surprised. When you [sic] a sleeping Lion don't be surprised when he attacks."
Huff has long been a vocal Trump supporter and in the lead-up to the November presidential election he claimed Trump would win in California and that the Republican incumbent president would carry all but three states and win 487 electoral votes, which would have been the fourth-highest tally in history of U.S. elections.
On election night, Huff defended Trump's premature claim he had won the election before all the votes were counted and that a "major fraud" was being committed.
Like other prominent pro-Trump figures, the former San Francisco Giants star has repeatedly perpetuated suggestions from the president claiming the election was rigged.
Crucially, neither Trump nor his campaign have provided any corroborating evidence to back up their statements.
Similarly baseless claims emerged almost as soon as rioters stormed through the Capitol on Wednesday.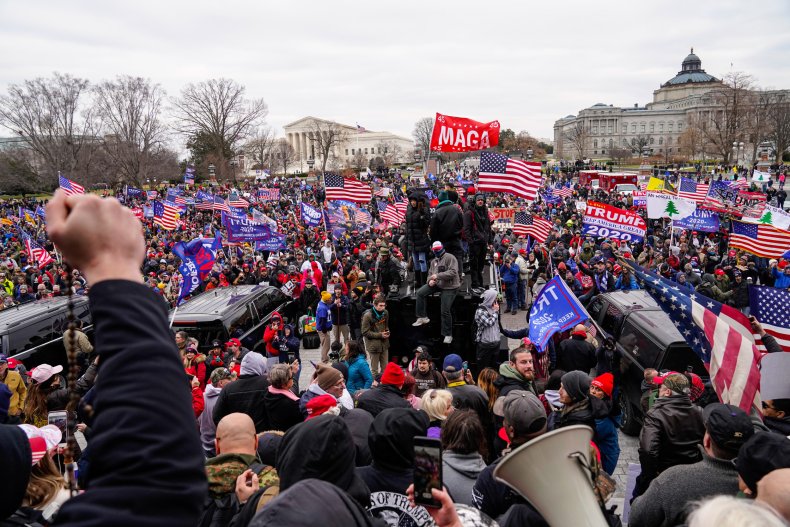 Thousands of posts on Twitter and Facebook pushed conspiracy theories that protesters were in fact members of antifa—a loosely organized group of antifascist activists—and liberal activists masquerading as Trump supporters, to give the latter a bad name.
Former Alaska Gov. Sarah Palin, Texas Attorney General Ken Paxton, Rep. Matt Gaetz (R-Fla.) and Rep. Mo Brooks (R-Al) were among the most high-profile figures sharing the baseless claims on Twitter.
"Some of the people who breached the Capitol today were not Trump supporters," Gaetz said while Congress was debating Biden's certification. "They were masquerading as Trump supporters and in fact were members of the violent terrorist group Antifa."
Trump himself appeared to debunk the theory, when he addressed the protesters in a brief video posted on Twitter, in which he again repeated the baseless claim that "the election was stolen".
The president then urged his supporters to "go home", before adding "we love you".
The post was subsequently removed as Twitter and Facebook both locked Trump out of his accounts and removed several posts in which he cast doubt on the election results.
Just hours before the unrest began, Trump had encouraged a crowd to march on the Capitol.
"We will never give up," Trump said as he addressed thousands of protesters close to the White House for around 70 minutes.
"We will never concede. It doesn't happen. You don't concede when there's theft involved."
He added: "We are going to cheer on our brave senators and congressmen and women," he continued, "and we are probably not going to be cheering so much for some of them—because you will never take back our country with weakness."