Who Is Aurelia Skipwith? Trump's Nominee to Lead Fish and Wildlife Service Linked With Groups Opposed to Protecting Endangered Species
New revelations have emerged, raising important questions concerning the conflicting interests of Donald Trump's pick to lead the US Fish and Wildlife Service (FWS), Aurelia Skipwith.
Journalists at The Guardian uncovered ties that link Skipworth to an organization with a history of railing against the Endangered Species Act (ESA) on behalf of farmers in central California whose water demands conflict with its regulations.
That tie is her fiancé, Leo Giacomettto, who has lobbied on behalf of the Westlands Water District as an employee of Gage International—a company Skipworth herself was involved in as a Senior Advisor, her resume reveals, at the time of her nomination to the Department of Interior. She currently holds the position of Deputy Assistant Secretary For Fish And Wildlife And Parks.
Giacometto worked with Westlands from 2005 to 2010, when the company paid Giacometto's employers $200,000 to influence Congress on policy related to water resource management issues, The Guardian reports.
Skipworth has not been required to disclose this potential conflict of interest during the nomination process—which was revived in July 2019 after being dropped at the end of last Congress—as the couple are not married.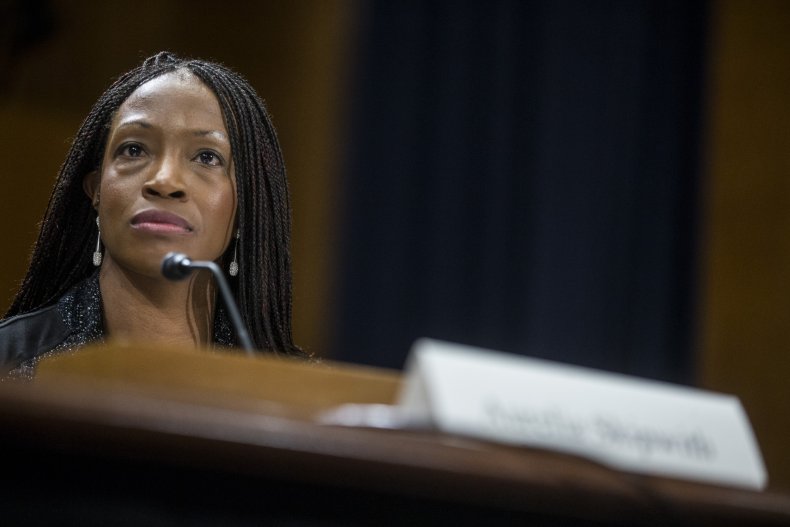 If or when the nomination is confirmed, Skipworth's future boss will be Secretary of the Interior David Bernhardt—a man who also has ties to Westlands through his lobbying work at Brownstein Hyatt Farber Schreck. At Brownstein, Bernhardt sued the federal government on behalf of the organization, demanding the withdrawal of debt worth more than $3 million and the provision of new water contracts.
In office, he has worked on policies that would be beneficial to the water district, including efforts to loosen fish protections in California that will make it easier for irrigators like Westlands to drain water from regional waterways to serve the demands of farmers. He has also worked to undermine the ESA—which Westlands has lobbied to weaken—by guiding reforms that remove certain key protections for animals, while introducing tougher cost-benefit analyses that will make it harder for animals to be added to the list of protected species.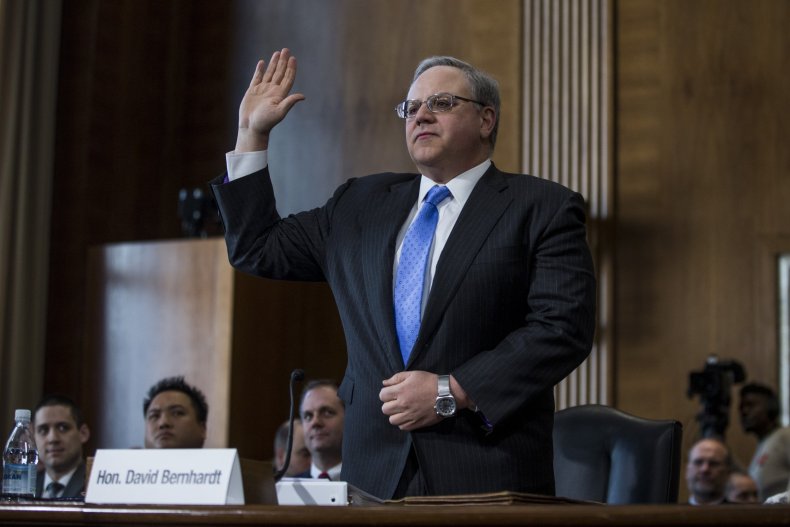 Westlands isn't the only conflict of interest that has critics worried about Skipworth's nomination. Her resume also reveals that she spent six years working at Monsanto, an agrochemical and agricultural biotechnology company, between 2006 and 2012, where her role included bringing new products to market.
Monsanto has been the subject of controversy since its weed killers were linked to cancer and the mass die-off of honey bees. A study published in Proceedings of the National Academy of Sciences in 2018 found chemicals in the weed killer may be destroying "good" gut bacteria in bees, meaning they were more vulnerable to infection and death.
During her tenure at Monsanto, the company lobbied the federal government—including the Department of Interior (DOI), where Skipworth now works—to loosen the ESA and issues relating to the Clean Water Act, the Clean Air Act, conservation practices and mining permits, the Department of Influence reports.
Other potential conflicts of interest include a speech she made for the Petroleum Association of America in October 2017 and (as of 2017) the thousands of dollars worth of shares in AVC Global (the agricultural consulting firm she founded) and Monsanto she owned—after starting her job at the DOI.
In her role of deputy, she has requested the National Park Service and FWS review rules preventing hunters from killing bears and wolves with extreme methods, including baiting and ambushing mothers with pups, the Department of Influence reports. She has also expressed opposition to initiatives attempting to crack down on water pollution produced by coal mining.
On her nomination, 27 former members of FWS signed a letter opposing her appointment to the role, saying she "lacks the training and experience necessary for this position" and her background largely consists of "serving as a consultant or attorney dealing with non-wildlife and non-conservation issues." They add that her "job history includes potential conflicts of interest which raise serious questions about her ability to act in the public interest."