The Liberation of Auschwitz Took Place 75 Years Ago. Today, America Is Witnessing the 'Revival' of Anti-Semitism
Ronald S. Lauder is helping around 100 Holocaust survivors travel to the site of Auschwitz-Birkenau to mark the 75th anniversary of the concentration camp's liberation.
Lauder, chairman of the Auschwitz-Birkenau Memorial Foundation, does so during what he describes as a "frightening revival" of anti-Semitism.
The survivors will come from across the world to give testimonies on their experiences at the camp where Nazis murdered more than one million Jewish people during World War II.
This occasion is meant to ensure such atrocities remain in the past. But Lauder told Newsweek the Auschwitz event is instead taking place in a period of anti-Semitic violence "unseen" since the mid-20th century.
"Anti-Semitism is the world's oldest form of hatred, and the sad truth is that we are witnessing a frightening revival unraveling before our very eyes," Lauder said.
The recent spike in anti-Semitic attacks in the U.S. is well-documented by Jewish groups, police, and federal departments.
According to the Anti-Defamation League's (ADL) most recent findings, Jewish people in the U.S. suffered "near-historic levels" of anti-Semitism in 2018 with 1,879 attacks against Jews and Jewish institutions.
The figure, which includes a doubling of anti-Semitic assaults, was the third-highest on record since the ADL started collecting such data in the 1970s.
Jewish people are also overwhelmingly targeted in hate crime incidents when compared to other religions.
According to the FBI's 2018 hate crime statistics, 57.8 percent of religious-biased offenses during the year were anti-Jewish, the biggest proportion of all groups. Anti-Islamic incidents were second-highest at 14.5 percent.
Earlier this month, a spate of anti-Semitic violence in New York, including a machete attack at a rabbi's home in Monsey during Hanukkah, led to 25,000 people marching through Manhattan and Brooklyn in solidarity with the Jewish community as part of a "No Hate, No Fear" rally.
"We wanted to publicly proclaim that an anti-Semitic attack against a visibly Orthodox Jew is an attack against all Jews, an attack against all New Yorkers, and an attack against all people of goodwill everywhere," said Eric. S. Goldstein, CEO of the UJA-Federation of New York, who helped organize the march.
"Seventy-five years after the liberation of Auschwitz, we will not be silent in the face of anti-Semitism."
According to the NYPD's latest figures, there there were 234 anti-Semitic incidents reported in the city in 2019, a 26 percent increase compared to the 186 incidents during 2018 and 55 percent of all hate crimes.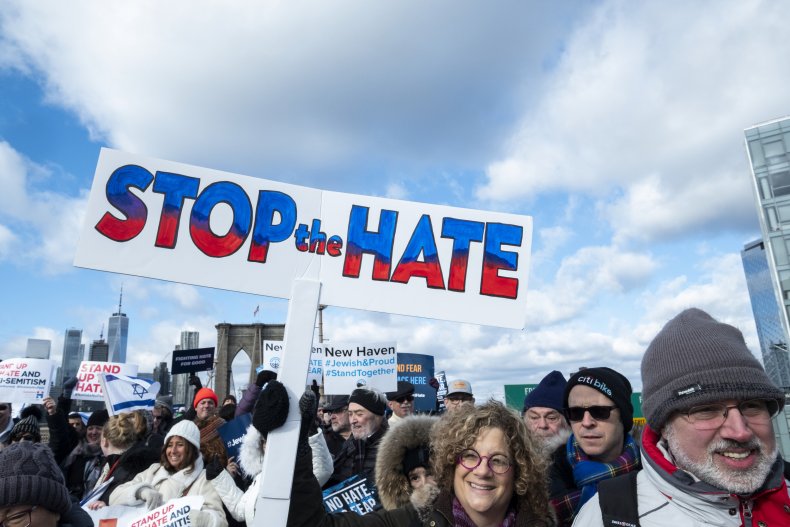 Not only are the number of anti-Semitic attacks rising in the U.S. but their severity has also worsened. The 2018 massacre at the Tree of Life synagogue in Pittsburgh, Pennsylvania, in which 11 people were killed by a racist gunman, was the deadliest anti-Semitic attack on U.S soil.
"There has been much progress over the last 75 years toward ensuring that the lessons of the Shoah are not forgotten and the horrors of the Holocaust are not repeated," ADL's CEO Jonathan Greenblatt told Newsweek.
"But we also have to somberly acknowledge that anti-Semitism—the scourge of hate that led to the deaths of six million Jews in Europe—has not been eradicated from our society, and, in fact, is on the rise."
There is no single agreed-upon reason for the rise of anti-Semitic incidents and attacks in the U.S.
Gregory Schneider, executive vice president of the Conference on Jewish Material Claims Against Germany (Claims Conference), who works to educate people about the Holocaust, believes attacks coincide with American culture becoming more violent in general.
"When I was growing up we also did not see school shootings the way we see them now," Schneider told Newsweek, adding that his own synagogue in New York now has an armed guard to protect it.
Schneider also suggested internet-fueled conspiracy theories were causing far-right and white supremacist activity online to spill over into real-life actions.
"Being alone and being able to wander alone in the labyrinth of theories, unfortunately, plays very well into historic notion of anti-Semitism, which has really predicated the view that 'Jews are different' and 'Jews are the other,'" he said.
"Hate left unchecked goes very quickly from words to deeds. Anti-Semitic slogans and theories and people talking negatively can really escalate, and we've seen this over the past year."
For others, anti-Semitism is not only emerging from online culture and the rise of the so-called "alt-right," but filtering down from the very top of society.
President Donald Trump's critics have frequently accused him of helping to fuel far-right attacks and hate crimes in general because of his inflammatory rhetoric and weak condemnation of white supremacists.
After 2017's deadly "Unite the Right" rally in Charlottesville, Virginia, Trump infamously referred to some of the marchers as "very fine people," sparking controversy, though he said he was not referring to the white nationalists.
Trump's response to the Tree of Life shooting was also criticized and his own family reportedly urged him to explicitly speak out against anti-Semitism.
The president was condemned for suggesting in the aftermath of the attack that if the Pittsburgh synagogue had been better protected by an armed guard, the results "would have been different."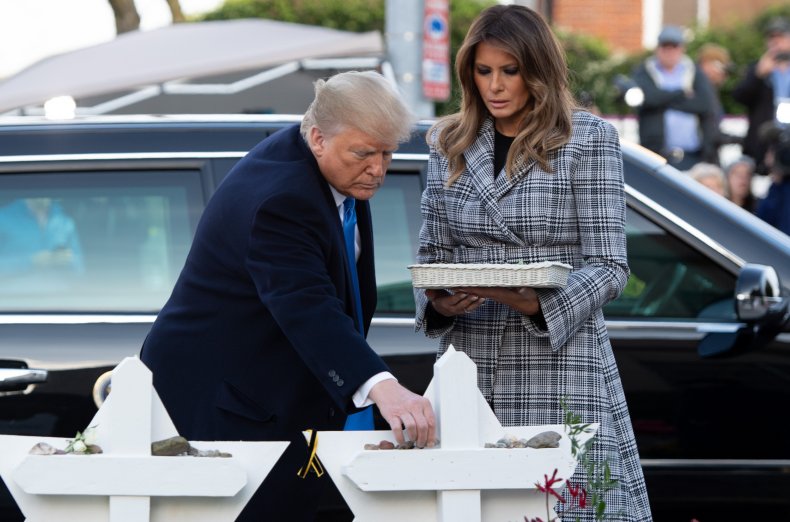 In September, New York Governor Andrew Cuomo, a Democrat, said Trump needs to shoulder at least some of the blame for the rise of anti-Semitic attacks that have occurred in the city.
"It is part of this new national anger and anxiety and frustration where we are demonizing difference. I believe it's the tone set by the president, who has unleashed the dogs of hatred," Cuomo said in a statement.
In December, Trump signed an executive order to officially interpret Judaism as a nationality as well as a religion in what the administration said was an effort to root out anti-Semitism.
But Rabbi Jack Moline, president of the Interfaith Alliance, accused Trump at the time of "weaponizing anti-Semitism," and other critics said the EO played into the anti-Semitic trope that Jews have dual loyalty.
Speaking to Newsweek, Greenblatt of the ADL also urged world leaders to "stop politicizing anti-Semitism and weaponizing it for partisan gain."
Rabbi Hara Person, chief executive of the Central Conference of American Rabbis, told Newsweek that "while bigotry and violence are tragic and traumatic, and certainly encouraged by the dog whistles of the current administration, it is our responsibility to honor the legacy of those killed during the Shoah by celebrating our Judaism as the positive and inspiring source of pride that it is."
Lauder, who is also president of the World Jewish Congress, said it is not possible to blame anti-Semitism solely on one issue or group of people.
Ahead of the event at Auschwitz, he said there is still an urgent need for increased Holocaust education to combat the rise of anti-Semitism in the U.S. and across the world.
"The sources of anti-Semitism are diverse, coming both from the extreme left and the extreme right," Lauder said, "from those who demonize the State of Israel and question its right to exist to those glorifying the same Nazi ideology which led to the near destruction of European Jewry just over seven decades ago, as well as from those whose motivations are based out of sheer ignorance and lack of awareness."
"Regardless of the source, anti-Semitism is real and it is dangerous," Lauder continued.
"Sadly, and almost impossibly, Jewish communities across the globe have internalized that being Jewish today, visibly or otherwise, comes with far greater risks than it did just a decade or two ago."