Auschwitz Guard Convicted on 170,000 Counts of Accessory to Murder, Sentenced to Five Years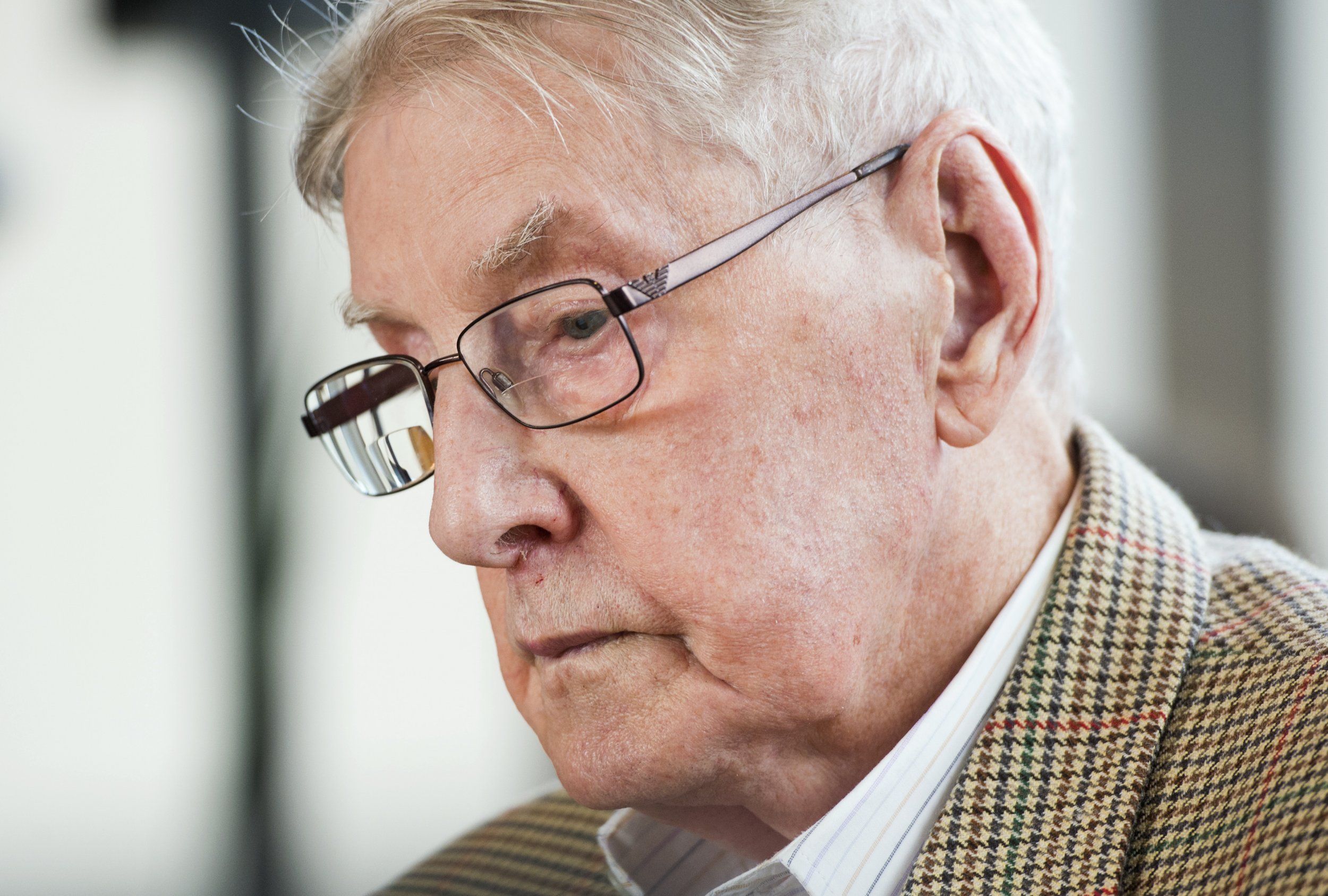 A former Auschwitz guard was found guilty of 170,000 counts of accessory to murder on Friday, the Associated Press reports. The court in the western German city of Detmold sentenced Reinhold Hanning to five years in prison, though the 94-year-old will not be incarcerated while any appeals are heard.
"You were in Auschwitz for two and a half years, performed an important function," said the judge, Anke Grudda. Hanning served at the infamous Nazi concentration camp complex located in occupied Poland from January 1942 until June 1944 after volunteering for the SS at age 18 and being wounded in combat. "You were part of a criminal organization and took part in criminal activity in Auschwitz," she added.
Hanning was not on trial for participation in specific killings but rather for his role helping the killing apparatus function—at first working at the front gate registering patrols and work details, and later in a guard tower. His conviction is based on a legal precedent set in 2011 in the case of John Demjanjuk, who was found guilty of accessory to murder in the deaths of 28,060 people killed at the Sobibor death camp during the time he was a guard there. Prosecutors in Demjanjuk's case did not attempt to present evidence that linked him to specific abuses or murders, instead arguing that he was guilty of participating in the crimes committed at Sobibor simply by working at a camp whose sole purpose was extermination.
The Demjanjuk verdict opened up the possibility of other trials based on the same logic, including the case of Oskar Groening, often called the "bookkeeper of Auschwitz" or the "accountant of Auschwitz." Groening was convicted last July of 300,000 counts of accessory to murder and sentenced to four years, though he too was not immediately incarcerated pending any appeals. A former Auschwitz medic and a woman who worked as a radio operator at the camp were also charged with accessory to murder. The trial of the medic, Hubert Zafke, who was charged with 3,681 counts of accessory to murder, was due to begin in February but was suspended for health reasons. The latter, identified as Helma M., allegedly worked as a radio operator for the camp commandant and was charged in September with 260,000 counts of accessory to murder. Her trial is expected to open shortly, The Guardian reports.
Hanning remained silent in the courtroom during most of his four-month trial, but in late April he apologized publicly. "I want to say that it disturbs me deeply that I was part of such a criminal organization that is responsible for the death of many innocent people; for the destruction of countless families; for misery, torment and suffering on the side of the victims and their relatives," he said into a microphone in the courtroom. "I am ashamed that I saw injustice and never did anything about it, and I apologize for my actions. I am very, very sorry."
Prior to Hanning's apology, his lawyer read out a longer statement from his client regarding his time at the death camp. "Nobody talked to us about it in the first days there, but if someone, like me, was there for a long time, then one learned what was going on," it read. "People were shot, gassed and burned. I could see how corpses were taken back and forth or moved out. I could smell the burning bodies; I knew corpses were being burned.… I've tried my whole life to forget about this time. Auschwitz was a nightmare."
Two of the 40 Holocaust survivors who had joined the case as co-plaintiffs were present to hear Hanning's apology and statement, which prosecutor Andreas Brendel told the AP at the time could help secure a conviction against the former guard.
"We welcome today's verdict," Moshe Kantor, president of the European Jewish Congress, said in a statement provided to Newsweek on Friday. "We must once again use this opportunity to educate about the horrors of the Holocaust and show that hatred, fascism and anti-Semitism must be rooted out. It should never be too late for the guilty to be held to account."
Though the remaining suspects are few and very old, German prosecutors continue to work investigating and initiating proceedings. "Year by year, it's more difficult, but the state justice ministers last year decided that Ludwigsburg would keep working," Jens Rommel, head of the Nazi war crimes investigative office in Ludwigsburg, Germany, told the AP in February as Hanning's trial was poised to begin. "The state of North-Rhine Westphalia last summer talked about another 10 years as a time frame."