Majority of Australians Would Back U.S. in War With China Over Taiwan: Poll
For the first time, a slim majority of Australians say they would back the United States if it decided to intervene during a Chinese invasion of Taiwan, according to a major survey this week.
Some 64 percent of Australians viewed a potential military conflict between the U.S. and China as a "critical threat" to Australia's national interests, behind Russia's foreign policy (68 percent) at No. 1, China's foreign policy (65 percent) at No. 2 and cyberattacks by other countries (64 percent) at No. 4, said the Lowy Institute think tank's 2022 poll published on Tuesday.
Just over half of respondents—51 percent—favored deploying the Australian Defense Force "if China invaded Taiwan and the United States decided to intervene," up eight percentage points since 2019, the survey found.
Two-thirds—60 percent—supported Australian forces being used to conduct freedom of navigation operations "in the South China Sea and other disputed areas claimed by China," the results showed.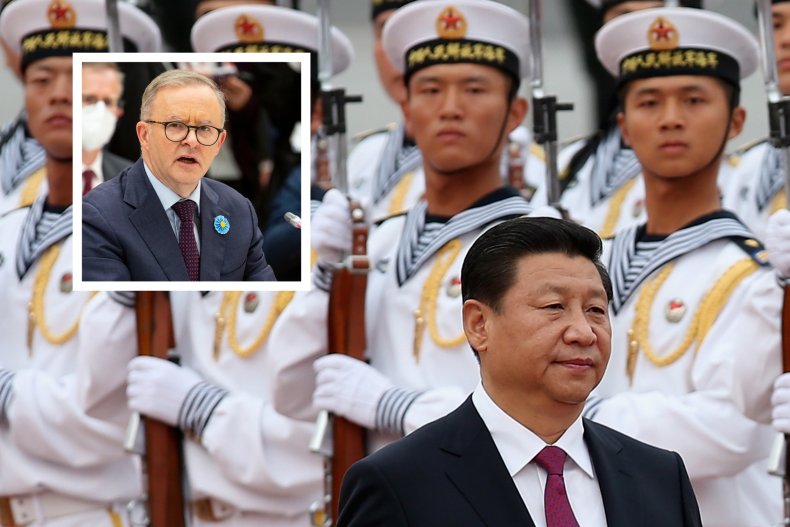 The poll of 2,006 Australian adults was conducted between March 15 and March 28 against the backdrop of Russia's invasion of Ukraine. Responses to questions about China would've come during a lengthy low point in Canberra's relations with Beijing and amid years-long tensions between Beijing and Taipei.
In August 2021, a survey by the Chicago Council on Global Affairs found, also for the first time, that over half of Americans—52 percent—approved of using U.S. forces to defend Taiwan, despite Washington's official policy of ambiguity on the question of military support for Taipei.
The Lowy Institute's results reflected a sharp decline in trust in China (12 percent) and its leader, Xi Jinping (11 percent), with 75 percent of respondents saying China would likely "become a military threat to Australia in the next 20 years," including 32 percent who thought the prospect was "very likely."
Faced with a changing security environment in the Asia-Pacific, only 53 percent of Australians said they felt "very safe" or "safe" in 2022, down 17 points from 2021, the poll showed.
A super-majority of 87 percent felt the ANZUS alliance between Australia, New Zealand and the United States was important, with 63 percent of Australians in favor of basing American troops in the country, while 67 percent also favored the presence of British forces in Australia.
According to the report compiled by the Lowy Institute's Natasha Kassam, 64 percent said the alliance with the U.S. made Australia safer from attack or pressure from China, and 76 percent believed the U.S. would come to Australia's defense if it were under threat. At the same time, 77 percent agreed that the alliance made it more likely for Australia to be "drawn into a war in Asia that would not be in Australia's interests."
Australians were divided on the merits of their country's role in mini-lateral partnerships such as nuclear submarine and high tech pact AUKUS (Australia, U.K. and U.S.) and the Quad (Australia, Japan, India and U.S.). Of the former, 52 percent said it would make Australia safer and 53 percent felt similarly about the latter.
Trust in the U.S. (65 percent) remained stable but was behind the U.K. (87 percent), Japan (87 percent) and France (82 percent). Meanwhile, Joe Biden (58 percent) was No. 5 on the confidence list, behind New Zealand PM Jacinda Ardern (87 percent), France's President Emmanuel Macron (67 percent), Japanese PM Fumio Kishida (65 percent) and U.K. PM Boris Johnson (59 percent).
As with Australian views of China, trust in Russia declined steeply, plunging 21 points from 2021 to just 5 percent this year, the survey found. This was also shown in the public's confidence in Vladimir Putin, which fell to 6 percent. Nearly nine in 10 Australians—87 percent—said they were concerned about China-Russia cooperation, according to a separate Lowy Institute survey of 3,583 Australian adults between April 14 and April 24.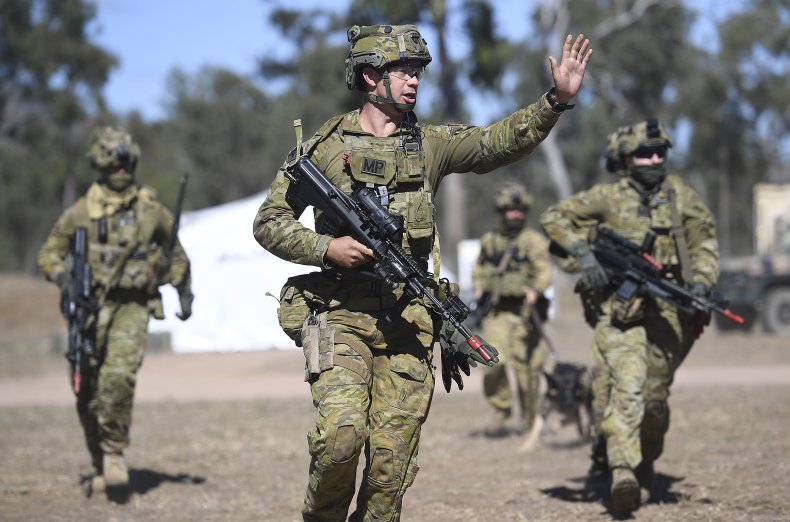 As was the case during the U.S.'s transition from former President Donald Trump to Biden, officials in Beijing spoke of an opportunity to reset tense bilateral relations with Canberra following Anthony Albanese's election win for Australian Labor in May. However, change has been slow-going, with the new PM remaining firm on areas of disagreement.
Albanese is in Brussels this week for his country's first government-level invitation to a NATO summit, alongside Ardern, Kishida and President Yoon Suk-yeol of South Korea. The bloc's historic decision to invite the four Asia-Pacific leaders has not gone unnoticed in Beijing and other capitals.
"China seeks to be the most powerful nation in the world," Albanese told the German Marshall Fund's Brussels Forum on Wednesday. "They have an authoritarian streak."
"Just as Russia seeks to recreate a sort of Russian or Soviet empire, the Chinese regime is seeking friends, whether it be Russia or in the region, through financial [and] economic support, to build up alliances and to undermine what has historically been the Western alliance in places like the Indo-Pacific."
The Chinese government imposed a raft of indirect economic sanctions against Australian exports in 2020 after former PM Scott Morrison called for an independent investigation into the origins of COVID-19. Morrison's alignment with Trump and later Biden on issues of regional security further inflamed tensions between Canberra and Beijing.
"Australia's currently [the] subject of economic coercion from China, with sanctions of everything from coal to wine to barley to meat" Albanese said. "We assert with the change of government that our values don't change."
Albanese said Australia wanted good relations with China but would not compromise.
"We assert that those sanctions—there's no basis for it, and they should be removed," he said.