Australia Wildfires Map Update: Area the Size of Kentucky Has Burnt Since Blazes Began As Protesters Target Prime Minister Scott Morrison
Police in Australia have urged people not to engage in planned protests against Prime Minister Scott Morrison for fear of drawing resources away from the fires presently devastating the country. Rancor has been building against Morrison's response to the blazes amid a series of perceived public relations missteps.
These include staying on holiday in Hawaii at the height of the fire season, walking away from questions from victims in Cobargo, and reiterating that he believes his government's carbon reduction policies are adequate.
A protest organised by Uni Students for Climate Justice will shut down parts of central Melbourne on Friday, with several other actions also planned.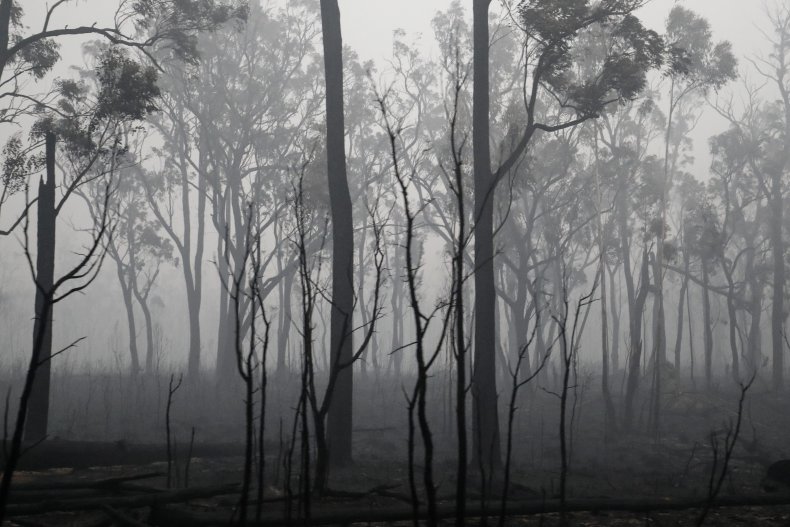 Victoria's Acting Assistant Commissioner Tim Hansen described the action as a "distraction" and said that resources should be focused on where the fires are burning.
"We see frontline police returning from the fire ground, returning from the fire zone that are fatigued, that do need a break, and this is now another operation we need to resource," he said, Australia's ABC News reported.
Protest convenor Anneke Demanuele defended the demonstration, saying it was important to express that "we're living in a climate emergency, a climate crisis. The bushfire season started earlier, it's more intense, and it's going to be ongoing."
Protesters are calling for all firefighters to be paid, want a move away from fossil fuels, and the sacking of Morrison.
At least 24 people have died and more than 2,000 homes have been destroyed in the blazes which have burned an estimated 10.7 million hectares of land, including grassland in the Northern Territory, or around 41,300 square miles, according to Guardian calculations as of January 8. This is an area slightly larger than the U.S. state of Kentucky.
Australia Wildfires Maps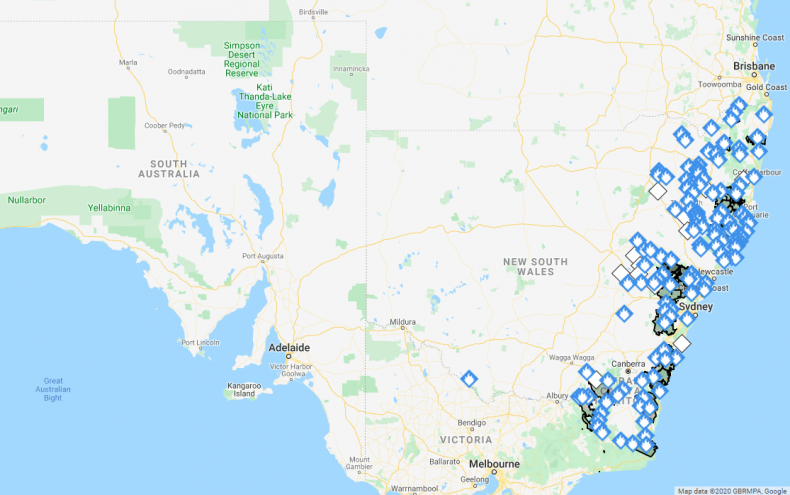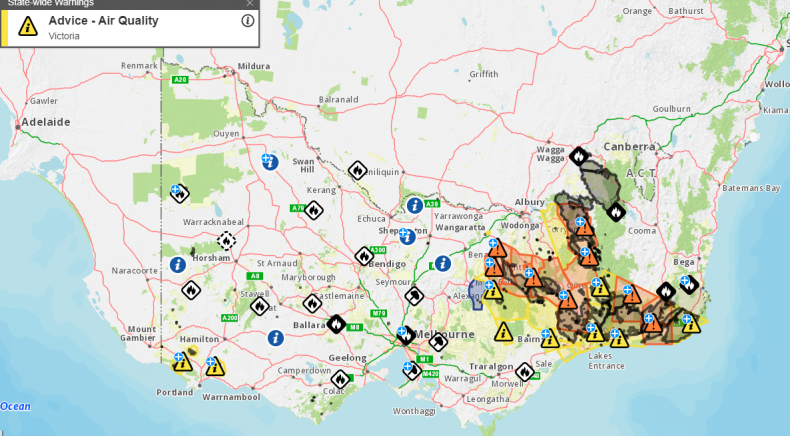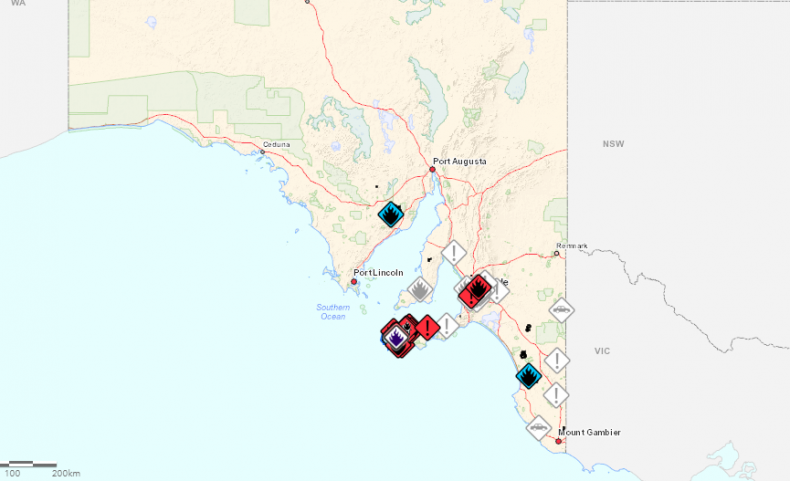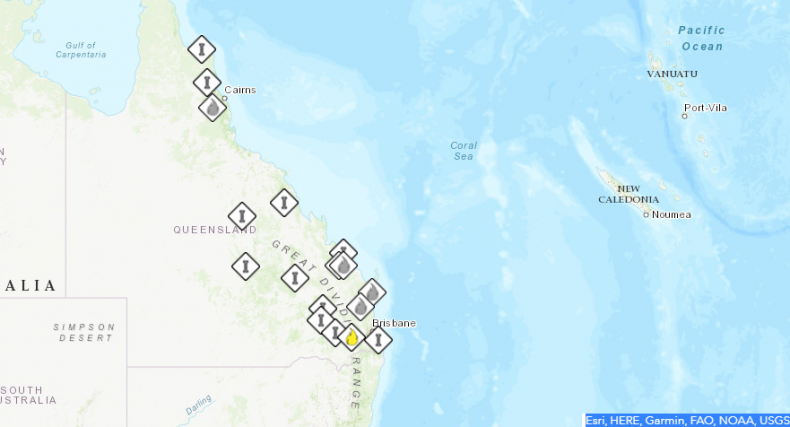 In New South Wales there are 119 fires burning according to the New South Wales Rural Fire Service.
Among the biggest is one in the Wollemi National Park area, across more than 512,000 hectares. Another is burning between Batemans Bay and Nowra and east of Braidwood, across an area of more than 307,000 hectares, which is being controlled, the NSW RFS said.
A huge blaze is burning in the Wollemi National Park, Putty State Forest, Coricudgy State Forest and Nullo Mountain State Forest across 323,000 hectares in size, although it is also being controlled.
The NSW RFS has also said a number of fires are burning north of Adaminaby, in the Bugtown area, with an area of around 20,000 hectares affected in blazes it describes as "out of control."
It has warned people between Yaouk in the north and Lake Eucumbene in the south to monitor conditions.
The Bureau of Meteorology is forecasting "severe fire danger" in some districts in South Australia, including the Lower Eyre Peninsula, Mid North, Mount Lofty Ranges, Yorke Peninsula, Kangaroo Island and Lower South East.
In New South Wales, the BOM says there are hot and dry conditions and an increased fire danger for parts of the western slopes and a "very high fire danger" for the southern slopes.
There is the promise of some reprieve with heavy rainfall predicted for Hunter, Northern Tablelands and parts of Mid North Coast, Central Tablelands and North West Slopes and Plains Forecast Districts.
In Western Australia, hot and dry conditions are expected in the north-west of the state with extreme fire danger forecast for the Gascoyne Coast and "severe fire danger" forecast for Exmouth Gulf Coast and Gascoyne Island.
For people affected by the wildfires, the NSW RFS advises the following:
Stay up to date on bush fires in the area by checking your local fire service website, listening to the local radio station.
People with respiratory conditions who are affected by bush fire smoke should activate their health management plan and seek medical advice if necessary. Take precautions, such as staying indoors and closing windows.
For information on road closures, check live traffic updates. Roads may be closed without warning.
Monitor weather conditions and weather warnings at the Bureau of Meteorology.
For more information on how readers can support those affected by the bushfires in Australia, Newsweek has rounded up several ways Americans can help.
Correction (1/8/20, 10 a.m. ET): This article was updated to correct figures on estimated area burned and comparisons in size.