Baby Hospitalized After Being Fed Homemade Formula Amid Shortage
A baby was recently hospitalized after consuming homemade formula, amid the ongoing baby formula shortage across the U.S.
According to WLTX news in South Carolina, the Medical University of South Carolina recently confirmed that at least four babies had experienced medical issues relating to the baby formula shortage, resulting in all four being hospitalized. WLTX news reported that one of the hospitalized babies consumed homemade baby formula created by parents.
A spokesperson for the Medical University of South Carolina confirmed the report from WLTX news to Newsweek and said, "Many of the children we treat have complex health conditions including nutrition, so it's hard to nail down an exact number, but, we can safely say at least four have been related to the formula shortage."
The report from WLTX news on Thursday comes amid a nationwide shortage of baby formula, after baby formula manufacturer Abbott recalled some of its products in February due to concerns over potential bacterial infections. The recall prompted Abbott to close one of its manufacturing facilities in Michigan. In addition to the recall, supply chain issues caused by the ongoing COVID-19 pandemic, have left some families searching around for baby formula for hours.
Despite the current scarcity of baby formula on shelves across the U.S., medical professionals are urging parents to avoid using a homemade recipe.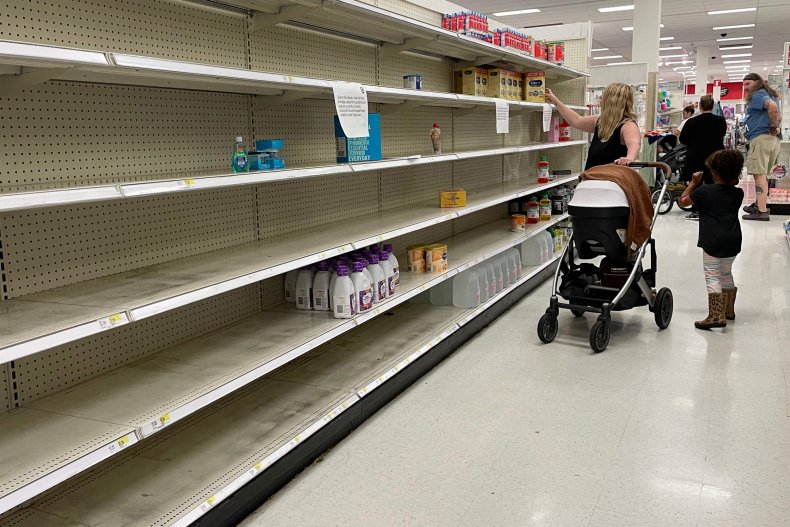 In a recent article published by HealthyChildren.org, from the American Academy of Pediatrics, a pediatrician warned parents against trying to create homemade baby formula.
"Although homemade formula was used in the past, it also came with many risks to infants. Online recipes for homemade baby formula have significant safety concerns regarding contamination and nutrient concentration. Using homemade baby formula can harm your infant. Some babies have been hospitalized from reported use of homemade formulas," the pediatrician, Steven A. Abrams, a fellow with the American Academy of Pediatrics wrote.
Abrams also warned against using water to baby formula, saying that it "can dilute the levels of protein and minerals, and lead to low sodium levels in the blood and other electrolyte disorders that may require hospitalization."
While speaking with WLTX news, Carmen Thompson, a dietitian and assistant professor at South Carolina State University, made similar comments, saying that adding water to baby formula can result in your baby losing out on "micronutrients and the macronutrients."
"The micronutrients and the macronutrients are made to fit this distribution. If you're going to add more water then the manufacture suggests, then your infant is not going those nutrients that the baby needs," Thompson told the local news outlet.
In response to the ongoing baby formula shortage, President Joe Biden invoked the Defense Production Act to increase rate of delivery and production of baby formula across the nation. Additionally, the House of Representatives recently passed two bills addressing the baby formula shortage.
Updated on 05/20/22 at 3:53 p.m. ET to include a statement from the Medical University of South Carolina.