Florida Parents Spend 6 Hours Searching For Baby Formula, Find 4 Cans
A Florida couple with five-month-old twins said they spent nearly six hours looking for baby formula and were only able to purchase four cans. The search occurred as a U.S. shortage of the product sends concerned parents scrambling to feed their infants.
Erik and Kelly Schmidt, both 35, told MarketWatch that their local Central Florida Target store was empty-shelved when they went to buy their usual baby formula this week. The couple then embarked on a full day's journey to find formula, resulting in hours of driving to different Targets, Walmarts, and grocery stores nearby.
However, with each store they visited, the pair were forced to leave empty-handed.
"It's pure panic, " Kelly Schmidt told the news outlet, while Erik added that they were finding "absolutely nothing."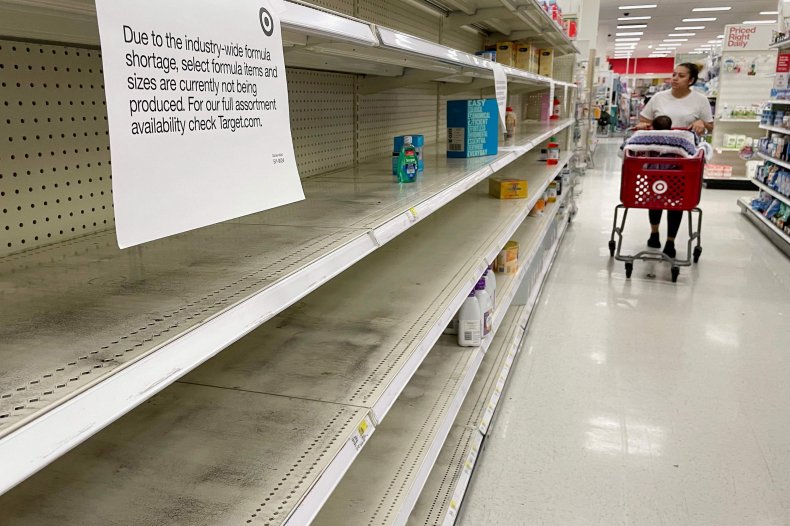 Eventually, the Schmidts found that the grocery store chain Aldi carried a baby formula similar to their usual brand. Erik Schmidt then traveled to three different Aldi stores before he found one with the right product in stock, and even then, the store only had six cans left.
"I left two on the shelf because I didn't want to be 'that guy'," he said. However, the couple said that the four cans they did acquire will likely only last them two weeks, according to MarketWatch.
The Schmidts' story is similar to parents across the country. As Newsweek previously reported, the country's baby formula shortage is a result of a combination of supply chain disruptions and labor shortages due to the pandemic, as well as significant product recalls.
In late February, the U.S. Food and Drug Administration (FDA) announced a voluntary recall of multiple types of some Similac, Alimentum and EleCare powdered formulas that are owned and manufactured by Abbott Nutrition. The recall came after four infants became sick and were hospitalized with bacterial infections. Two of the four infants later died, though Abbott released a statement saying that "there is no evidence to link our formulas to these infant illnesses."
In general, baby formula shortages have skyrocketed in the last few months. In April, about 40 percent of all baby formula was out of stock in the U.S., up from 29 percent just one month before.
The issue has resulted in panic-buying and has even forced some stores to limit the number of formula cans buyers can purchase at a time. In some cases, mothers have described feeling "panicked" and have warned that they will completely run out of formula within the next month.
"Having to drive one to two hours away from your own home in hopes of finding formula for your child, then having no luck, makes you feel so guilty," Kenzie Martin, 29, of White Plains, New York, told Newsweek last week. "I'm scared for the mothers who haven't welcomed a baby into the world yet and are already scared of not being able to feed their infant. I feel guilty for not being able to breastfeed or keep my supply from pumping going."
To address the issue, House Speaker Nancy Pelosi said Friday that Congress will work to expedite a bill to grant emergency authority to relax restrictions on the types of formula that can be purchased in the U.S., according to the New York Times.
"The babies are crying, and the babies are hungry," Pelosi said. "So we must take urgent action to protect their health and well-being."
Parents are also increasingly seeking assistance from breast milk banks, which collect donated milk from women who have undergone health screenings, in order to distribute it to babies in need. For more information on how to donate breast milk amid the shortage, see Newsweek's article here.
Experts say that making your own formula, however, could have serious risks.