Abbott Nutrition has released a new timeline for a baby formula restock amid a weekslong shortage that has left American parents frustrated and put a GOP target on the Biden administration's back.
The manufacturer announced on Monday that it had entered into a consent decree with the U.S. Food and Drug Administration (FDA) for its facility in Sturgis, Michigan, which was shut down after a massive recall in February. The recall, coupled with supply chain issues stemming from the pandemic, has left parents across the country struggling to feed their babies.
In recent weeks, the shortage has become a key issue for Republicans, who have increased their focus on the empty shelves and have blasted President Joe Biden for his administration's response to the lack of baby formula across the country.
Abbott said that once it receives an FDA approval that the infant formula plant meets all requirements, the manufacturer can restart the site within two weeks. Once the facility resumes operations, Abbott estimates that it will be another six to eight weeks before its product is available on shelves across the country.
"We know millions of parents and caregivers depend on us and we're deeply sorry that our voluntary recall worsened the nationwide formula shortage," Robert B. Ford, Abbott's chairman and chief executive officer, said in the statement. "We will work hard to re-earn the trust that moms, dads and caregivers have placed in our formulas for more than 50 years."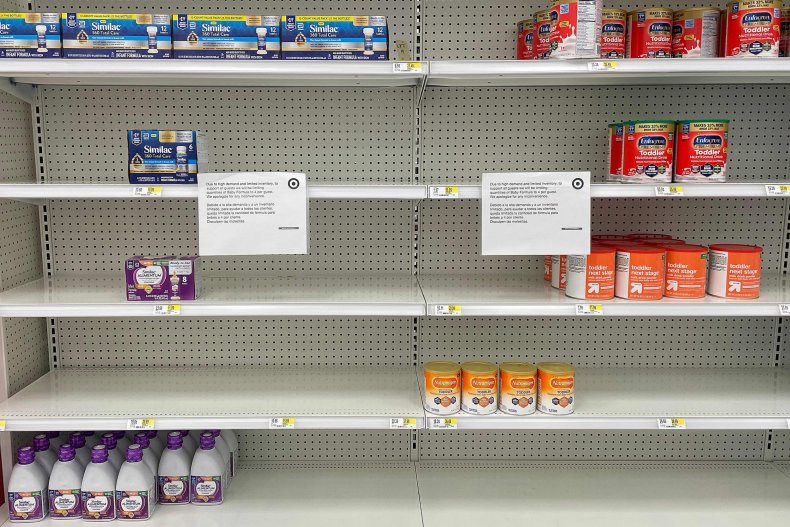 "Our number one priority is getting infants and families the high-quality formulas they need, and this is a major step toward re-opening our Sturgis facility so we can ease the nationwide formula shortage," Ford added.
In the meantime, the manufacturer said it will continue to import baby formula from an FDA-registered plant in Ireland to help alleviate the current lack of supply. The company has also ramped up formula production at two of its plants in Ohio and Arizona.
In February, Abbott issued a recall for some Similac, Alimentum and EleCare powdered formulas after complaints of bacterial infections were reported in four infants who consumed powdered formula produced at the Michigan facility.
The FDA said that all four infants were hospitalized and that two of the four died.
However, further investigations from the Centers for Disease Control and Prevention found that there was "no conclusive evidence to link Abbott's formulas to these infant illnesses."
Several GOP figures have criticized congressional Democrats for backing a relief package for Ukraine amid the shortage, while others suggested that the White House was prioritizing migrant infants over American babies.
"The Democrats are sending another $40 billion to Ukraine, yet America's parents are struggling to even feed their children," former President Donald Trump said in a Friday statement. "There is a massive formula shortage, but no one is talking about it—it is a national disgrace. It is unthinkable that in the year 2022 American families are unable to get baby formulas for their children."
"Joe Biden continues to put America LAST by shipping pallets of baby formula to the southern border as American families face empty shelves," Representative Elise Stefanik, the third-ranking House Republican, tweeted on Friday. "This is unacceptable. American mothers and their babies shouldn't suffer because of the #BidenBorderCrisis."
In response, former White House press secretary Jen Psaki defended the distribution of formula by U.S. Customs and Border Protection, saying the agency was not only required to do so by federal law, but that it was the "morally right thing to do."
On Monday, White House press secretary Karine Jean-Pierre said the administration has been "talking about" the shortage since February and that it is a "top priority" for Biden.
"His team has been working overtime to make sure that we get formula back on the shelves, and we want to do this in a safe way," Jean-Pierre told reporters, adding that she would get back to them on specific briefings, meetings and calls the president made regarding the issue in February.