Baby Yoda Inspires Twitter Users to Share Photos of Their Baby Snowda Snowman Creations
With areas across the U.S. experiencing heavy snowfall, the snowman of choice appears to be Baby Yoda, or Baby Snowda. The Weather Network compiled a Twitter thread of the best Baby Yoda snowmen.
Baby Yoda, or The Child, as he is actually known, became a viral hit after being featured in The Mandalorian TV show, based on the Star Wars movie series. From sold-out Disney plush toys, Build-a-Bear Baby Yoda, to Etsy lawsuits and a Baby Yoda Funko toy arriving in spring, everyone's been trying to get their hands on their very own Baby Yoda.
Some fans of The Mandalorian have gotten creative and have made their own Baby Yoda models out of snow. The Weather Network tweeted: "It looks like Baby 'Snowda' is the snowman of choice across the galaxy this winter season, following release of "The Mandalorian" on Disney +. Show us your Jedi Master creations!"
Below are the best Baby Yoda snowman designs posted on Twitter, with some dressing their creation up in Yoda's brown robes, and others accessorizing with a cup of soup. A few fans have even dyed their snow green for the full Yoda-effect.
Twitter user @MaryPickford20s tweeted a photo from the Minnesota State Fair.
Twitter user @MarketPowerYT tweeted a photo of a Baby Yoda complete with green ears, a brown robe and a staff.
@jcarlson6703 on Twitter made a Baby Yoda with leaves for ears.
Twitter user @SamiMiniCosplay shared a photo of a snowman based on the scene of Baby Yoda holding a cup of soup.
@3Mahoney said: "I give you, Baby Yoda" with a photo of a snowman wearing a brown cloak, complete with huge ears and black eyes.
@YetiInADress captioned their tweet: "Baby Snowda just down the block" with a photo of a green snowman holding a plant pot instead of a cup of soup.
"Baby Yoda snowman achievement unlocked. @Jon_Favreau I did this well under budget, only $25,000 and 1 crew member (son)," tweeted @uh_burton. They also created a green snowman holding a plant pot.
Twitter user @kdub10s said: "Kudos to my Tosa neighbors who built a six-foot-tall Baby Yoda snowman!!"
@CommieBard dressed their Baby Snowda with a scarf.
Twitter user @SamiMiniCosplay made a green Yoda wearing a brown cloak and holding a cup and said: "Yesterday we made Baby SNOWDA and have TONS of snow left over!"
Twitter user @AN_Worst said: "Me getting back from the clay lab at 1 AM: This is perfect snowman snow. I'm gonna make a snowman before it all melts. / Me at 1.30 a.m.: let's turn it into baby Yoda holding soup! / Me at 3 a.m.: well, I tried. Let's hope it looks better in the morning."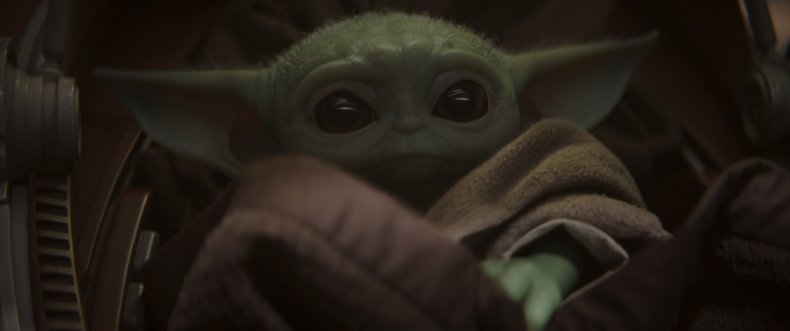 Baby Yoda Inspires Twitter Users to Share Photos of Their Baby Snowda Snowman Creations | Newsgeek