When Does 'The Bachelorette' Season 18 Start and Who's in the Cast?
ABC is going all-in on The Bachelorette this year. Season 18 of the show is coming this October, just two months after Katie Thurston was pretty much forced into choosing Blake Moynes as her final suitor.
Now, Michelle Young is going from being the runner-up of Matt James' season of The Bachelor to standing as the latest Bachelorette. This means that Bachelor Nation will have another 30 men to thirst over and to argue about whether they are there for the "right reasons" or not.
When Season 18 starts this fall, among the men Young will have to choose from include football player Bryan Witzmann, basketball player Joe Coleman and Clint Eastwood's grandson.
Here's when Bachelorette fans will be able to watch Young's romantic drama with these men, and who else will be battling out for her heart.
When Does 'The Bachelorette' Season 18 Start?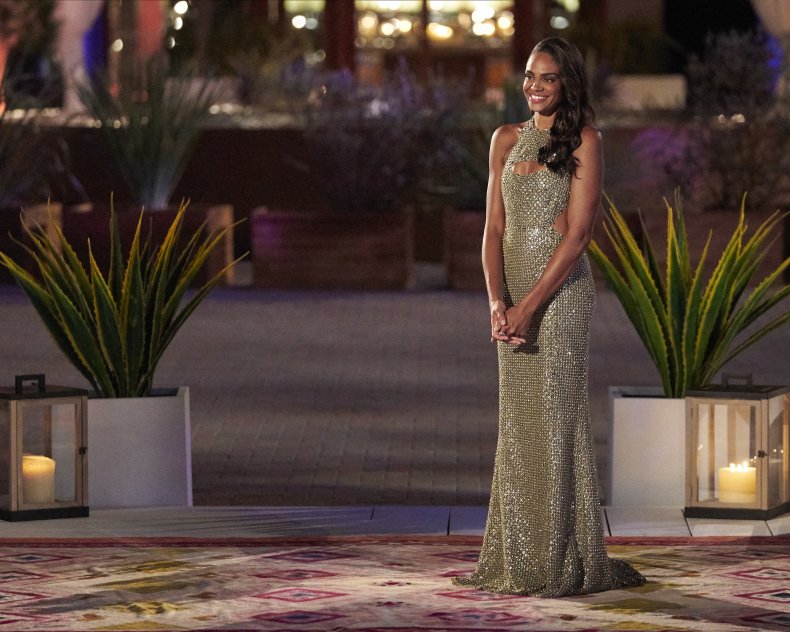 The premiere of the latest season is set to air on Tuesday, October 19 at 8 p.m. ET / 7 p.m. CT on ABC. The remaining episodes will air in that slot weekly on Tuesdays.
For viewers who want to watch the new season online, episodes come to Hulu on Wednesday morning. Last season, episodes came to the streamer at 5 a.m. ET, and the new episodes are expected to suit.
Who Is in the Cast of 'The Bachelorette' Season 18?
This year's Bachelorette is Michelle Young, the third Black lead of the series after Rachel Lindsay and Tayshia Adams.
She previously appeared on The Bachelor Season 25, when she came in second place behind the controversial Rachael Kirkconnell.
The following 30 men will be introduced during the season's premiere:
Alec Thompson, 29, an engineer from Forest, Virginia
Brandon Jones, 26, a traveling nurse recruiter from Portland, Oregon
Brandon Kieffer, 29, a brand manager from Sulphur, Louisiana
Bryan Witzmann, 31, an NFL player from Houlton, Wisconsin
Casey Woods, 36, an advertising creative director from Parkland, Florida
Chris Gallant, 28, a motivational speaker from Halifax, Nova Scotia
Chris Sutton, 28, a commodities broker from New Orleans, Louisiana
Clayton Echard, 28, a medical sales representative from Eureka, Missouri
Daniel Tully, 26, a firefighter from Austin, Texas
Edward Naranjo, 27, a wellness coach from Brownsville, Texas
Garrett Aida, 33, a tech CEO from Salt Lake City, Utah
Jack Russell, 30, a former army officer from Greensboro, North Carolina
Jamie Skaar, 32, a biotech CEO from Tacoma, Washington
Joe Coleman, 28, a real estate developer from Minneapolis, Minnesota
JoMarri Gable, 26, a personal trainer from Fresno, California
Leroy Arthur, 27, a biomedical PhD student from Durham, North Carolina
Lowell "LT" Murray IV, 38, a yoga guru from Bellevue, Washington
Martin Gelbspan, 29, a personal trainer from Miami, Florida
Mollique Johnson, 36, an academic administrator from San Diego, California
Nayte Olukoya, 27, a sales executive from Winnipeg, Manitoba
Olumide "Olu" Onajide, 27, an IT analyst from Woodland Park, New Jersey
Pardeep Singh, 30, a neuroscientist from Brooklyn, New York
Peter Izzo, 26, a "pizzapreneur" from Bellmore, New York
PJ Henderson, 30, a firefighter from Houston, Texas
Rick Leach, 32, a medical sales representative from Munroe Falls, Ohio
Rodney Matthews, 29, a sales representative from Rancho Cucamonga, California
Romeo Alexander, 32, a mathematician from New York City, New York
Ryan Fox, 30, an environmental consultant from Sanger, California
Spencer Williams, 25, a financial crimes analyst from Cleveland, Ohio
Will Urena, 28, an academic interventionist from Grand Rapids, Michigan