Band Change Name of Song to Match Fan's Tattooed Typo Fail
A band decided to officially change one of their song names to match a fan's tattoo which included an awkward typo.
Waterparks enthusiast Carolina Clancy Daniel got a series of inkings paying tribute to the three-piece, including two song names and a lyric underneath a sketch of frontman, Awsten Knight.
Daniel, 20, shared a snap of her new tattoos to her Twitter account, @clancybitch, saying: "New parx tattoos! Plus a little touchup! "
But upon closer inspection, she realized the artist had made a glaring error.
Daniel had planned to permanently commemorate one of their songs "See You In The Future," but the tattooist had added a rogue "in." The title instead read: "See You In In The Future."
"Y'all my artist put 'see you in in the future!'" Daniel captioned a snap of the design, on her arm, as she tagged Knight in the post.
Incredibly L.A.-based Knight saw the tweet, and wrote: "Waterparks Please It's Not Too Late to Change the Song Title."
While the official Waterparks Twitter page also responded to Daniel's tweet, initially saying: "My mouth is stuck open."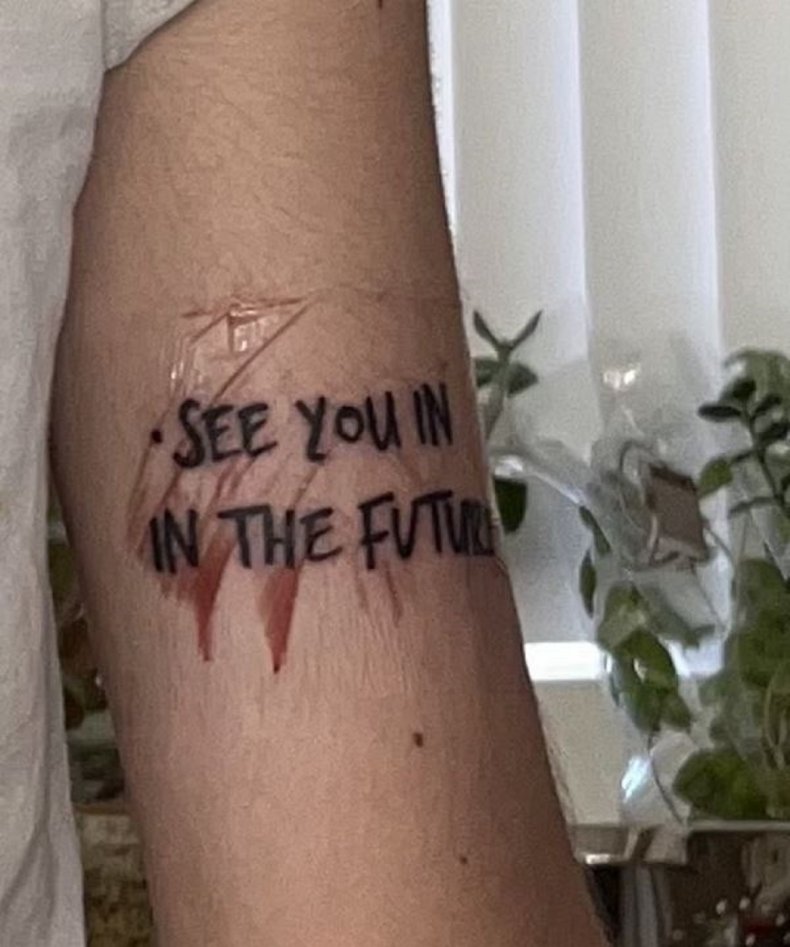 It seems it wasn't too late, as Knight followed up with another tweet, sent last week, telling Daniel: "Hey I saw your tattoo and figured the least we can do is change the song title for u."
A search on Spotify now lists the tune as "See You In In The Future," as Knight confirmed to Daniel their misspelled tattoo now matches the track.
Before the title was changed, it emerged Daniel debated getting the mistake covered over.
She posted various tweets addressing the blunder, saying: "I was having a really hard time deciding what to do with it and wasn't liking any of the cover up ideas I came up with and then the next day they changed it. I'm so ecstatic and honored, it'll be a great story to tell!

"I'm sitting here like, the name got changed because of my tattoo... I have actually decided to keep it."
She thanked the band for changing the name, saying: "I am literally crying! Thank you guys so much for doing this over my messed up tattoo! God's Favorite Boy Band."
While in a separate tweet she asked: "Literally though, isn't that a lot of work to change a song name? I'm so ecstatic and thankful though!"
Awsten shared a clip of the tattoo fail to his TikTok page, @awstenknight, saying: "Someone's tattoo artist misspelled the title of my band's song See You In The Future by adding two 'ins'. So I fixed it on all streaming platforms."
Speaking to Newsweek, Daniel said: "Everything happens for a reason, sometimes a little slip up can blossom into something amazing. Thank you Waterparks!"
The clip, shared on Friday, amassed 2.8 million views, as people praised the band's move.
Chelsea Prangaerie wrote: "You're truly iconic for this."
Joely Anne commented: "Ok this tattoo went from someone prob being really upset to now having a legendary tattoo."
Although @phleesand pointed out: "But. But. what about the people who have a tattoo of this lyric where the artist didn't get it wrong? They all gotta get another 'in'."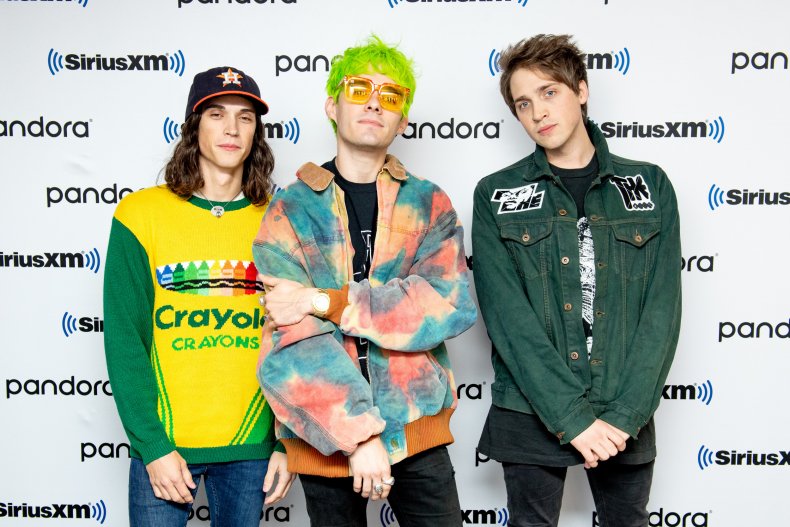 Update 11/9/21, 9:02 a.m. ET: This article was updated to include a video from Knight.
Update 11/10/21, 10:17 a.m. ET: This article was updated with comment from Daniel and photos.