Bank Injects £150 Billion Into U.K. Economy to Blunt Impact of Lockdown
The Bank of England has released £150 billion (around $195 billion) to strengthen the U.K.'s battered economy as a second COVID lockdown hits. It is hoped the cash boost will soften the economic blow of tough nationwide restrictions amid a grim warning the economic output of the country will plummet in the final three months of 2020.
Members of the central bank's Monetary Policy Committee voted unanimously to expand its quantitative easing program to £895bn ($1.1 trillion), but held rates at the historic low of 0.1 percent. It said gross domestic product (GDP), the value of a country's products and services, will pick up in the first quarter of 2021, but warned that activity will still remain "materially lower" than before the COVID crisis.
The decision came as England's 56 million people joined much of western Europe in a second coronavirus lockdown, with other sweeping restrictions already in place in the other nations of the U.K. in Scotland, Wales, and Northern Ireland. And while it emerged that more than 11 million people across Europe have so far been infected, the U.S. set a fresh daily record with close to 100,000 new infections.
Britain is among the world's hardest-hit countries with just over a million virus cases and nearly 48,000 deaths. England's lockdown follows similar measures as France and Germany and parts of Italy joining the list from Friday. People are banned from mixing with anyone they don't live with and must stay at home unless they need to go out for specific limited reasons, like for medical treatment, or exercise.
But the hospitality industry, already on its knees after months of restrictions and a 10 pm curfew, will bear the brunt of the harsh new rules. Bars, restaurants, and pubs are now shut for the next month. Leisure facilities like cinemas, non-essential shops, beauty and hair salons, and gyms have also closed their doors.
Experts fear it could plunge the U.K. into a double-dip recession, but the Bank's latest forecasts suggest the economy will narrowly avoid this so long as activity recovers at the start of next year. Addressing its latest assessment, the central bank said: "COVID continues to hit jobs, incomes, and spending in the U.K.. It has put a big strain on U.K. businesses' cash flow, and is threatening the livelihoods of many people." It forecasts around 5.5 million employees to be furloughed this month.
Britain's chancellor, Rishi Sunak, has announced an extension of the government's Coronavirus Job Retention Scheme (JRS), which pays 80% of furloughed workers' wages, until March 2021.
Prime Minister Boris Johnson had already announced that furlough would be extended for one month during England's second lockdown. So far the JRS has cost the U.K. more than £40bn since its launch in March and was used by up to 9million workers at its peak.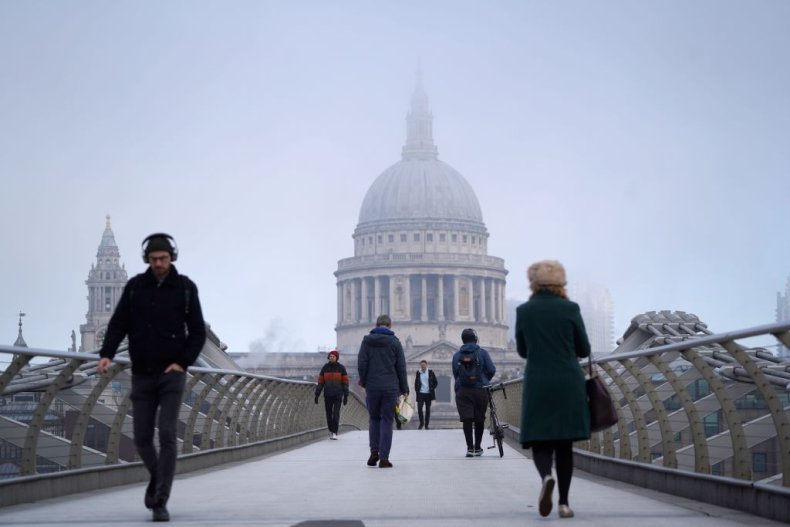 In a statement today, Sunak said the scheme will remain in place beyond December 2 – when lockdown is set to end across England – and be available to employees in all areas of the U.K. under the strictest coronavirus controls. That guarantees furlough funding for tier three regions in England, as well as in Scotland, Wales and Northern Ireland, should the devolved administrations bring in their own lockdown measures.
Before the announcement of a second lockdown, the scheme was due to be replaced with a less generous Job Support Scheme (JSS) where U.K. workers can get 67 percent of their pay if their employers are told to shut due to the pandemic. Leaders in the north of England - who were at that point under the country's highest COVID restrictions under a tiered lockdown system - said the JSS payment did not go far enough. At that point, the government was flatly refusing to boost the furlough scheme.
Sunak has been under growing pressure to save jobs and the economy during the second wave after doctors and scientists said they expect the lockdown to be extended past the December deadline.
Britain's leading business lobby group and top trade union body lead calls for an extension of the JRS through to Spring next year. Confederation of British Industry director Carolyn Fairbairn said she hoped Sunak would "act to protect jobs" in his statement.
"As lockdown shutters come down for many firms, extending furlough till next Spring is the right thing to do. Firms and employees need more certainty and stability to plan and recover; a JRS extension will help," she said on Twitter.
Frances O'Grady, the general secretary of the Trades Union Congress also said urgent measures are needed to prevent a "tsunami of job losses". "Working families need financial security to get through the tough times ahead. And employers need an end to last-minute decisions," she said in a statement.
Newsweek has contacted the U.K. Treasury for comment.