Bannon Trashes Fox News After 'Wimp' Murphy's MAGA Bashing 'Unchallenged'
Right-wing strategist Steve Bannon slammed Fox News and Senator Chris Murphy, a Connecticut Democrat, after the lawmaker criticized the rightward shift the Republican Party has taken in recent years in an interview with Fox News Sunday.
Murphy was interviewed by Fox News anchor Bret Baier. During the segment, he strongly criticized the change the Republican Party has undergone since former President Donald Trump's tenure in the White House.
"I am very concerned about the sort of very quick, hateful, divisive turn that the Republican Party has taken," the Democratic senator told Baier. "It's something I have not seen from the Republican Party."
Bannon, who served as the chief executive of Trump's 2016 campaign and as a White House strategist during the former president's first year in office, later shared an article from The Hill highlighting Murphy's remarks on Gettr. The right-wing strategist criticized Fox News, Baier and Murphy.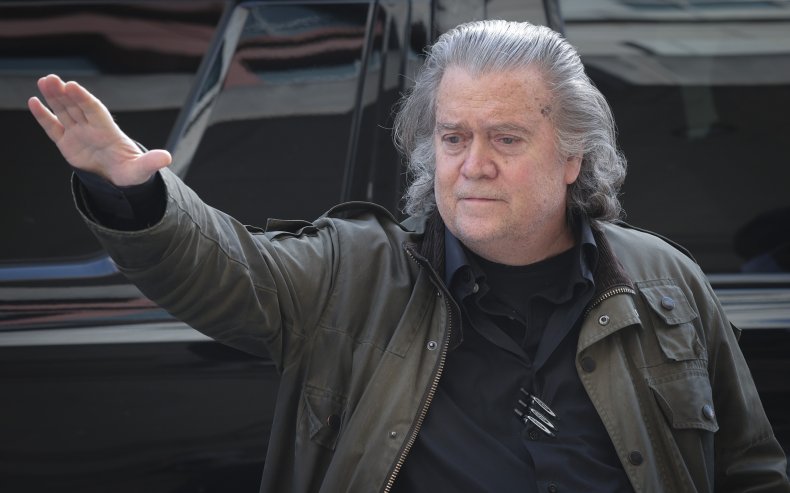 Fox News 'Bigger Problem' Than Democrats
"Fox News Bret Bair let's the wimp Murphy of Connecticut trash MAGA unchallenged—- Fox News is a bigger problem now than the Democratic Party," he wrote in a Sunday Gettr post.
Just a couple hours later, Bannon again attacked Fox News after network co-host Geraldo Rivera argued on Twitter that the U.S. economy currently needs more immigrants. "At 3.6% our economy is effectively at full-employment. There are 10 million open jobs in America. Our economy needs more workers to continue expanding," Rivera tweeted Saturday. "You know what could come in handy? We need more immigrants."
Bannon took issue with the assessment, however, claiming that it defined all of Fox News' coverage.
"Fox News is non stop on increasing immigration—during an Invasion on the Southern Border ,with an economy entering a Recession , REAL wages declining and the free money spigot finally getting shut off that will contract the economy even further," he wrote on Gettr Sunday afternoon. "The Murdoch's solution is more competition for jobs and more folks on state support."
Media tycoon Rupert Murdoch is the chairman of Fox Corporation.
Despite Bannon's criticism, Democrats and liberal analysts regularly slam Fox News for its coverage of immigration issues and undocumented migrants. In June 2021, the left-leaning media watchdog Media Matters for America reported that Fox News "fear mongered about migrants and the immigration system in at least 693 segments in a 12-week period."
While Bannon may think that Fox News is a "bigger problem" than Democrats, many Democrats also readily express disdain for the network. Senator Elizabeth Warren, a Massachusetts Democrat, refused to appear on the network when she was running for her party's 2020 presidential nomination. Other prominent Democrats have taken a similar stance.
"A Fox News town hall adds money to the hate-for-profit machine. To which I say: hard pass," Warren tweeted in May 2019. Earlier that year in March, the Democratic Party rejected allowing Fox News to host any of its primary debates ahead of the 2020 election.
Trump and other right-wing allies of the former president have repeatedly attacked Fox News. My Pillow CEO Mike Lindell, a key promoter of false claims about the 2020 election, even held a protest outside the media company's New York City headquarters in November 2021.
Newsweek reached out to spokespeople for Fox News and Murphy for comment.