Obama-Trudeau Bromance Reignited Over Dinner Date in Montreal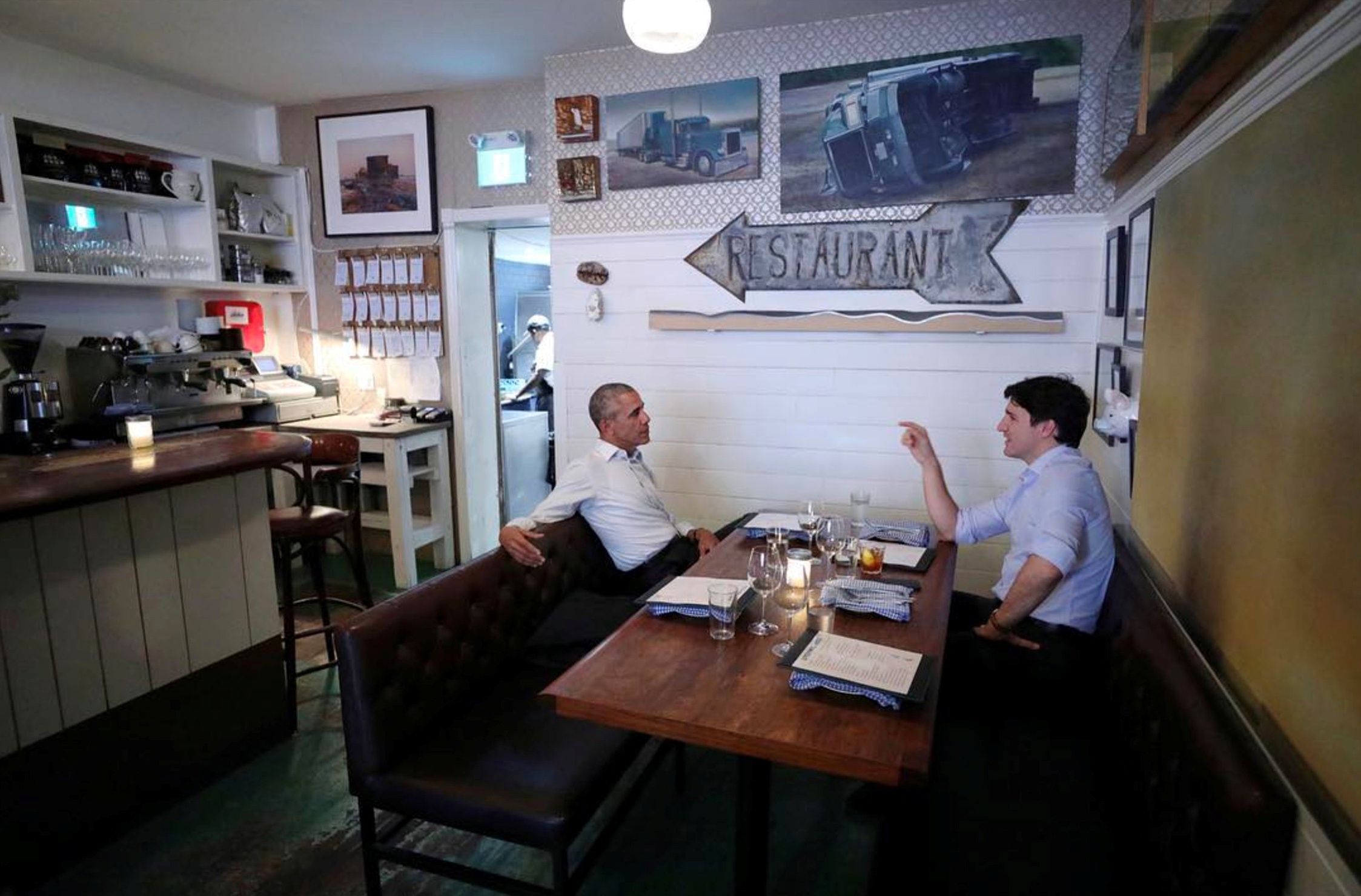 Canadian Prime Minister Justin Trudeau and former U.S. President Barack Obama finally reunited at a Montreal restaurant on Tuesday.
Obama has spent the last few weeks traveling Europe, visiting with leaders and dignitaries in Italy, Germany and the United Kingdom. A speaking engagement in the Canadian city, Trudeau's hometown, provided the perfect occasion to catch up with his old friend, with whom Obama shared many a friendly handshakes and hugs in the past.
The two met for dinner at the Liverpool House restaurant, which offers an oyster bar among other "market-inspired comfort dishes," in the neighborhood St Henri, described by Canadian channel CBC as a former "bastion of Montreal's francophone working class," now "a favorite of condo-developers and fine diners."
"Tonight in Montreal, Barack Obama and Justin Trudeau discussed their shared commitment to developing the next generation of leaders," read a tweet published by the Obama Foundation.
"How do we get young leaders to take action in their communities? Thanks Barack Obama for your visit & insights tonight in my hometown," Trudeau published on his Twitter account.
Social media users have other theories about the topic of conversations among the two.
For some, U.S. President Donald Trump's "covfefe" tweet was on the table.
Others thought they discussed Trump's recent announcement to withdraw from the Paris climate agreement.
While some said it was all a show for those who'd been craving for a Trudeau-Obama reunion.
Social media users have obsessed over Obama's friendships, sparking a series of memes about a bromance with his vice-president Joe Biden and recently, Prince Harry.
Trudeau too succumbed to Obama's charm and, at the end of the American president's time in office, the Canadian leader said he was going to miss him. Recently, however, Trudeau appeared to have moved on.
During the G7 summit in Italy at the end of May, the Canadian premier was pictured warmly shaking the hand of and embracing French president Emmanuel Macron, sparking a wave of excitement among social media users who thought Trudeau had found another power bromance with a young, progressive leader.
But the hug between Trudeau and Obama at the end of the meal suggests that the former American president will always hold a special place in the Canadian leader's heart.