It feels like a different universe. In fact it was the summer of 1998: Bill Clinton was testifying in front of a grand jury about an affair with a White House intern, "The Boy Is Mine" by Brandy and Monica was the biggest song in the country and Armageddon was earning millions at the box office.
Up north, a bunch of quirky Canadians who called themselves Barenaked Ladies were plotting their world takeover. Led by co-lead singers Ed Robertson and Steven Page, the band's 1992 debut Gordon, with signature singalong "If I Had $1000000," had transformed them into local heroes. Then 1998's Stunt dialed up the hooks and condensed the group's spirited, humor-heavy live shows into 50 minutes of not-too-jokey pop. Perhaps more significantly, the album led off with the freakishly catchy "One Week," a rap-rock beast of a single that has become so unavoidably entrenched in the pop consciousness that simply singing the first two words of the song ("It's been!) can cause strangers to burst into song.
By the fall of '98, "One Week" was a No. 1 hit and Stunt was moving millions of units stateside. (That was the age when people happily paid $17.99 for CDs.) "It was weird," Robertson says now. "We're a band that has always seen ourselves as underdogs." In retrospect, "One Week" feels like an artifact of an era when anything could be a hit, however offbeat or goofy, and the record business was rolling in pre-Napster cash.
Though Steven Page left the band in 2009 to go solo, Barenaked Ladies is still touring widely and releasing a 20th anniversary edition of Stunt on CD/DVD and vinyl this fall. In March, the band managed to get inducted into the Canadian Music Hall of Fame. (For that occasion, Page rejoined his former bandmates: Robertson, drummer Tyler Stewart, keyboard Kevin Hearn and bassist Jim Creeggan.) BNL's latest album, Fake Nudes, came out in 2017.
In a recent interview, Ed Roberston told us the story behind Stunt's monstrous success and explained why the band ended its tradition of getting naked in the studio.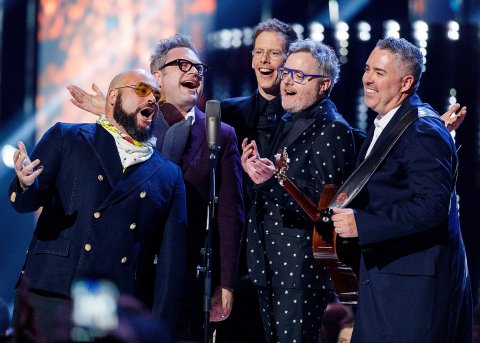 You're releasing a deluxe 20th anniversary edition of Stunt. How did this album became so huge in the late '90s?
The momentum had just been building. Our live record had done really well, and for the first time we had a single chart—"The Old Apartment" broke into the Top 40.
The other important thing: We had one-by-one won over everybody in the record company. All of them were skeptical at first. When we came to America, the story was, "This band is huge in Canada." People approached the band like, "Oh, they're huge in Canada, but that doesn't mean it'll work here." What we did was, we just kept playing! We won the record company over one person at a time. They were all on our side when it came to Stunt. We had this weird single in "One Week"; we had this hot new director with McG, who did this ridiculous video. It was kind of a perfect storm.
When you wrote "One Week," were you like, This song is gonna hit No. 1, this is going to be our biggest hit ever?
No! "One Week" was the last song I submitted for the record, and I didn't even think it would be on the record proper. I thought it might be a bonus track or a B-side.
Isn't that the story behind every band's biggest hit?
I know!
Bon Jovi almost didn't put "Livin' on a Prayer" on Slippery When Wet.
Now, had he played me "Livin' on a Prayer," I'd know immediately that song was a hit.
Tell me about the moment you wrote "One Week."
I improvised it, because I couldn't finish it. I had the structure of the choruses and the idea of this relationship break-up. I kept trying to write these rap verses, and they were always crappy. Steven [Page] suggested, "Why don't you just freestyle them? The stuff you freestyle every night onstage is better than the stuff you're trying to write." I improvised four verses, literally in a minute and a half. Then I edited the four verses into two. Then I sent in the demo.
The demo was just an acoustic guitar, a drum loop and me singing the song. Sue Drew, from our record company, called back right away and said, "We're going with this as the lead single." I laughed. I thought she was making fun of me. I thought she was saying, "This is the stupidest fucking song I ever heard in my life." And there you go—No. 1!
Were you nervous about rapping?
No. I wasn't, like, a hardcore rap dude, but I was freestyling in every show we ever did since '88. It was part of who I was.
That era was kind of the golden age of rap-rock. Limp Bizkit and Kid Rock were really big, but that stuff has aged terribly.
I didn't like that either. But I don't think that's what "One Week" was at all. It's a totally non-heavy song. The verses are very lilting and light. If it's hip hop-influenced, it's influenced by Dream Warriors and De La Soul, not hardcore hip hop.
How difficult is it to do the rap verses live?
It's super easy, actually.
Is it all muscle memory at this point?
Yeah. My friend calls it "word Tetris." All my lyrics fit together with no spaces. I go for a Tetris on every line.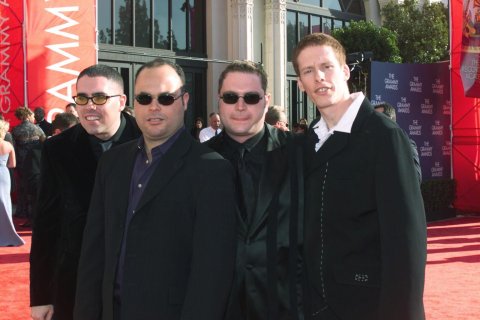 What was life like for the band when "One Week" took off and the album started selling millions?
It was weird. It's still weird, when I think back on it. We're a band that has always seen ourselves as underdogs. We've had very little major exposure. Can you think of another band that's sold over 15 million records and been around 30 years and hasn't been on the cover of any major music publication? We've never gotten that sort of nod. We've always been outliers.
We just got inducted into the Canadian Music Hall of Fame, and the overwhelming feeling I had was, we're the band that makes fun of the bands in the Hall of Fame. How are we getting inducted now? I think we always felt like the class clowns.Then, all of a sudden, we had a No. 1 single, we were all over MTV and VH1 and we were selling out arenas. We were doing all the big festivals. Because we had a dress rehearsal of success in Canada years before, I think we knew the whole thing could be fleeting. We just tried to enjoy the ride.
What was your strangest experience from that era?
It's a very long list. It goes from Weird Al doing a parody of "One Week" to Brian Wilson coming into the studio to play us his version of our song "Brian Wilson." When you get at that level, weird things start happening all the time. We did The Tonight Show, and David Duchovny sat in with the band playing shaker egg. Basically his whole interview on Leno was about how he went to Berklee College of Music for shaker egg and was excited to be sitting in with Barenaked Ladies. It was so stupid and surreal.
What was your reaction when Weird Al wanted to parody your song?
In the '80s and '90s, that was the fucking gold seal. If Weird Al did a version of your song, it must have been a big hit.
You recorded the Stunt song "Alcohol" totally naked. What brought that on?
It's funny, we don't even do it anymore. We used to [record naked] when we needed some sort of weird energy for a song—some sort of excitement or silliness, or if the song was feeling flat and we needed to take it to another place. But thirty years into playing in a band together, the sight of our naked bodies does not change the mood in the room at all. [Laughs.] It's like, we've had to move on to harder things.
When did you retire that tradition?
Probably 10 years ago.
My favorite song on the record is "Who Needs Sleep?" Do you suffer from insomnia?
I do. I wrote the song around the fact that I had a high school teacher in grade 10 who told the class that sleep was a learned thing. It was something humans had adapted because nighttime was dangerous; it was better to just huddle in caves and relax for the night. He had shifted his schedule to where he slept for only about 45 minutes a day. He got so much more done. He showed us a story about a man in England who had not slept since the second World War—which is where the lyric in the song comes from.
Has it felt different playing "One Week" live since Steven left the band?
I mean, everything's felt different. We're a different band.
Obviously he sang the chorus of the song.
Yeah. So now Tyler [Stewart] and Kev [Hearn] sing it. It's different, and I really like it. It's no slight against Steve. I love all the work we did together. It means I'm singing a lot of songs that Steve used to sing. And some of the other guys are singing parts that he used to sing.
Do you think a song like "One Week" could be a hit today?
"One Week" could not be a hit today. But a song like "One Week" would absolutely be a hit today. When I hear songs like Lorde's "Royals" or something—that's like "One Week."
Can you explain?
It's not like anything else that was on the radio at the time. It's quirky. Production-wise, it's really bold. A band like Mumford & Sons comes out of nowhere and has a massive record—that's what our success was like. There was nothing else like it at the time. It was refreshing.
There was an internet theory a few years ago about a hidden meaning in "One Week." People theorized that the girlfriend in the lyrics is actually dead.
It's hilarious but total bullshit.
Total bullshit?
I had no such intentions when writing the song. But I find it funny. There's an even funnier dissection of the song that just happened: A podcast called Punch Up the Jam—hosted by two comedians from L.A.—go through the song line-by-line.
Will you be doing a similar 20th anniversary edition for Maroon in two years?
I don't think so? Maroon is a better record, I think, but it didn't have the effect on our career that Stunt did.
What are the crowds like at your shows these days?
I think we're 30 shows into 35 [on this tour]. The crowds have been great. We were lucky. We had the pinnacle of our success when the record company was at its zenith. We toured like crazy and build a huge fanbase, and that reputation, as a live act, sustained us as a lot of the industry came tumbling down.
Do you think you'll be touring 30 years from now?
Oh, fuck, I don't know. [Laughs] I just ran into [heavy metal drummer] Tommy Aldridge in the mall in Atlanta. We're sort of following the Foreigner and Whitesnake tour—we're crossing paths over and over—and Tommy is playing with Whitesnake. He played on early Ozzy records and Black Oak Arkansas before that, and I was a huge metal fan when I was a teen, so I recognized him. I stopped him and told him I really liked his "Flying High Again" drum solo [on Ozzy's 1981 album Diary of a Madman]. Then we talked about Foreigner and he's like, "Foreigner is so good!" And I said, "I know, they're fucking killer!" We've been blasting Foreigner in the dressing room every night because Kev went to see them on one of our nights off in Raleigh. He put on Double Vision. That's a good time.