As Texas Bars Fully Reopen, Roughly 9 in 10 Texans Aren't Fully COVID Vaccinated
Businesses in Texas, including bars and restaurants, are beginning to reopen at full capacity after nearly a year of COVID restrictions. Gov. Greg Abbott's latest executive order lifted the state's mask mandate and other COVID-19 restrictions.
The full reopening comes as just over 88 percent of adults in Texas—around 9 out of 10 people aged 18 and older—are yet to be fully vaccinated against COVID-19.
Abbott's order was welcomed by many bar and restaurant owners, including Bob Woody, who owns several bars in the entertainment districts of downtown Austin.
Customers at Woody's establishments can use their own discretion when it comes to wearing masks or taking other safety precautions. "We are continuing to recommend you wear a mask if you want to. If you walk in here and look and think you don't feel comfortable going in there, I totally understand," the owner told FOX 7 Austin.
As of Wednesday, 2,541,063 people have received both required shots of the two most widely rolled-out vaccines, according to the Texas Department of State Health Services. That amounts to around 11.5 percent of the estimated 21,925,627 adults in Texas.
Anticipating vaccine availability to increase in the months ahead, Woody remains hopeful for the hospitality industry to bounce back. "We can get the people in, the tourism in, we will see the convention business come back, hotels will get full, and we really need that."
Texas currently ranks 47th among the states based on the number of COVID-19 vaccine doses administered per 100,000 people, according to the latest report Wednesday from the U.S. Centers for Disease Control and Prevention.
Last week, Dr. Mark Escott, Austin's chief medical officer, criticized the reopening of businesses, especially bars.
"I think it's reckless for bars to be open in the first place, especially now when we've got increasing concern about variants," Escott said at an Austin Public Health press conference last week.
In response, bar owner Woody said: "I'm not going to listen to anyone say bars and restaurants caused this problem, because we were closed."
Some of Woody's bars were previously opened under the guise of restaurants, he said. "Out of the 28 properties I have, about 60 percent of those opened as restaurants. It wasn't the way we set it up."
Restaurants have also fully reopened across the state. Customers at the Good Vibes Burgers & Brews restaurant in Pearland were reported to have been served by a staff who were nearly entirely without masks.
"Most people don't have masks on for 95 percent of the time they're here anyway," Good Vibes owner Eric Nelson told the Houston Chronicle, since they are eating and drinking. "So not having to wear a mask inside a restaurant is a little bit of a relief."
But some restaurants have proceeded with caution.
Fainmous BBQ in Houston requires face coverings inside the restaurant. Employees were reminded to hand out masks to customers who enter the venue without one. The city's Cedar Creek Bar & Grill reopened at full capacity but required servers to wear face coverings and asked patrons to wear masks, the Chronicle reported.
Sarah ten Brink, the owner of Sarah's Place restaurant in Fort Worth, will also require employees to wear masks and "strongly suggest" customers to wear them inside the venue. "If they get mouthy with me, I'll bounce 'em," she told The Texas Tribune.
Total confirmed cases in Texas have surpassed 2.7 million, with 45,797 total reported deaths, as of Thursday, according to Johns Hopkins University.
The seven-day average of cases in Texas has declined from mid-January. The seven-day average of deaths declined from late January to late February before rising again through early March, according to data compiled by Worldometer.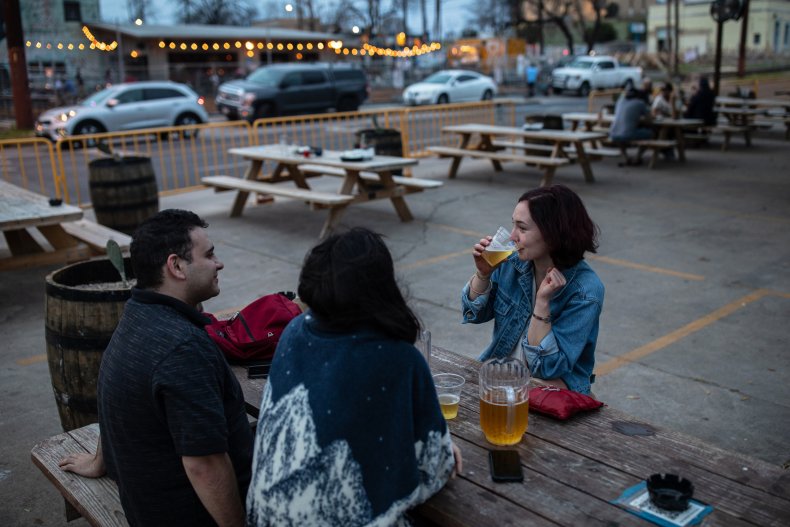 The wider picture
Coronavirus has infected more than 118.1 million people, including over 29.1 million in the U.S., since it was first reported in Wuhan, China.
More than 2.6 million people have died worldwide and more than 66.9 million have recovered as of Thursday, according to JHU.
The graphic below, produced by Statista, illustrates countries with the most COVID-19 vaccine doses administered per 100,000 people.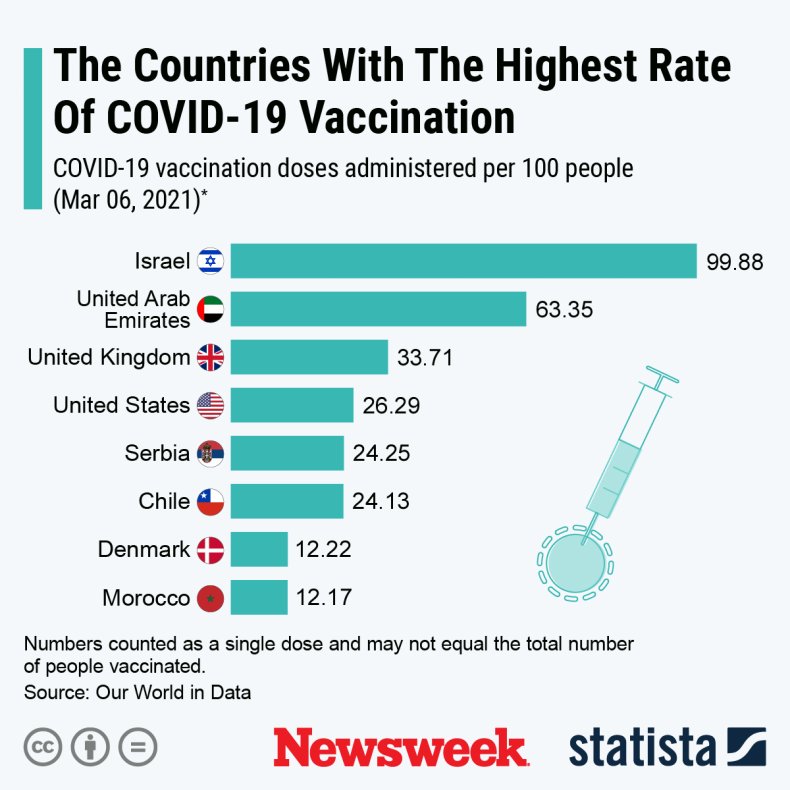 The graphic below, produced by Statista, illustrates the spread of COVID-19 cases in the U.S.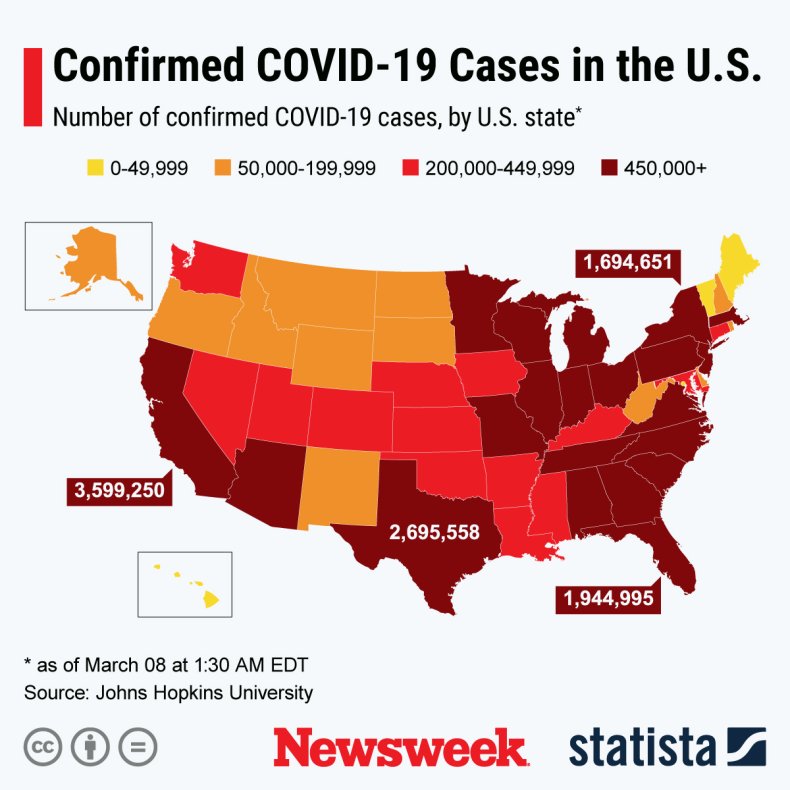 Newsweek, in partnership with NewsGuard, is dedicated to providing accurate and verifiable vaccine and health information. With NewsGuard's HealthGuard browser extension, users can verify if a website is a trustworthy source of health information. Visit the Newsweek VaxFacts website to learn more and to download the HealthGuard browser extension.