Battle for Bakhmut Is About to Become More Difficult: U.K.
The bloody battle for Bakhmut is about to become even more difficult as warmer weather conditions set in, the British Ministry of Defence said.
In its latest assessment of the conflict in Ukraine, which hit the one-year mark on February 24, the ministry said that rising temperatures are now creating the muddy conditions known in Ukrainian as "bezdorizhzhia," limiting cross-country movement around (CCM) in Bakhmut, in the eastern Donetsk region.
Russian forces, alongside Yevgeny Prigozhin's Wagner Group, have been pouring fighters into the region since July 2022 in an attempt to capture it. Seizing the small industrial city is part of Russian President Vladimir Putin's stated war goals. He has said his "special military operation" aims to capture the eastern regions of Donetsk and Luhansk, collectively known as the Donbas.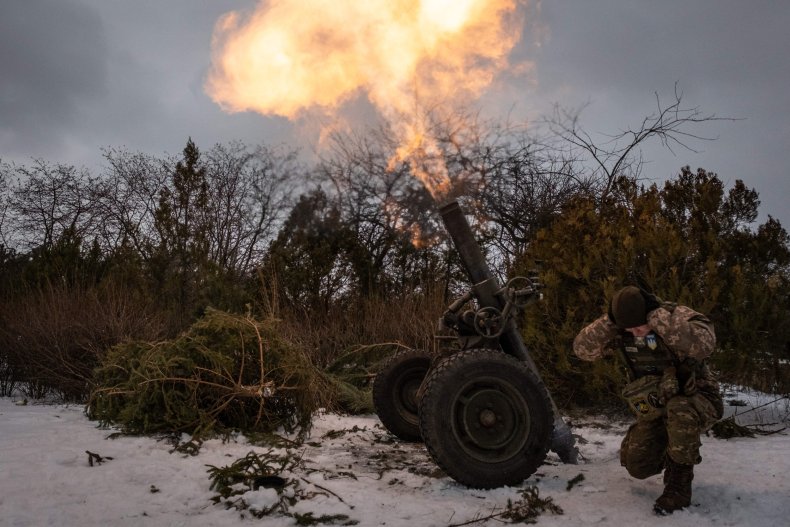 Poor CCM, the defense ministry said, typically provides some military advantage to defending forces.
"Daytime soil temperatures have risen and are now largely above freezing. As experienced since mid-February 2023, overnight freeze and daytime thaw remains likely until next week," it said. "Forecast warmer than average conditions for the remainder of winter and spring will further reduce CCM."
The British defense ministry said it is almost certain that by late-March CCM will be at its worst following the final thaw.
"This will add further friction to ground operations and hamper the off-road movement of heavier armoured vehicles, especially over churned-up ground in the Bakhmut sector," it added.
The Institute for the Study of War (ISW), a think tank based in Washington, said in its latest assessment of the conflict that Russian forces conducted ground attacks around Bakhmut on Wednesday.
The ISW noted that Ukrainian officials continue to emphasize that Ukrainian troops have the option to conduct a controlled withdrawal from Bakhmut if they see fit.
Ukrainian President Volodymyr Zelensky has vowed to protect Bakhmut, saying it's important to hold on to the city, but not at any cost.
"It's not a particularly big city. Like many others in the Donbas devastated by the Russians. It is important for us to protect it, but not at any cost, so that everyone dies. We will fight as long as it makes sense," Zelensky said on February 20.
"We are resisting, and in the meantime we are preparing the next counteroffensive."
Dmitry Polyanskiy, Russia's first deputy permanent representative to the United Nations, previously told Newsweek that it will be impossible for his country to achieve Putin's war aims in Ukraine unless Bakhmut is captured.
Natia Seskuria, a Russia expert and associate fellow at the London-based Royal United Services Institute, told Newsweek that taking Bakhmut is important for Moscow to strengthen its effort to capture the Donbas region by launching a broader campaign in the northwest focusing on Sloviansk and Kramatorsk.
"Bakhmut is located on the key supply line between Kramatorsk and Sloviansk, the separatist-controlled regions in the Donbas. So, Moscow aims to cut Ukrainian supply lines and advance further into the Donbas region," she said.
Seskuria noted however that should Russian troops manage to use Bakhmut as a pathway to Sloviansk and Kramatorsk, they will be faced by "strong Ukrainian resistance."
"Breaking through those defense lines will cost significant effort," she said.
Newsweek has contacted Russia's foreign ministry for comment.
Do you have a tip on a world news story that Newsweek should be covering? Do you have a question about the Russia-Ukraine war? Let us know via worldnews@newsweek.com.