In one of the most surprising WWE moments of the year, SmackDown Women's Champion Bayley turned heel in the main event of Monday Night RAW.
Bayley was teaming up with RAW Women's Champion Becky Lynch to take on the Women's Tag Team Champions, Nikki Cross and Alexa Bliss. However, the match would end in a disqualification after Sasha Banks hit Lynch with a Backstabber.
After the bell, Banks would lay into Lynch with steel chair shots. Bayley stops Sasha, taking the chair from her. After Sasha asks what she's doing, Bayley looks around and then gives a smirk to Banks before hitting Lynch over and over again with chair shots of her own.
Check out Bayley's heel turn below.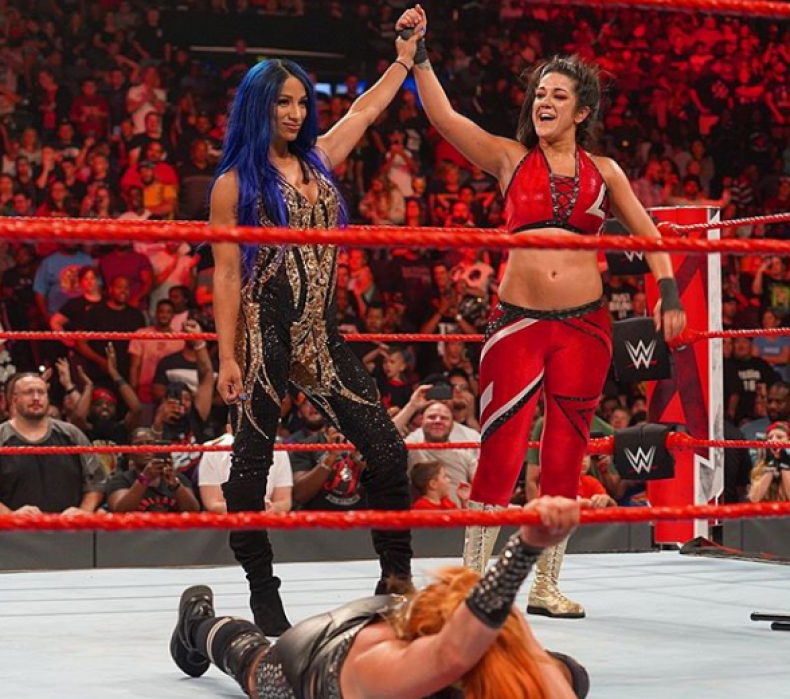 The build up to Bayley's turn was slow, but methodical. After losing the Women's Tag Team Championships at WrestleMania 35, Bayley had to start from the bottom as a singles competitor on SmackDown Live.
After some early losses, she would eventually get on a hot streak leading to her winning and cashing-in the Money in the Bank briefcase on Charlotte Flair.
Bayley would show a new edge leading to and after Money in the Bank. She defended her title and would still be considered a face despite some unprovoked attacks here and there.
Sasha Banks, on the other hand, reportedly almost quit the company after losing her Tag Team title at WrestleMania. She was granted some time off, which she would use to rest and travel the world. The wrestling world was buzzing when she finally returned a few weeks ago as a full on heel.
Banks had fully embraced the "Boss" character, taking out Natalya a few weeks in a row, and laying out Becky Lynch.
Banks and Bayley are longtime friends, and on the September 2 episode of Monday Night RAW Bayley was asked about Banks' return and what she said about partnering with her. Bayley wouldn't answer, saying it was all a private manner. She was then asked about feeling overshadowed by Becky Lynch, which Bayley denied feeling. However, it would seem those feelings could have driven this heel turn.
Fans will have to tune in to SmackDown Live to get more clarity on Bayley's motives.
Sasha Banks is scheduled to face Becky Lynch for the RAW Women's Championship, and Bayley is set to take on Charlotte Flair for the SmackDown Women's Championship at Clash of Champions.
Clash of Champions is scheduled for Sunday, September 15.
What do you think of Bayley's heel turn? What do you think will happen at Clash of Champions? Let us know in the comments section below.
Uncommon Knowledge
Newsweek is committed to challenging conventional wisdom and finding connections in the search for common ground.
Newsweek is committed to challenging conventional wisdom and finding connections in the search for common ground.
About the writer
Phillip Martinez is a game and culture reporter for Newsweek. Prior to joining Newsweek in 2018, he was a reporter and editor for iDigitalTimes and Player.One. A Bronx native, he graduated with his Bachelor's degree in Journalism from St. John's University in 2010. An avid Nintendo fan and wrestling mark, he's always looking to become a Pokémon Master while fantasy booking this year's WrestleMania. You can contact him at p.martinez@newsweek.com