Beanie Feldstein to 'Step Away Sooner Than Anticipated' From 'Funny Girl'
Beanie Feldstein has announced she will be departing the Broadway revival of Funny Girl some two months before she was originally scheduled to exit.
In a statement shared on her Instagram account late on Sunday, the Lady Bird star, 29, revealed that her final performance as Fanny Brice will take place on July 31 at New York City's August Wilson Theatre.
Describing the decision to leave the production early as "extremely difficult," Feldstein cited the production's move to "take the show in a different direction" as the reason behind her plan to step away earlier than expected.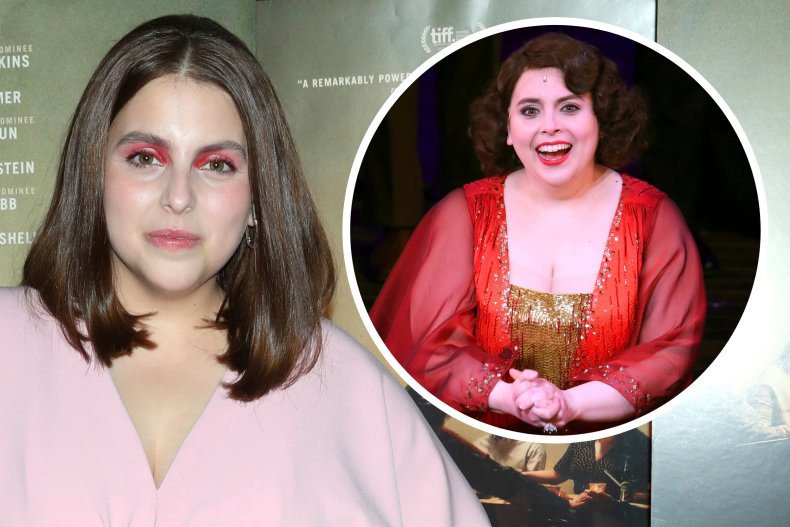 "Playing Fanny Brice on Broadway has been a lifelong dream of mine, and doing so for the last few months has been a great joy and true honor," she wrote in her Instagram post. "Once the production decided to take the show in a different direction, I made the extremely difficult decision to step away sooner than anticipated."
She continued: "I will never forget this experience and from the bottom of my heart, I want to thank every single person who came to the August Wilson for the love and support you have shown me and our amazing cast and crew.
"The people I have had the great joy of bringing Funny Girl to life with every night, both on and off the stage, are all remarkably talented and exceptional humans and I hope you continue to join them on Henry Street after I depart on July 31st."
It would appear that Broadway fans will not have to wait long to find out who will be replacing Feldstein in her role, per a Twitter account for the production.
On Sunday, a message was shared revealing that announcements regarding casting would be made in less than 24 hours.
"Stay tuned for exciting casting announcements coming tomorrow at 1 p.m. EST," read the message.
Feldstein made her Broadway debut in Funny Girl in April, playing the role made famous by Oscar winner Barbra Streisand. The musical is a semi-autobiographical account of Jewish entertainer Brice, who rose to fame in the early 20th century.
Booksmart star Feldstein's run in the role has been far from smooth sailing, with the Los Angeles native missing several performances due to a COVID-19 diagnosis in June, as well as for unspecified reasons.
She also failed to win over a number of prominent Broadway critics when she debuted in the production, which opened on Streisand's 80th birthday.
Despite the less-than-glowing reviews, Feldstein's brother, actor Jonah Hill, was full of praise for his sister after watching her take the stage.
"I watched my sister @beaniefeldstein absolutely radiate off the stage tonight in [Funny Girl]," he wrote in an Instagram post at the time. He also shared a picture of Feldstein from when she was three years old dressed as Brice from the 1968 movie Funny Girl.
Hill continued: "I remember the day she was dressed like this and heard this little miniature human sing these songs her whole life. I'm obviously proud as her older brother, but what I saw her do tonight surpassed siblinghood or pride. Her talent caused me to cheer from the depths of my heart. I'm floored.
"I love you @beaniefeldstein and I'm in awe of you and the talent you possess."
Glee star Jane Lynch stars in the musical as Mrs. Rosie Brice, a role she was also scheduled to be departing in September alongside Feldstein. It is not yet known if Feldstein's early exit from the show will affect Lynch's timeline in the production.
Newsweek has contacted a representative of Funny Girl for comment.