Belarus Opposition Hijacks Pro-Lukashenko Festival, Plays Revolutionary Song
A pro-government festival intended to boost the fortunes of Belarus's flagging strongman leader Alexander Lukashenko was overrun by thousands of supporters of the country's opposition, inspired by the theme song of revolution in the post-Soviet space.
Rallies in support of opposition figure Svetlana Tikhonvskaya have been gathering momentum over the last few weeks.
However, ahead of Sunday's presidential election, an event in central Minsk scheduled for Thursday was canceled following warnings by authorities that it would be unsanctioned and hours after the arrest of one of her campaign chiefs.
Undeterred, thousands of supporters of Tikhonvskaya who had gathered in Bangalore Square spread the word on social media and marched across the capital to Kiev Square where a pro-government festival was taking place.
The soundmen assigned to that event sabotaged proceedings by playing "Changes" by the Soviet-era group Kino, fronted by Viktor Tsoi, whose 1989 song has become an anthem for activists in the post-Soviet world.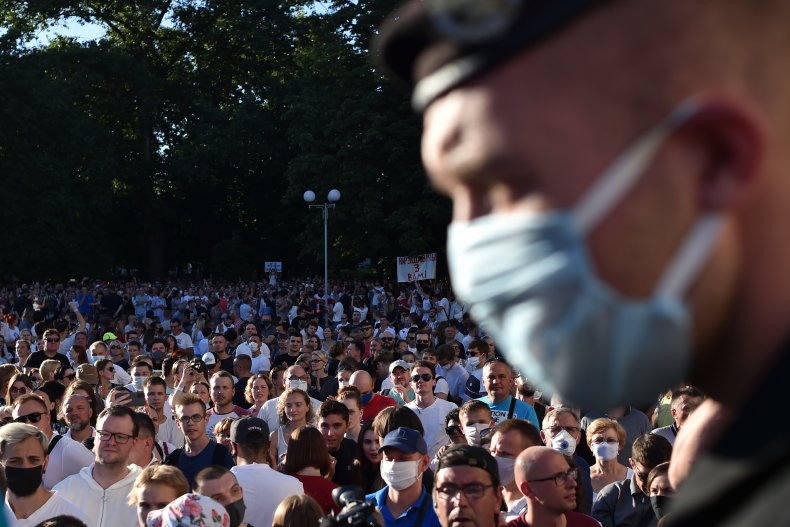 The estimated 7,000 people who had commandeered the center of Minsk chanted "Long Live Belarus!" and were joined by Tikhonvskaya who was accompanied by Veronika Tsepkalo and Maria Kolesnikova, the campaign heads for other barred candidates. Those responsible for the sound were arrested.
"The government was not prepared for this," said Minsk-based journalist Franak Viačorka who tweeted images from the event.
"They were not able to crack down, so the rally took place for three more hours. People were singing songs, chanting 'Long Live Belarus' and 'Out Lukashenko'— it basically became an opposition political rally.
"It is a very unique situation for Belarus, this has never happened before," he told Newsweek.
"Most of the protests are not prepared by political technologists or the headquarters of the campaign of Tikhonovskaya, it's very grassroots. It was planned on Telegram by ordinary people, so the atmosphere was like we are observing the crash of the system. It is like a small victory."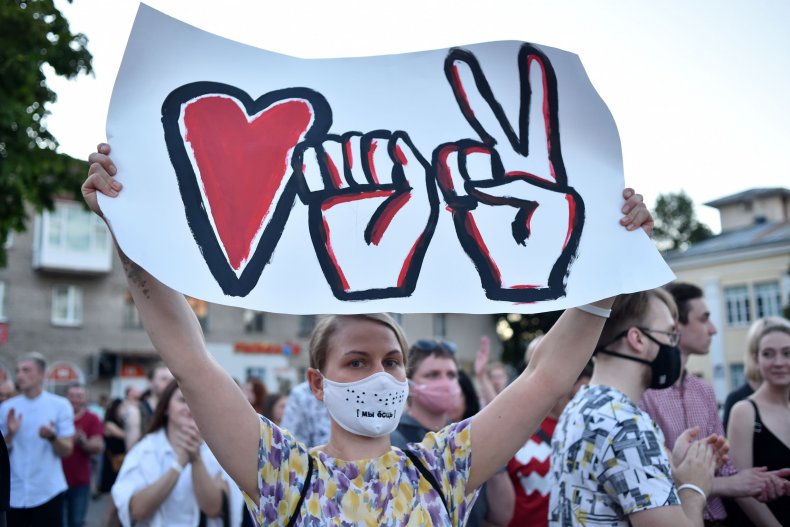 Belarus has not had free and fair elections since 1995 and there will be no observers from the OSCE for the first time since 2001. Lukashenko is expected to rig the vote to ensure his sixth election victory but the opposition rallies have spurred hope for change.
"It is about seeing how totalitarianism is losing to democracy, this is a spectacular case that must be in schoolbooks—how a grassroots movement can disrupt the vertical system with thousands of policemen and soldiers," Viačorka added.
Lukashenko has tried to galvanize support through warnings of foreign threats. On Thursday, a number of people with U.S. passports were arrested though it is not yet clear why.
The recent arrests of 33 alleged Russian paramilitaries who Lukashenko says were sent by Moscow to destabilize the country, and his linking of them to Tikhanovskaya's husband, are believed to be a pretext for a crackdown.
Early voting has been going for three days, with turnout so far a record 22.47 percent, according to the country's Central Election Commission. However early voting is considered to be the key mechanism for electoral fraud in Belarusian elections.
To counter this, Tikhanovskaya has called on voters to register on the Golos website, an IT platform that counts votes and advocates for fair elections, Meduza reported.
Meanwhile, 40 international NGOs signed a joint letter to Belarusian authorities asking not to restrict the internet on Sunday with widespread online outages expected in the coming days, Radio Free Europe reported.
It appears that the 65-year-old ruler's usual modes of controlling the country have been out-maneuvered by the use of social media which is driving the move to unseat him.
His attempts to control the narrative over the coronavirus pandemic, the seriousness of which he had dismissed, were undermined by people getting more reliable information from non-state sources and thus feeding a growing discontent with his rule.
"What he is not considering is that this is the age of social media and the age of Telegram channels that are very active in Belarus and the truth is getting out," Natalia Kaliada, co-founding artistic director of Belarus Free Theatre, told Newsweek.