Belarus Says Russia and Its Allies Must Stand Up to US-NATO After President Hints at Stepping Down
As his country's longtime leader teased the prospect of stepping down under pressure at home and abroad, a senior lawmaker in Belarus has called on members of a Russian-led defense alliance to band together against Western interference.
Anatoly Isachenko, the presidentially appointed deputy chairman of the upper chamber of the Belarusian parliament, told fellow legislators of the six-nation Collective Security Treaty Organization (CSTO) during the group's 13th plenary session that allies Armenia, Belarus, Kazakhstan, Kyrgyzstan, Russia and Tajikistan face "a difficult geopolitical situation," a challenge exacerbated by external actors.
"I want to highlight the increased risks of direct foreign interference in the internal affairs of the CSTO member states," Isachenko said, as quoted by the official Belarusian Telegraph Agency (BelTA).
He blamed the West for fomenting troubles that affect Belarus.
"Parliamentary diplomacy is meant to reduce tensions," Isachenko said, "but individual parliaments of Western countries adopt all sorts of unfriendly resolutions. All this is happening against the background of the crumbling international security architecture."
He specifically highlighted Washington's withdrawal Tuesday from the Open Skies Treaty, an agreement among 35 nations, including Belarus and Russia, to mutually allow foreign unarmed surveillance flights over one another's territory.
Isachenko said the treaties that maintain peace are being abandoned by the states of the West.
"The international legal mechanisms for arms control are eroding," he said.
The comment likely referred to the U.S. exit last year from the Intermediate-range Nuclear Forces (INF) Treaty with Russia and the ongoing failure to renew the New Strategic Arms Reduction Treaty (New START), another bilateral non-proliferation agreement that represents the final such nuclear weapons deal between Washington and Moscow.
He called for the CSTO states to unite in the face of these challenges.
"We can stand against such a difficult environment only by collective efforts," he said.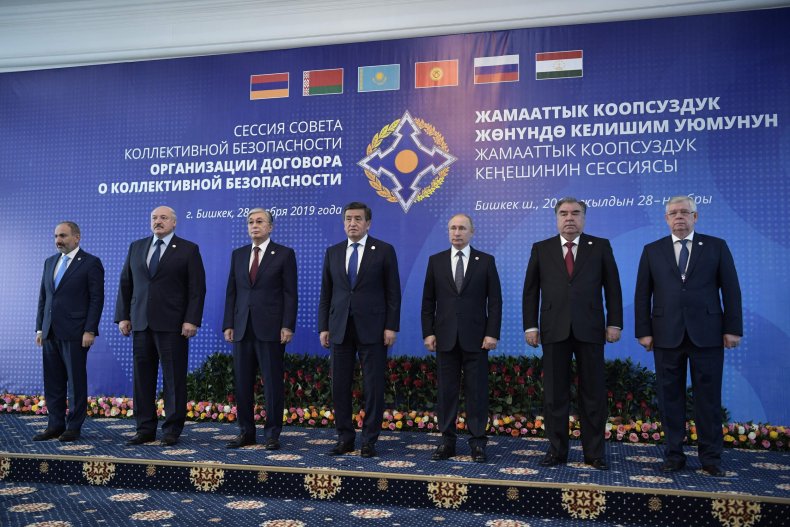 Several CSTO states were beset by unrest this year as political and security crises played out in the backdrop of the COVID-19 pandemic.
War broke out in late September between Armenia and its longtime rival Azerbaijan, a former CSTO member, over the territory of Nagorno-Karabakh, ruled by ethnic Armenians but internationally recognized as part of Azerbaijan. A series of bloody battles ensued, ending with Armenian concessions earlier this month and the deployment of a Russian peacekeeping force for years to come.
Popular protests erupted in Kyrgyzstan over last month's parliamentary election, pushing President Sooronbay Jeenbekov to cancel the vote and ultimately resign amid allegations of ballot rigging. Kyrgyz Prime Minister Sadyr Japarov briefly assumed his duties, but resigned earlier this month in order to run in the upcoming presidential elections in January.
In Belarus, three-decade President Alexander Lukashenko has resisted demonstrations that have been regular occurrences since the disputed presidential election of August 9 that kept him in power. But he appeared to abruptly reverse course after he was quoted Friday by BelTA as saying he backed the formation of a new constitution, and that this could mean his resignation.
"If you want it and the nation votes in favor of it, it will happen," Lukashenko said of the new constitution. "I am not going to shape the constitution to suit my needs. I am not going to be the president once the new constitution is in place."
That same day, however, he detailed a Western plot, allegedly headed by neighboring U.S.-led North Atlantic Treaty Organization (NATO) allies like Poland, as well as Ukraine, to undermine Russia by fomenting chaos in Belarus. The Belarusian leader touted his country's rigid power vertical, warning he was within his right to wage war if need be to preserve his country's sovereignty.
"We all want sovereignty and independence, but independence is a very expensive thing," Lukashenko said during a Minsk hospital visit. "If the Belarusian people are ready to maintain this independence, to fight for it, no matter what it takes, let's fight. Otherwise, we will be thrown back, deprived of what we have, and will be forced to toil and moil for somebody else."
Russian Foreign Minister Sergei Lavrov also weighed in with a warning that Moscow would defend Minsk not only as fellow CSTO members but as two halves of their joint Union State during his visit to Belarus on Wednesday.
Russian President Vladimir Putin, for his part, identified "the development of common approaches to countering the threats associated with interference in the internal affairs of sovereign states" an important area of inter-parliamentary cooperation during a message to the latest CSTO session.
At a meeting Monday with the chief of the Eurasian Economic Union, a group involving all CSTO members except Tajikistan, Lukashenko indicated that an economic battle had already been initiated between the allies and their foreign foes, and that political and military issues were not far behind.
"A confrontation has begun," he said. "In fact, an open economic war is going on, and it is already turning into a diplomatic war or a mass media war, things are getting really tough. I have already cited facts regarding the designs of some of our neighbors supported by some strong states."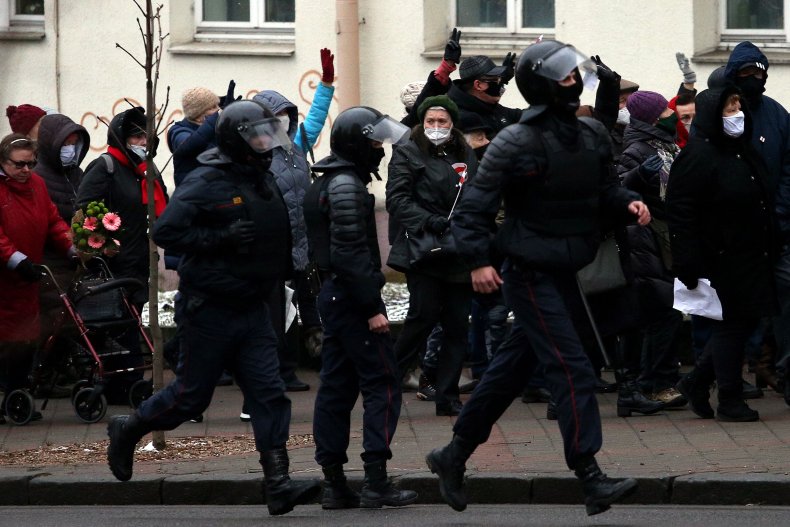 Latvia, Lithuania and Poland have all denied conducting cross-border political interference against Lukashenko in Belarus, but have actively campaigned for him to resign, voicing support for his exiled opponent, Svetlana Tikhanovskaya.
She recently told Newsweek she hoped that U.S. President-elect Joe Biden would come through with his "strong position" against Lukashenko.
"I am sure that Joe Biden will fulfill his promises about his attitude to Belarus and this regime," she said Wednesday. "We know that he is standing for democracy and he will support Belarusian people and Belarusian society."
Last month, the former vice president called for stronger international sanctions against Belarus. With Lukashenko still in power, Biden said he would "join Svetlana Tikhanovskaya and the people of Belarus in calling for the peaceful transfer of power, the release of all political prisoners, and free and fair elections so the Belarusian people are finally able to exercise the democratic rights for which they have sacrificed so much."
Biden has questioned President Donald Trump's resolve in getting tough on Lukashenko.
As protests by opposition supporters and crackdowns by security forces continue to play out in Belarus, the State Department issued a statement earlier this month saying the U.S. "stands with those who remain detained and unaccounted for, those who have been killed, and those who continue to peacefully assert their right to choose their leaders in free and fair elections."
The comment came days after Biden's projected victory in the U.S. presidential election, a win Trump continues to dispute, alleging mass voter fraud in legal cases that have yet to be accepted in court.