Russia Eyes East and West Border Threats, Looks to China for Closer Ties
Russia has identified threats off of the massive Eurasian nation's far eastern and western borders, where it's looking to deter activities by foreign powers such as the United States and boost relations with China.
As Russian airborne forces in Belarus conducted joint live-fire exercises Thursday along the western border of the restive Eastern European country, Russian Deputy Foreign Minister Andrei Rudenko informed U.S. ambassador John Sullivan of "the unacceptability of any interference in the internal affairs, destabilization attempts and the imposition of unilateral mediation services," in a telephone conversation that touched upon Belarus' disputed vote and the territorial conflict between Armenia and Azerbaijan.
Just a day earlier, Rudenko spoke on Belarus with Chinese ambassador Zhang Hanhui and "also exchanged views on the further deepening of Russian-Chinese interaction in various fields," according to a Russian Foreign Ministry readout.
As Moscow and Beijing keep close eyes on their national borders, they both see potential signs of outside interference. On Thursday, Chinese Foreign Minister Wang Yi recounted this observation after meeting face-to-face with Russian officials for the first time since the outbreak of the coronavirus pandemic.
"Some countries have conducted acts of unilateral bullying, wantonly interfered in the internal affairs of other countries, and bashed China and Russia, undermining the security and stability of the surrounding areas of the two countries," Wang told the state-run Xinhua News Agency.
"China and Russia are united like a mountain, and their friendship is unbreakable," he added.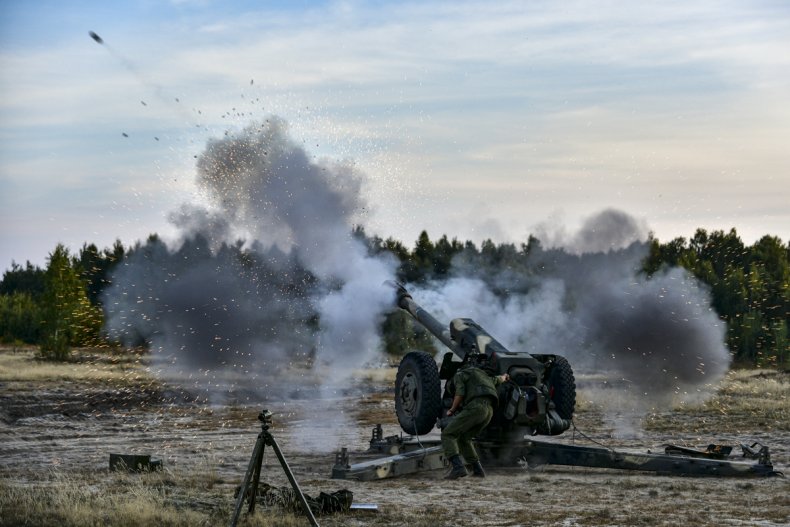 For Russia, the most immediate concern appears to be Belarus, where longtime President Alexander Lukashenko has turned to the Kremlin for assistance while facing a deluge of Western criticism toward his latest reelection last month and his crackdown against opposition forces that claim his victory was rigged.
Both Minsk and Moscow accuse members of the U.S.-led NATO military coalition of inciting unrest from across their borders with Belarus.
Now, the two allied armed forces continue to drill with explosive artillery at Belarus' tense border with Poland, whose defense ministry recently assessed in a statement sent to Newsweek that the exercises were "motivated mainly by their internal propaganda needs."
But Moscow's military countered this narrative.
"The exercise is conducted on counter-terrorism topics and is not directed against other countries," the Russian Defense Ministry said in a statement on Thursday.
That being said, the Belarusian Ministry of Defense noted in a separate release that "now such maneuvers are acquiring special significance as one of the aspects of strengthening relations between Moscow and Minsk," in accordance with their Union State treaty.
About 1,500 troops and 100 pieces of equipment from both countries were set to take part in the exercises, traditionally held trilaterally alongside Serbia since 2015. Belgrade announced last week it was dropping out at the last minute, citing "terrible and undeserved pressure from the European Union" over Belarus.
U.S. Secretary of State Mike Pompeo has also commented on Belarus, calling out Russia in particular. After meeting with his counterpart from the United Kingdom, the top U.S. diplomat said they urged "the need for every nation—especially Russia—to respect the sovereignty of Belarus."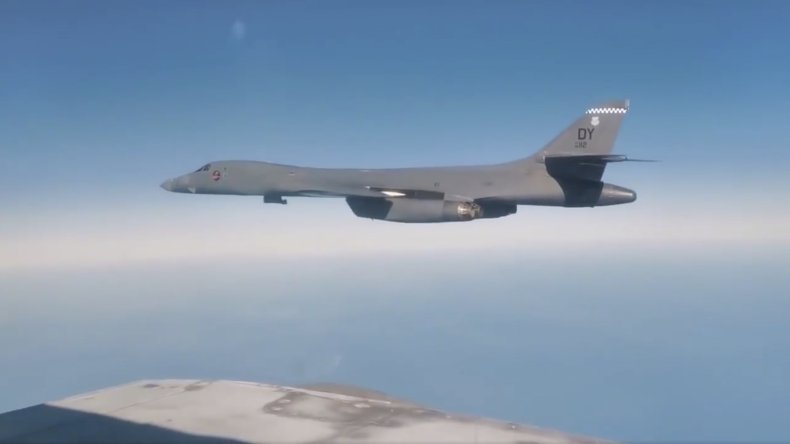 With concerns mounting on the western front, however, Russian officials also indicated a need to shore up defenses in the east.
"The military-political situation in the Eastern Strategic Direction remains tense," Russian Defense Minister Sergei Shoigu told a top brass meeting on Thursday. "In the Eastern Military District, a set of measures is envisaged to neutralize emerging threats. Force groupings are being consistently built up in especially important sectors."
The Kremlin also took note of the situation.
"The intensified military activities of non-regional powers do not contribute to regional stability," Russian presidential spokesperson Dmitry Peskov said Thursday, as reported by the state-run Tass Russian News Agency. "This regards the stepped-up military activities of many countries."
While neither official specified the nature of the foreign power threat, Shoigu did call for additional aviation and air defense units. The remarks come just days after a U.S. Air Force Lancer B-1B strategic bomber was intercepted by a Russian Pacific Fleet MiG-31 and Eastern Military District Su-35S fighter jets over the waters of the Bering Sea and the Sea of Okhotsk.
Such events are not uncommon, but these mose recent incidents occurred after Pompeo warned late last month of "increasing Russian activity" in the Pacific and elsewhere, after the U.S. Northern Command intercepted a Russian Tu-142 Russian maritime patrol aircraft, and spotted the Antey-class nuclear-powered cruise missile submarine Omsk off the coast of Alaska.
Russia has also regularly expressed concern about U.S. defense systems establishing a global missile shield flanking the country from both Europe and Asia. With Washington's exit from the Intermediate-range Nuclear Forces (INF) Treaty, Moscow also worries about mid-range missile systems.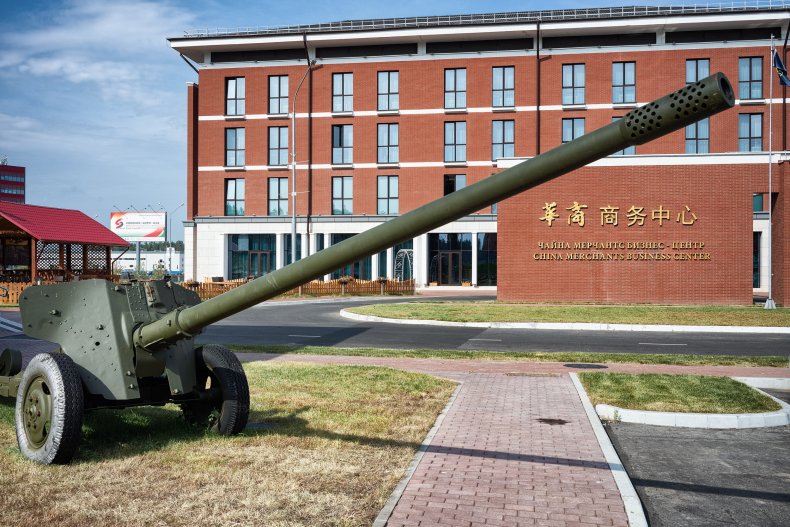 China too saw potential unrest brewing in the East.
"Some forces from outside the region have interfered in the internal affairs of countries in the region with various excuses, and even incited a new round of 'color revolution,'" Wang told Xinhua, using a term referring to a series of global uprisings that China and Russia link to Western influence.
In Asia, China is engaged with the U.S. in an increasingly bitter series of disputes over territory, trade and human rights. The U.S. has also sought to drive Chinese investment out of Europe, where Pompeo signed a memorandum of understanding on Thursday with Lithuania to "mitigate security risks linked to 5G," a field the U.S. accuses the ruling Chinese Communist Party of infiltrating with state-linked services.
China rejects these claims. In another thinly veiled reference to Washington, Wang said Thursday he saw a concerted effort to divide the international community and subjugate both Beijing and Moscow.
"To maintain unipolar hegemony, these forces are maliciously smearing China, Russia and other emerging economies, unreasonably containing and suppressing them, and even coercing other countries to take sides, in an attempt to create a so-called 'new Cold War,'" Wang said.