The Polish military, a member of the U.S.-led NATO military alliance, has told Newsweek it saw nearby border drills being held by neighboring Russia and Belarus as part of the latter's effort to reign in domestic unrest by blaming outside actors such as Poland.
The annual Slavic Brotherhood exercise set to kick off Thursday near the Belarusian city of Brest comes at a time of turmoil for the Eastern European country, whose leader of 26 years, President Alexander Lukashenko faces persistent protests over allegations that his last reelection last month was rigged in his favor. Especially intense criticism has emerged from the NATO Baltic states of Estonia, Latvia and Lithuania as well as Poland, all of whom Lukashenko and Russian counterpart Vladimir Putin have blamed for sponsoring the opposition.
With Russian troops now joining the fray at Belarus' already-militarized border, the Polish Ministry of National Defense told Newsweek it "monitors military exercises conducted in the vicinity of Polish borders" and characterized the nature of this specific set of maneuvers.
"Taking into account the annual character of SLAVIC BROTHERHOOD exercise as well as the current political situation in Belarus, MoND assesses that recent anti-Polish narrative expressed by authorities of some nations participating in the exercise is motivated mainly by their internal propaganda needs," the ministry added.
These latest exercises come after weeks of Belarusian combat training and a series of large-scale drills near Grodno, also located along the Polish border. Lukashenko accused Warsaw and fellow NATO powers of gearing up for an invasion and supporting anti-government elements in rhetoric rejected by the Polish armed forces.
"Regrettably, the Belarusian government, presumably with the purpose to maintain control over the internal situation, present protests as driven by the West," he added. "We do not find any justification for such argumentation and military activities declared by the Belarusian regime in this regard."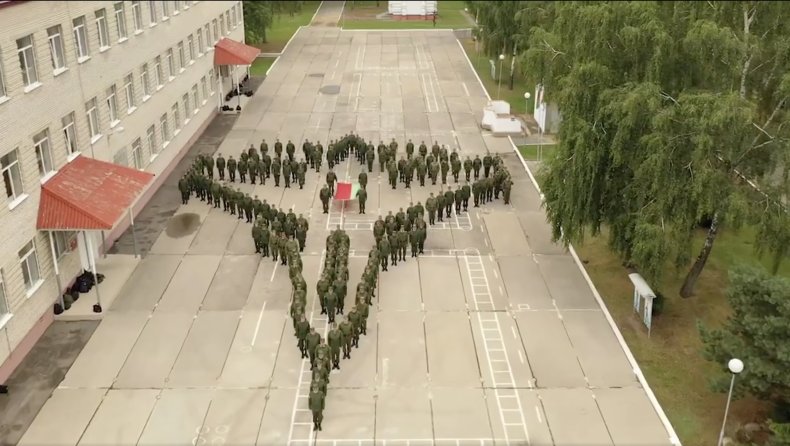 But European Union states have indeed amplified criticisms of Lukashenko's administration and have even hosted opposition figures and called for new elections. The effects of this pressure campaign were apparent at Slavic Brotherhood as well.
This year's joint exercises were initially set to be held in its traditional trilateral format including personnel from Belarus, Russia and Serbia but the latter dropped out at the last minute. The Serbian Defense Ministry said Wednesday it would not participate and suspended all military exercises for the next six months, citing "terrible and undeserved pressure from the European Union."
Moscow brushed off the sudden cancellation, which came at a time of strained ties with Belgrade, typically a close partner in the Balkans.
"We respect the Serbian authorities' decision," Kremlin spokesperson Dmitry Peskov told reporters Thursday, denying that Western pressure played a part in Serbia's calculus, according to the state-run Tass Russian News Agency.
"It is just a fact that Serbia has decided to suspend all military drills for six months, it has nothing to do with Russia or any other country," Peskov said.
Even in Serbia's absence, however, Russia has pledged its support to Belarus in the face of swelling demonstrations in which both powers saw Western influence, with the United States at the head of it. Russian Senator Andrei Klimov reiterated this point in remarks to reporters on Thursday.
"Though constitutional amendments have been adopted that legally strengthened Russia's sovereignty, Washington and its foreign partners did not abandon attempts to interfere in our domestic affairs," Klimov said, according to Tass.
He claimed the foreign plan to disrupt the Belarusian election was "implemented by the intelligence agencies and politicians of Ukraine, Poland and the Baltic states." On the other hand, "As for Russia, the goal was to create political tensions in the country's regions ahead of the September 13 regionals elections," he added.
Lukashenko has also argued that there were attempts to create a pro-West corridor from the Baltics to the Black Sea, where a 2014 uprising led to the establishment of a government sympathetic to NATO and EU. Both multinational groups accuse Russia of illegally annexing the Crimean Peninsula and supporting an eastern insurgency in order to preserve its interests in Ukraine.
Putin has announced the formation of a special law enforcement unit tasked with being deployed to Belarus should the situation devolve into violence and destruction. He and other Russian officials have said so far such measures were not necessary.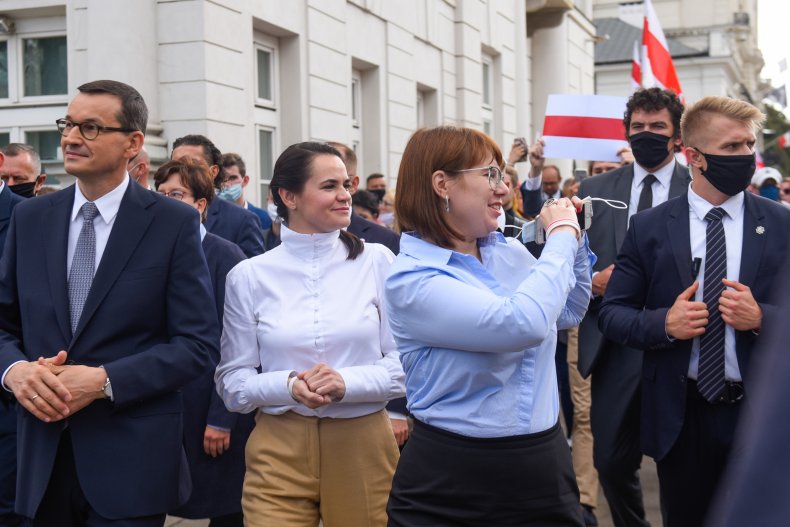 U.S. officials told Newsweek last month that Moscow could use instability in Belarus to establish a more lasting security presence in its Union State ally. Latvia, Lithuania and Poland have all also previously expressed concern to Newsweek about Russia's role in Belarus, Belarus' own military activities at Grodno and the ongoing crackdown against opposition figures.
Secretary of State Mike Pompeo expressed "concern" on Tuesday toward the recent detainment of opposition figure Maria Kolesnikova and her colleagues, warning of potential sanctions if the government did not respect the rights of Belarusian citizens.
As the U.S. stepped up its own military activities with back-to-back exercises in Estonia and Lithuania, representatives of the Pentagon met with Belarus' top brass on Thursday.
"During the meeting, the parties exchanged views on the military-political situation around the Republic of Belarus," a Belarusian Ministry of Defense readout stated. "The Belarusian side provided relevant information about the internal political situation in the country, expressed concern about the escalation of tension in the region and the next round of the 'arms race' and also noted the inadmissibility of foreign interference in the internal affairs of the Belarusian state."
That same day, Lukashenko met with Russia's envoy to Belarus Dmitry Mezentsev.
At the meeting, the Belarusian leader pledged to consolidate ties between the two nations and, as a belated birthday gift, he presented the diplomat with an 1866 topographical map of Belarus' regions of Vitebsk, Grodno, Minsk and Mogilev.
"This is another confirmation of the fairness of Belarus' borders and also a response to those who see it in a different way," Lukashenko said.