Belarus' Lukashenko Says He Stands with Russia and Putin As Both Face Protests: It's 'Peace or War'
Belarusian President Alexander Lukashenko has declared his country's solidarity with his Russian counterpart Vladimir Putin as both men face large demonstrations they deem foreign-backed plots that risk destabilization and conflict.
Addressing the Sixth All Belarusian People's Assembly on Thursday, the man who has led Belarus for nearly 37 years warned the 2,700-person gathering of officials and industry leaders that the nation was facing one of its worst crises yet as protests continued six months after August's disputed election.
As members of the U.S.-led Western military alliance continue to criticize Lukashenko's attempts to suppress the rallies, the Belarusian leader lashed out at "very powerful forces" stoking "a rebellion based on the blitzkrieg principle" against his administration.
"We have to withstand at all costs," Lukashenko said, "and 2021, this year, will be decisive."
But it wasn't just Belarus undergoing significant unrest in recent months. Neighboring Russia, with which Belarus has a Union State alliance, has also witnessed significant demonstrations that have come in response to the alleged poisoning and subsequent jailing of opposition activist Alexei Navalny.
Here too Lukashenko saw external actors at play, and he touted Minsk and Moscow's necessity to jointly face their mutual threat.
"In these circumstances, only together we will manage to maintain stability in our countries," he said. "The stable future of the region, the state of peace or war in the region depend on the joint efforts of Belarus and Russia. Everything will depend on our unity with Russia."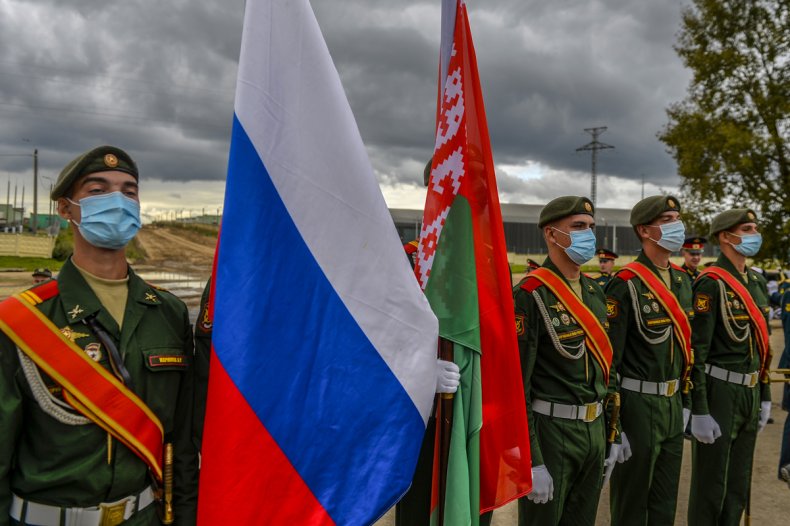 Russia and Belarus have maintained intimate ties since the breakup of the Soviet Union, and both see themselves today as one of the last bastions against NATO in Eastern Europe.
In the 30 years since the collapse of the USSR, a number of former Kremlin affiliates of grown closer to the West, most recently Ukraine amid political turmoil in 2014. With the Baltic states of Estonia, Latvia and Lithuania hosting NATO multinational NATO forces, Lukashenko has often portrayed his landlocked state as the stopping block for Western aspirations to extend influence clear across the region from the Baltic to Black Seas.
But neighboring NATO countries, as well as allies abroad such as the U.S., have said they were only concerned about the situation in Belarus on a humanitarian basis. Tensions between the two sides rose significantly last year amid large-scale Belarusian drills designed to ward off alleged concerns over a NATO invasion.
Former President Donald Trump's administration consistently voiced criticism of Lukashenko's actions, and the Biden administration appears so far to have extended this policy.
We urge the Belarusian authorities to begin inclusive dialogue with the Belarusian people in a credible manner and to release all those unjustly detained and wrongfully imprisoned," State Department spokesperson Ned Price tweeted on Thursday. "We stand with the Belarusian people as they demand their rights for their country and their future."
A statement published that same day by Washington's embassy in Minsk disparaged the ongoing All Belarusian People's Assembly, claiming it was "neither genuine nor inclusive of Belarusian views and therefore does not address the country's ongoing political crisis."
Germany has taken an even more proactive role on the issue, hosting the establishment of a pro-Belarusian opposition Coordination Council for the Transfer of Power.
Russia has taken note.
"Moscow does not harbor any illusions about positions of Berlin regarding key social and political processes in the country that is our ally," Russian Foreign Ministry spokesperson Maria Zakharova told reporters on Thursday. "We would like to warn our German counterparts against any attempts to meddle or whip up discord in the allied Russian-Belarusian relationship, either directly or through the use of other parties."
She also shot back at Western messaging on Russia's own internal discord, in which she likewise saw a foreign hand.
"It is obvious that a large-scale anti-Russian provocation is being carried out with the illusory aim of shaking up and destabilizing the internal political situation in our country," Zakharova said. "These attempts are doomed to failure. I think the Western partners are aware of this, so they are even angrier."