Ben Affleck's 'Armageddon' Commentary Resurfaces: 'Best Thing He's Done'
Ben Affleck's hilarious commentary on the Armageddon DVD has resurfaced, with fans labeling it the "best thing" the actor has ever done.
A clip of the Gone Girl star hilariously discussing the blockbuster's plotholes has gone viral again, as he continues to make headlines following his high-profile nuptials to Jennifer Lopez this summer.
Affleck has inspired some iconic memes over the years but his commentary on the 1998 action blockbuster DVD resurfaces every so often and inspires laughs from fans.
This time, Twitter user Mike Beauvais posted the clip to celebrate the actor's 50th birthday.
"Happy 50th birthday to Ben Affleck," Beauvais tweeted. "Here's maybe the best thing he's ever done—his drunken commentary on the Armageddon DVD."
The clip has clocked up more than 1 million views at the time of writing.
"I miss when it was a simpler time. Imagine a company putting out that commentary today," one fan commented.
While another added: "This is BY FAR, my favorite all-time dvd commentary. HBD to Mr. Affleck, thanks for this gift to us."
Another tweeted: "This is AMAZING."
In his commentary, Affleck finds several flaws with the general concept of the Michael Bay movie—training deep-core drillers as astronauts to save the planet from an asteroid rather than training astronauts how to drill.
"I asked Michael why it was easier to train oil drillers to become astronauts than it was to train astronauts to become oil drillers, and he told me to shut the f**k up," Affleck said in the commentary.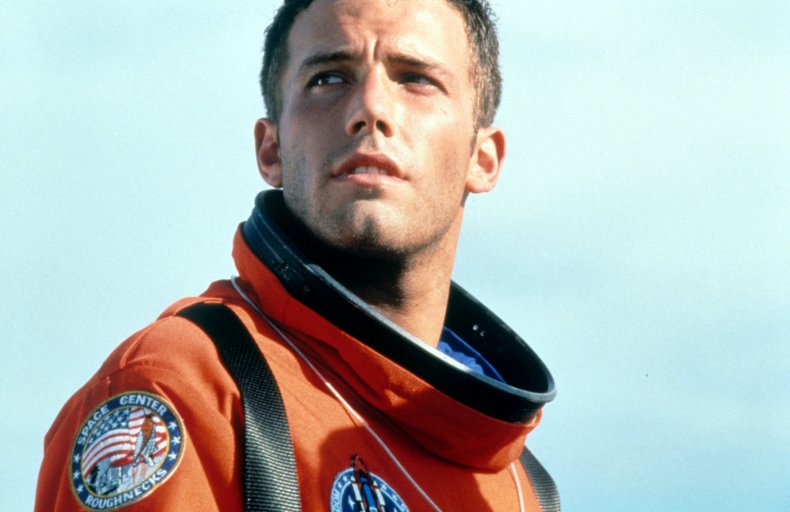 "So that was the end of that talk. [Does Michael Bay voice] 'You know, Ben, just shut up, OK? You know, this is a real plan.' I was like, 'You mean it's a real plan at NASA to train oil drillers?' And he was like, 'Just shut your mouth!'"
"One whole week? Now you know how to fly into space? 'I need my guys!' 'Why do you need your guys?' 'They're the best!' Everyone's the best," Affleck says while laughing during the commentary in a scene starring Bruce Willis. "'Why are they the best?' 'Well, they just are!'"
Affleck played driller A.J. Frost in the disaster movie.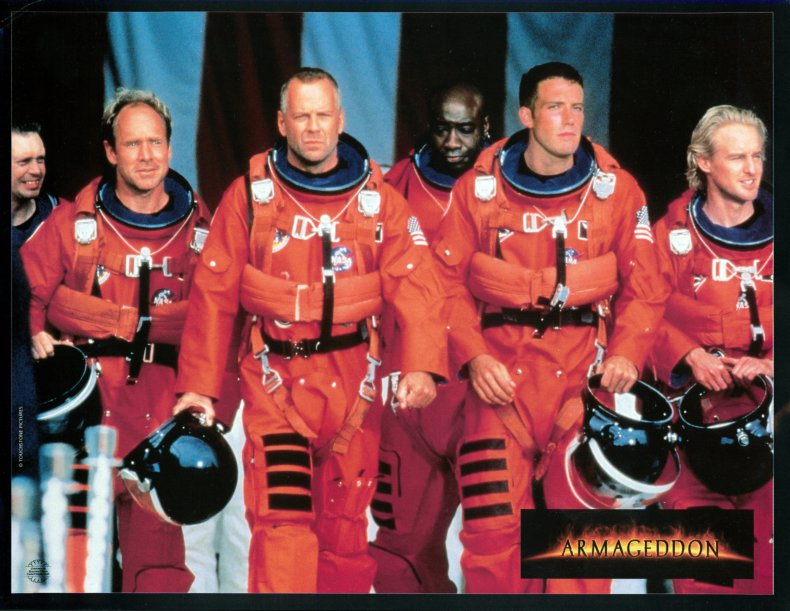 It is not known if Affleck was drunk during the commentary as the viral tweet states but the actor has been very open about his alcoholism and recovery—he went to rehab multiple times for alcohol addiction, including in 2001, 2017, and 2018.
He opened up about his experience with alcoholism and his marriage with Lopez in an interview with The New York Times last year.
"Relapse is embarrassing, obviously," he said. "I wish it didn't happen. I wish it wasn't on the internet for my kids to see. It took me a long time to fundamentally, deeply, without a hint of doubt, admit to myself that I am an alcoholic."
"It took me a long time to fundamentally, deeply, without a hint of doubt, admit to myself that I am an alcoholic," Affleck added at the time. "The next drink will not be different."
Newsweek has reached out to a representative for Affleck for comment.
Last week, podcaster Bethenny Frankel has said she is "worried" about Affleck's mental health following his high-profile marriage to Lopez.