Bethenny Frankel Concerned About Ben Affleck After Jennifer Lopez Marriage
Bethenny Frankel has said she is "worried" about Ben Affleck's mental health following his high-profile marriage to Jennifer Lopez.
The entrepreneur and Real Housewives of New York star discussed the couple's recent nuptials and how the attention could take its toll on the Gone Girl star on a recent episode of her podcast, Just B with Bethenny Frankel.
"They're in love. They're the ones that got away. They're back together," Frankel said. "Also, compound that with one member of the relationship being an addict."
Affleck has been open about his struggles with alcohol and went to rehab multiple times for alcohol addiction, including in 2001, 2017, and 2018.
"And being an addict has its challenges for the person and for the person in a relationship with the addict," Frankel continued. "I call it activation. I've been surrounded by addicts for most of my life. Stress is not great for an addict."
Affleck and Lopez's summer wedding came after they famously dated from 2002 to 2004 but called off long-term plans due to the intense media scrutiny into their relationship.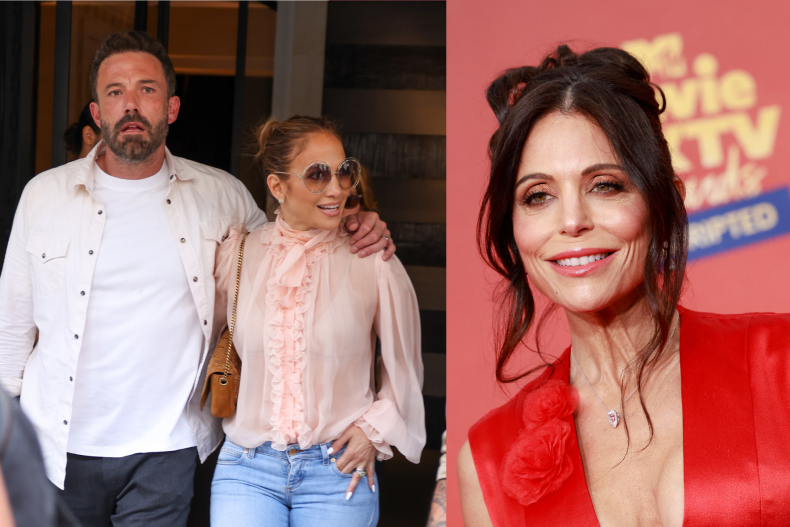 Both went on to marry others and have children, but they reunited in 2021 and married in Las Vegas following a whirlwind rekindled romance.
Frankel noted that Affleck is a private person and the attention on him due to his recent marriage could be causing him stress.
"He's running on Dunkin' [Donuts] and he'll smoke a cigarette and he's living his Boston life," she continued, adding, "So now he's with this mega-famous person and it's a lot."
The newlyweds have been photographed enjoying their honeymoon in Paris, but pictures of Affleck looking exhausted on the vacation went viral last month.
The Daredevil star was photographed by paparazzi in a number of different states, which range from mouth agape napping during a boat ride on the river Seine and strolling through the Elysée Palace.
Affleck opened up about his experience with alcoholism and his marriage with Lopez in an interview with The New York Times last year.
"Relapse is embarrassing, obviously," he said. "I wish it didn't happen. I wish it wasn't on the internet for my kids to see. It took me a long time to fundamentally, deeply, without a hint of doubt, admit to myself that I am an alcoholic."
He added at the time: "It took me a long time to fundamentally, deeply, without a hint of doubt, admit to myself that I am an alcoholic. The next drink will not be different."
Newsweek has contacted a representative for Affleck for comment.